Victoria Hesketh, also known as Little Boots, has been going strong with her electro synth pop for over a decade now. This past June marked the 10-year anniversary of her debut Hands which received a wave of praise and quickly made her a go to for the genre. Little Boots has used her synth magic to since then release two additional albums and nearly a dozen EPs, including the most recent Jump EP.
Out now, the Jump EP leans on the housier side of Little Boots. It features four addicting tunes with layers of filtered, pop-infused gems. "Secret" and "Lesson" made their debut prior to release date, but you definitely can't ignore the hypnotic grooves of "Jump" and "Mistake." Collaborating with Jordan Reyes, Cyril Hahn, and Kiddy Smile across the release, this Little Boots EP is one not to miss. Last year we got to chat with Hesketh surrounding the her Burn EP, and we're lucky enough to see what's new besides sharing this Jump EP.
EARMILK: How is everything? Are you still loving life in LA?
Little Boots: I'm actually in Europe right now for the summer, so living the best of both! I still love LA, it feels like the best place to be creatively for me and the music community there is brilliant, especially for DJs and the electronic scene. I'm living all my modern day Eve Babitz fantasies out there.
EM: Last year we got to chat around the Burn EP, what's been going on in between that and this new Jump EP?
LB: I've been DJing pretty much all over which is always a lot of fun and travel. I've been on a couple of amazing writing retreats, one with Mixmag to an insane studio in Woodstock where I wrote a tune with Moon Boots for his new album. I wrote a lot for the Jump EP last year also, but was pulled in different directions. So went back to the drawing board a little at the start of this year. Since then I've been working on the 10-year anniversary re-issue of my first record 'Hands' which is coming soon! I've also been working a lot more on production and brushing up my piano skills.
EM: With the last EP, you were excited to realize it boasted an all-female team. What are you most excited about with this one?
LB: I was writing from a much freer place with these songs and I think you can feel that lift and positivity in them. I also ended writing and producing almost all of it with Jordan Reyes, a producer writer in LA I really clicked with. So it was great to get that continuity of sound. I also loved writing with Cyril Hahn, as I've been a fan of his for such a long time. I hope to collaborate with him more in future.
EM: Do you have a favorite track off the Jump EP? Or a track you're most excited to share?
LB: I love the lead track "Jump" because its really personal for me. I was having a bit of a weird time trying to make some big life decisions and needed to get out of the city, so I just drove out to the desert near Joshua Tree and rented an Airbnb that happened to have a grand piano just looking out on the desert. I just read poetry and played for 3 days and one night went for a run as the sun was going down and saw a full moon rise right up over the mountains and all the sky changed color. It was like having day and night in each hand—it was so beautiful. After that, the song came really fast!
EM: Are there any music videos in the works? The ones from the last EP were killer.
LB: Thank you! I would love to make more music videos and have so many ideas! I just wish I had more money to make them! I decided to focus on making really great artwork and photos this time with my long time collaborator, photographer Lucrecia Taormina.
EM: The cover art for the Jump EP is really interesting. Can you talk a little bit about that?
LB: I had the idea from a meme/viral trend that started in China where rich influencer kids would be photographed prettying to fall out of their car or house with all their wealth displayed around them—as if they'd just dropped it. I thought it was such a weird disturbing but captivating image that was immediately striking. People started to mimic it for their jobs with the tools of their trade, or with food, or whatever. So I got all my synths and gadgets, and we shot it falling over in a nightclub.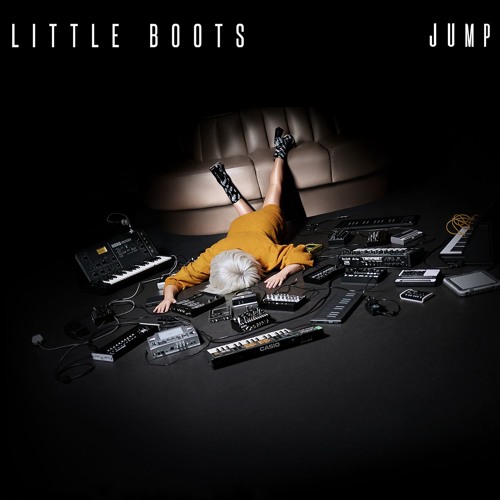 EM: Do you have a favorite instrument or piece of equipment right now? Or is there one you're hoping to score soon?
LB: I love the Roli Lumi keyboard that is coming out soon. They just finished a huge Kickstarter campaign and I can't wait to get my hands on one. It's a small keyboard that lights up crazy bright in different colors, with amazing software to teach people to play piano or you can link it to some great synth software.
EM: You have been doing a lot of DJing and it's been great! Has there been any thought as to doing a Little Boots live tour?
LB: Yes! We will hopefully have some news soon, but we are planning something special for the 10 year anniversary of  'Hands' with the original band getting back together.
EM: Do you have any upcoming shows?
LB: I'm actually about to go on holiday! I just played a few shows in the UK including Liverpool Pride which was a lot of fun. I will be back in the States in the fall and have a few DJ shows planned which will be announced soon, as well as the live stuff.
EM: Last time we spoke you were big on Peggy Gou and The Black Madonna. Are there any artists or tracks you've been obsessed with lately?
LB: I love a Japanese producer called Shinchiro Yokata, I'm hoping to collaborate with him at some point. I really liked the new stuff from Crazy P and the Hot Chip album was brilliant. Octo Octa is making some of the most exciting electronic music I've heard for a while. Toro y Moi, the new Kindness track with Robyn—still love Christine and the Queens and the new track with Charli XCX is fire. Otherwise I listen to a lot of Ahmad Jamal and classical piano—and lately, The Beatles. Northern Soul too. But I think I might go down an 80s electropop hole today.
EM: What does the future hold for Little Boots after the Jump EP? What should we watch out for?
LB: Well I'm about to go on a cruise with Belle and Sebastian, so I think next week will be dreaming up nautical captions for Instagram (a solid use of my time there). But I'm excited to get back to LA and work on new music. I have some great collaborations I'm working on. I really want to make a disco record next. I also really want to write for other artists so going to try to spend some time focusing on that before the end of the year—sometime between rehearsing and touring and running my label. There aren't enough days!
EM: Is there anything you'd like to add?
LB: Thanks for your support!
EM: Thank you!
Little Boots's new Jump EP is out now digitally via her label On Repeat Records. Look for that and keep an eye out for news of future tours, DJ sets, a possible 'Hands' re-issue.
Connect with Little Boots: Spotify | SoundCloud | Facebook | Instagram | Twitter