Deep dance champion Yotto never ceases to surprise. He's recently unveiled his very own imprint Odd One Out, and unsheathed the label's debut dance floor weapon "Shifter." Available across all platforms today, this release is the first of many to come from the newly founded imprint, set to showcase unique, eclectic sounds of Yotto's choosing.
The plunge into label curation is an organic move for the Anjunadeep mainstay, with a signature sound that spans the trenches of deep house, the highs and lows of percussive techno, and the melodic inclination of progressive dance music. 
Showcasing his curatorial skills alongside the first release, Yotto has provided an EARMILK exclusive playlist for fans to get a grip on what's in store via the label.  Save the playlist below and give it a listen.
EARMILK had the chance to catch up with Otto at the kickoff of the summer segment of Anjunadeep's Open Air sessions at The Brooklyn Mirage to get the inside scoop on the conception of Odd One Out and what's on the horizon for the prolific producer. 
EARMILK: When and why did you decide to develop your own imprint?
Yotto: I always thought about it, but since working with Anjuna, given it's such a great company, I never really wanted to rush it.  Now I feel I can do something different on my own while still working with them while having my own little corner.  I feel like the progress of the music and the shows is at the point where I feel comfortable jumping on and taking control of something on my own.
EM: If you had to describe the "sound" or essence of the label in one sentence, what would it be?
Y: Whatever the fuck I like.
EM: How did the label's name come into being?
Y: I have a track on my album Hyperfall called "Odd One Out," but even beforehand I always liked the idea of an "odd one out" with an outsider perspective on things. I always felt like kind of a bit of a weirdo in school and everywhere, and felt like an odd one out. But also I feel like a lot of people could have their own take on that and feel they might be alone in any given situation, or that everybody could be the odd one out. It just made sense for me.
EM: How will music released via Odd One Out differ than that of what you've released on Anjunadeep or continue to release on the label?
Y: Anjuna's let me release a lot of music that's ranged from clubby music to something more downtempo or ambient which has been seen on my album.  With this label I want to focus a bit more on music I've actually been playing in my shows – for the first couple of releases I will be primarily releasing my own music, but when I finally sign outside music it will be from musicians I really admire with tracks working well in my sets and in the clubs seeing as long as they share a common thread.
EM: What words do you have on the label's premiere release? What makes "Shifter" the selection for the label's debut?
Y: I feel like "Shifter" literally incorporates all of the elements of what I've been playing out right now.  It has a melodic touch to it, but also this steady, clubby groove that works in a lot of different environments.  I feel like it represents what I sound like, and we'll see how it goes!
EM: What is your vision for Odd One Out?
Y:I want it to be a lot more about quality versus quantity. I don't want to put out 400 tracks a year, and I want all the tracks to be special, and road tested so I know that they work.  I just want it to be a true extension of myself, a big mish-mash of different sounds, whether club tunes or otherwise. 
The release comes alongside a slew of Odd One Out tour dates across North America and Australia, with tickets on sale today. 
As one can see, there's quite a lot in store for Yotto in the balance of 2019 and beyond.  Stay tuned to the socials below to stay in the know of all things happening with both Odd One Out and the man himself.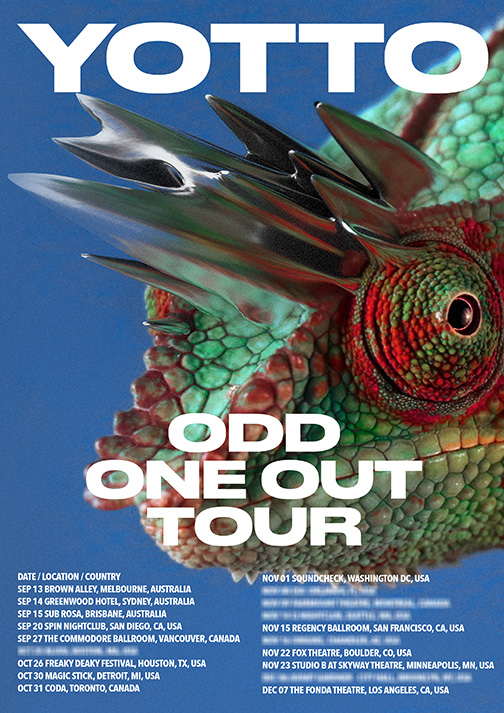 Connect with Yotto: Facebook | Twitter | Instagram | SoundCloud