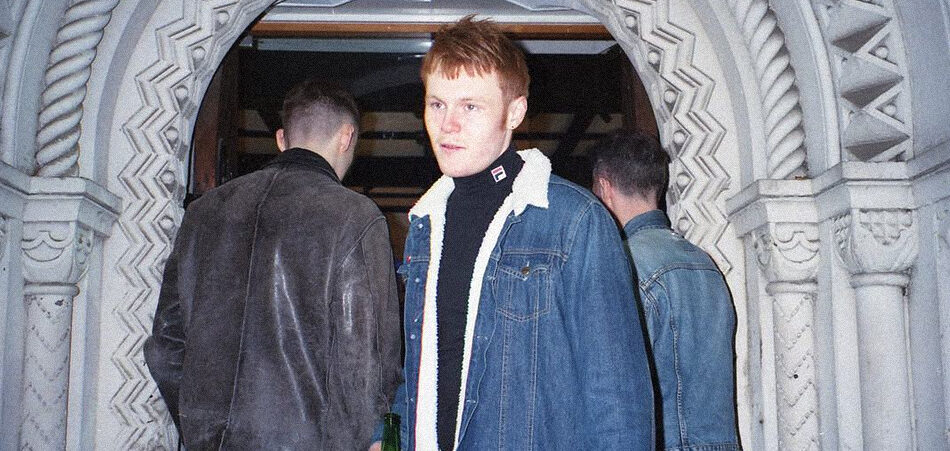 The vicious cycle of working to survive with a passion on the back-burner is a relatable scenario for anyone with a dream. Embedded in that cycle of dissatisfaction, or at the very least, the pressured weight of running out of time, comes Harry Mold's debut single "Drain." The indie-rock track naturally carries the frustration of being confined to the mundane cycle but it's the Londoner's vitality on-stage and on-screen — which is seen on his accompanying video premiering today — that kicks you in the head and away from the trapped mindset.
Choreographed as a to-do list from cubicle life, Mold goes through the motions with equally pressed co-workers. The charged will of the track cuts against a very distinct and balance bounce of pop, angst-noise, and a guitar driven chorus, which is reminiscent of the early 2000s. Mold's simplicity allows for his unfiltered lines (wanna get out of this fuckin' routine because it's draining me of my soul) to harness each scene while Alejo Sonnenberg's direction sees time catching up with Mold.
"The video is my visual representation of being stuck, controlled and literally drained of all goodness in life (in whatever form it may be)," says the artist. "Watch me lose myself to this disgustingly dull routine and see how it can slowly eat us all up in the end." As Mold continues to explain the track's origin, which spewed directly from feelings of frustration and "almost claustrophobia of a repetitive and monotonous routine" from the 9-5, the visual repetitiveness begin to get under the artist's skin.
Tastefully pieced to not only introduce Mold to those unfamiliar with his vigor, but to also put on display the underlying connecting theme, "Drain" therapeutically soothes with its high throttled rush. Ultimately, the video isn't just fueled from a juvenile angst but more so a fear of an aging one, and Mold's raw bark makes this very clear.
Connect with Harry Mold: Facebook | Twitter | Instagram | Soundcloud | Spotify