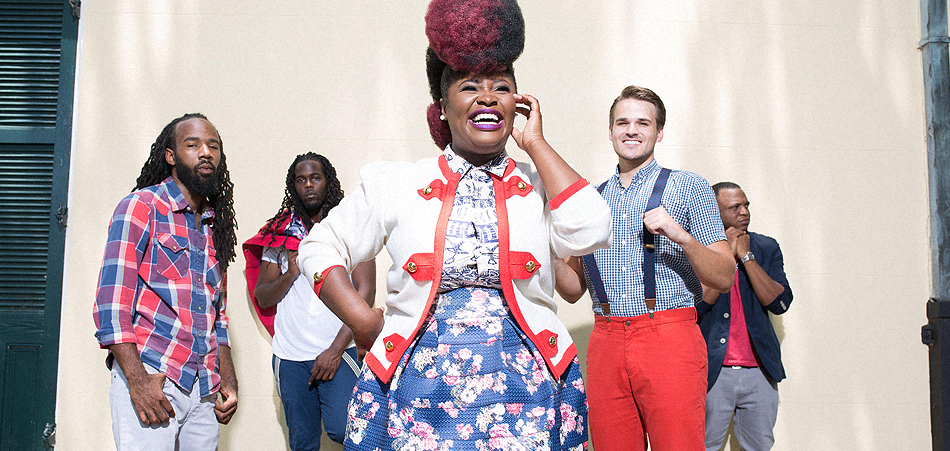 Looking exclusively at Tank and The Bangas' discography, you'd think they'd broken up years ago or quit music altogether. But anyone who's a part of their fervent fan group knows that they have been perhaps the busiest group in the music industry. They've been touring the world for the past couple years and garnering accolades like unanimously winning NPR's Tiny Desk Concert for their inspired rendition of "Quick". With so much time tied into mesmerizing fans and turning new heads, it seemed producing a new album came secondary to all other priorities.
That is, until we got this news.
Tank and The Bangas not only release "Ant" and its hand-drawn visuals as a way to break the silence but also use this occasion to announce the release of their highly-anticipated sequel to Think Tank that was released in 2013. Green Balloon will be released through Verve Forecast on May 3rd. Described as the sister to Think Tank, lead singer Tarriona "Tank" Ball says, "Think Tank was 12, and Green Balloon is 16 and having sex. She's out there." Along to help Green Balloon through its journey, producers Jack Splash, Mark Batson, Zaytoven, Louie Lastic, and Robert Glasper join the group to help capture their vision.
"Ant", which stands as the group's introduction to the sounds they've been playing with, begins with soft notes of spoken word over timid piano keys. The story of running into an old high school sweetheart pushes the sound into a lively combustion of quick-spit verses, drums, keys, and even screams. The song then double dutches its way down memory lane, recalling memories of old familiar faces and the drama surrounding these faces. As a long-awaited re-introduction to releasing new music, "Ants" serves as a tasty treat before we're given the highly-anticipated sophomore effort from Tank and The Bangas on May 3rd.
Green Balloon tracklist
1. Colors Introduction
2. Spaceships
3. Dope Girl Magic
4. Ants
5. Hot Air Balloons (feat. Alex Isley)
6. Forgetfulness
7. Get Up Interlude (feat. Robert Glasper)
8. Too High Prelude
9. I Don't Get High
10. Happy Town feat. Pell
11. Nice Things
12. Smoke.Netflix.Chill.
13. Floating Interlude
14. Mr. Lion
15. In London Interlude (feat. Robert Glasper)
16. Lazy Daze (feat. Robert Glasper)
17. Colors Change
Tank and The Bangas live

March 8—Tallahassee, FL—The Wilbury
March 9—Tampa, FL—Gasparilla Music Festival
March 10—St. Augustine, FL—St. Augustine Amphitheatre
March 12—Charleston, SC—The Charleston Pour House
March 13—Charlotte, NC—Neighborhood Theatre
March 14—Asheville, NC—The Orange Peel
March 15—Atlanta, GA—Buckhead Theatre
March 16—Memphis, TN—Minglewood Hall at 1884 Lounge
April 13—Roanoke, VA—Elmwood Park Amphitheater
April 15—Indianapolis, IN—Deluxe at Old National Centre
April 17—St. Louis, MO—Delmar Hall
April 18—Lexington, KY—Manchester Music Hall
April 19—Birmingham, AL—Iron City
April 20—Nashville, TN—Cannery Ballroom
April 23—Oklahoma City, OK—Tower Theatre
April 25—San Antonio, TX—Paper Tiger
April 27-April 28—Forth Worth, TX—Fortress Festival
April 27—Shreveport, LA—Strage Brew
May 4—New Orleans, LA—New Orleans Jazz & Heritage Festival
May 17-19—Knoxville, TN—Rhythm N' Blooms Music Festival
May 24—Boston, MA—Boston Calling
June 5—Ithaca, NY—State Theatre of Ithaca
June 7—Portland, ME—Thompson's Point
June 16—Buffalo, NY— Albright Knox Art Gallery
June 22—Dover, DE—Firefly Music Festival