Drake fans listen up! The Atlanta-based R&B singer Summer Walker just released the remix for her hit song "Girls Need Love" and "Drizzy" Drake is on the track. "Girls Need Love" had already been known as a popular song on Summer Walker's 2018 project titled Last Days of Summer with over 30 million views Youtube and 35 million streams on Spotify. Summer Walker has also built up the song's platform by performing "Girls Need Love" on Jimmy Kimmel Live!
On Wednesday, the Grammy-award winning hip-hop artist, Drake, announced that he would be on the upcoming remix of Summer Walker's "Girls Need Love":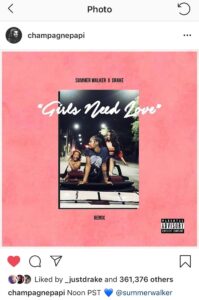 The R&B hit touches many sensual soft spots with Walker's lyrics:
"You could be the one, aye,
We could start with a handshake baby.
I'ma need more than a hug"
Drake takes the song up one more notch in the remix with his sentimental and steamy lyrics about showing women affection:
"You just need some, someone that's calm and patient
Submission, domination
Arched back, deep stroke, white wine, weed smoke,
that's my best combination"
"Girls Need Love (Remix)" is a beautifully articulated song and, with Summer Walker having Drake featured on this track, the song may reach even higher heights on the hip-hop and R&B charts this year.
Fans of the Summer Waker can look forward to the Girls Need Love Tour in North America touching down on cities such as Houston, Los Angeles, and Atlanta.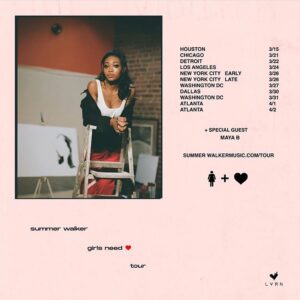 Listen to the "Girls Need Love (Remix)" here
Connect with Summer Walker: Twitter | Instagram | Spotify | Facebook