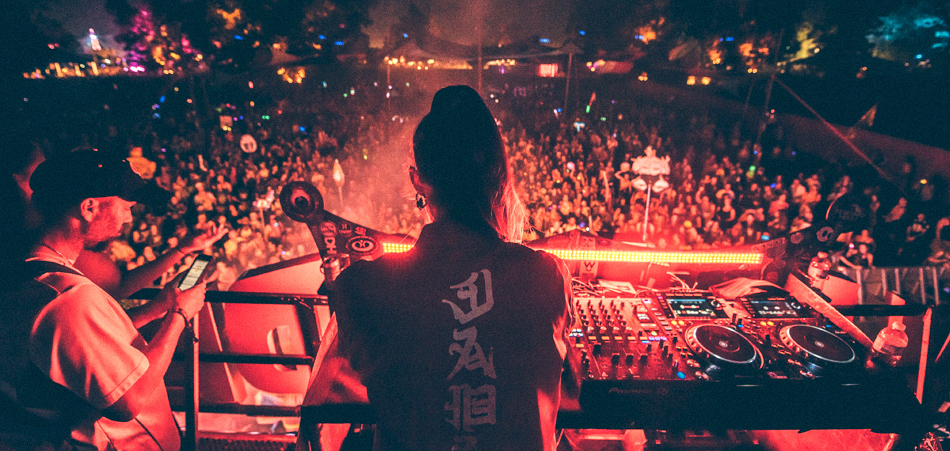 Envision Festival has become a mecca for Central and South American underground and experimental music with a diverse range of tribal bass, world music, and atmospheric techno. The Costa Rican electronic festival is located on the beaches of Uvita, where the jungle meets the water in one of the most richly biodiverse places on the planet. It's not only a special festival because of the location, but because of the love from artists that have played there year after year. One of those artists goes by the name of CloZee, a picture-perfect representation of Envision's core essence - an organic yet bold exploration of rhythm and sound that stretch beyond the DJ decks. We had the pleasure of catching up with CloZee to grab her thoughts as a veteran performer at Envision, her worldly inspiration, and why the festival is so uniquely captivating. 
EARMILK: Any special memories from past Envision festivals?
Clozee: It's gonna be my 4th year in a row, and every year was unique and awesome. 
I'd say my 2 most memorable moments at Envision were when there was a giant hoppers invasion during my set, and those hoppers came on my hands, on the mixer. I don't know why they showed up at this specific moment, but it was magical. 
My second one is when I played a CloZinger set (my side project) in 2017: it was pretty cool to share this experience with my best friend and music partner Scarfinger.
EM: You've shared before how much of your music is inspired by the places you travel to around the world, have you found any special inspiration (in terms of sound, music or vibes) from being in Costa Rica?
C: I very often picture myself in a jungle or a forest when I compose music. Nature is one of my biggest source of inspiration. Costa Rica has such an unbelievable biodiversity, the inspiration is infinite, and I use what I see to put myself in particular ambiances when I'm in the studio.
Also, the music of the jungle of Costa Rica has the best natural harmonies. (Bugs, birds, monkeys, leaves) 
EM: Last year's 'Evasion' tour had you visiting a wide range of different cities, were there any cities that surprised you in terms of dance culture scenes most people wouldn't have expected there to be?
C: It's always those small cities during a tour (that you never heard of before) when tickets are very low: you think it's gonna be a tough show, but it ended up being amazing, with the greatest positive and exciting vibe, and even sometimes ended being sold out. People are much more excited in those small cities, because they are usually grateful for you to stop there, as they don't get as many shows as in a big cities. The scene isn't saturated. 
During that tour I was particularly surprised by South Burlington (VT), Bellingham (WA), Durham (NC).
EM: Are there any performers on this years Envision lineup that, if you had time, you would like to see?
C: Yes, so many! I'm gonna try to catch as much as I can, but more particularly artists I haven't seen or haven't seen much yet: Tycho, Nicola Cruz, Bedouin, Xiuhtezcatl, Deya Dova, Axel Thesleff, Chamberlain, Lee Burridge, Electric Mantis, Lazy Syrup Orchestra, etc… 
EM: You recently featured special live visuals with Andriod Jones, how did the two of you meet and how did the collaboration between you two come about?
C: The show is in a few days, I'm super stoked about this collaboration. We haven't collaborated on the live aspect yet. The people putting my Australian Tour together also put Android Jone's OZ Tour so they asked us if we were keen to collaborate for specific events.
I'm a big fan of Android Jones's Art and I'm so honored that my music inspires him as well (he used it for his VR project 'Microdose'). I met Andrew for the first time at Sonic Bloom 2016. Since then we get to hang out during multiple occasions and know each other a bit more.
EM: Finally, what's a recent fond memory or funniest thing that may have happened to you while at a festival or on the road? 
C: So many! I can't even choose one, haha. 
Let's choose a recent one: That day when Scarfinger and I arrived at Electric Forest 2018 in a Dodge Challenger, totally like 2 french people living the American Dream, but we didn't even ask for it.
We originally had the lowest cost rental car but the Alamo dude upgraded us for free after hearing we were artists going to Electric Forest. We didn't know the car until we saw it. 
Personally, I was embarrassed to arrive in a Dodge Challenger at a festival, and park it next to our tent (hahahah) but Scarfinger was freaking loving it, so I was happy too.
*Bonus Question - You play a mean guitar, any thoughts on having a special acoustic Clozee performance? 
It's gonna be a lot of work, but I'd love to. I hope so one day!
CloZee is no stranger to Envision festival, but it's apparent that everything about the festival keeps her coming back. "The whole festival ambiance, the engaging experience, the line-up, the design of the stages, the hospitality, sound quality." And she isn't just an artist at Envision, she's a participant in the culture. Workshops, talks, friends, and as much food as possible in between sets of such a stacked lineup. 
With an emphasis on creating highly engaging visual experiences, her elegantly gentle chord progressions and swaying basslines guide the crowd far beyond the decks into an area of culturally eclectic sounds. A CloZee set allows you to get lost in a sea of sound and light, with a perfect mid-tempo range and a variety of tribal chants to accompany any bass section. With a bold simplicity, she digs up an organic element of music that not many bass artists get to achieve. A unique combination of soft feminine vocal chops and transcendental beats, she gets the energy moving in a unique orchestra of the music, light, and dance.