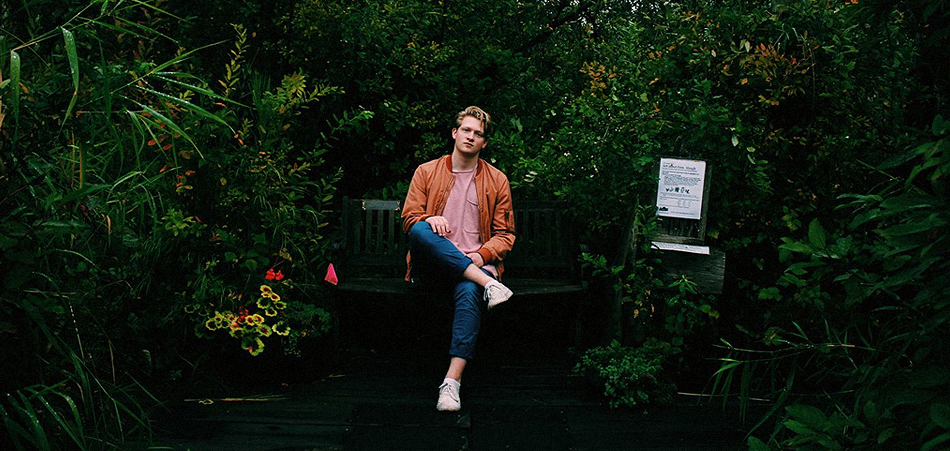 Spellbinding us with another collaboration track in just under a month, Vancouver-based record producer, songwriter and artist Louis Hahlweg, pseudonym Hahlweg, has released "Eye For An Eye" with artist AERYN. His second release of 2019 and his second original release in four years, the producer continues to break through with a purity in his melodic and complex soundscapes—an eclectic palette of pop synths and rolling bass and trap.  
The initial idea for "Eye For An Eye" was conceived nearly two years ago. "It was a turning point in my writing and sound" Hahlweg shares, "It marked the first time I felt that I genuinely am creating something unique and gave me confidence in my art." The track, an aching, endearing production that manages to take one's breath away with each harmonic chord, tells the story of someone consumed with creating a facade in which only perfection can be found. 
Reverberating with wistful incandescence, AERYN's sultry-smooth vocals illustrates the internal turmoil of such a person, examining the complexity of identity over tight snares and hallowed percussive backbeats. Hahlweg grapples the concept of authenticity and vulnerability with effortless kicks and hi-hats, giving way to sumptuous dynamism that echoes the trembles and scrambles of covering oneself with a mask—a stunning composition laden with fear, truth and the eventual acceptance. 
With the duo having woven a compelling, heart-wrenching narrative, it comes as a surprise that the duo worked on it together remotely. "I'm in Vancouver and Erin (AERYN) was in Glasgow at the time," the producer recalls. "It was the first original piece of music that I had a vocalist write to. When I first sent over the instrumentals, Erin came back four hours later with a demo—her vocals were absolutely perfect. I asked for stems straight away so I could start re-building the record to let her lyrics and vocals shine through." From the bewitching album art that perfectly captures the message, to his robust control of snappy synths, "Eye For An Eye" is a construction masterfully produced, an enthralling track that showcases both Hahlweg and AERYN's unique skillsets in tandem.  
Hahlweg is currently working on playing his first live show in Vancouver and will continue to create with local producers and artists, with a goal of releasing one new track each month. He will also be building towards jumpstarting a YouTube series that helps illustrate his process and help to facilitate an inclusive environment where fans can take part in the creative process each week. 
Connect with Hahlweg: SoundCloud | Twitter | Facebook | Instagram
Connect with AERYN: SoundCloud | Twitter | Facebook | Instagram