"It was never supposed to be a project."
That's what Ian and Tom Griffiths claim about their project Icarus. The brotherly duo started to explore new regions of electronic music not as a career move, but as a one-time creative exercise. They had worked on previous projects together, but always found themselves hitting a wall in their creativity. "It's that ever-ending battle of making music that makes sense for your brand, but then you don't want it to become the reason you feel writers block or out of touch," they explain as their impetus to launch Icarus. And though they wanted something new, they were looking for something with less boundaries. "We knew the tempo but that was basically it."
And the tempo is something that is relatively consistent for the Griffiths brothers, hanging somewhere between 122 BPM and 125 BPM. That's on the slower end of the spectrum for fans of club-friendlier versions of electronic music, where Icarus finds themselves. And it's in that range that they've caught onto something – something that we noticed years ago on their first release and a now obscure remix, and something that led them to LA, where we met up with them as they toured across America as live support for RÜFÜS DU SOL. It was a first for the brothers, who have been making music together since they were kids. 
From an outsider's point of view, Icarus's music reflects their demeanor as well: reserved at first impression, but smart, witty, inviting and respectful. Their music has a seasoned nuance to it, showcased in their latest release, This Must Be The Place. And the power, moodiness and enveloping nature of their music that is spread across their style that hovers in the deeper, melodic edges of house music, comes from a wealth of influences.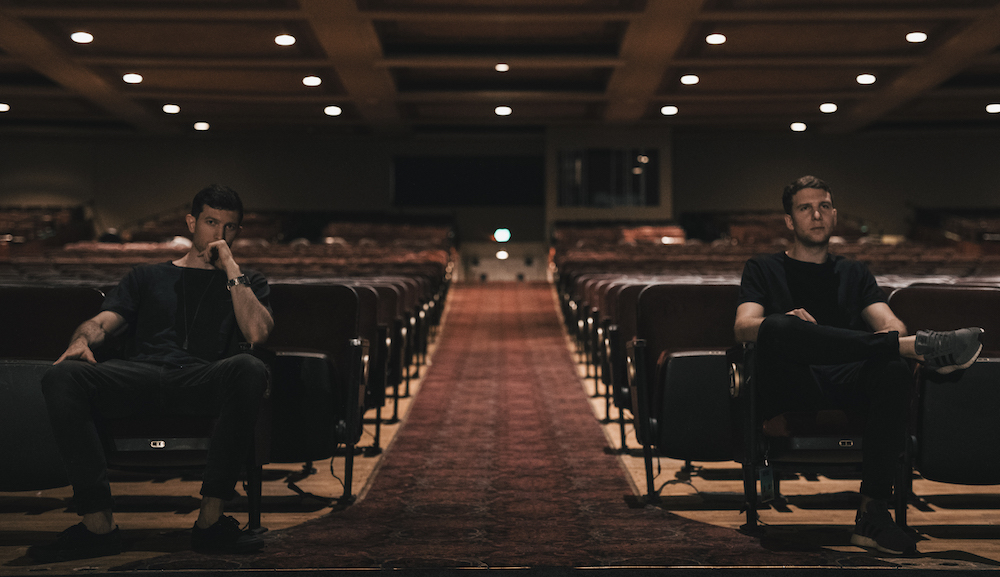 The Griffiths brothers had an almost stereotypical upbringing in Bristol, England, a town known for its breeding of talents like Massive Attack, Eats Everything and Jody Wisternoff. As kids, they got hooked on the idea of music as they were exposed to the jazz trumpet their dad played, and introduced to classics like Michael Jackson from older family members. As they earned a reputation in school for being the "kids who were into music," they played guitars and various other instruments in bands made up of friends, idolizing and trying their best to imitate their punk idols Pennywise, No FX and Static-X – bands they still revisit and listen to while on the road today. Admittedly, they were "rubbish at writing back then," and turned to studying music at the degree level until they graduated, when they turned to the club scene – drum and bass of course – to cope with the listlessness of their early 20's. But DJing vinyl, making a drum and bass mix show and mixing tunes in their bedroom didn't quite cut it for the brothers. "We wanted to change," and this, is where the story diverges. 
"We had a rough idea of what we wanted it to be," in brainstorming the project that would become Icarus. "We had been writing in these constraints that we had given ourselves, and it got really hard to continue to be inspired. So the whole idea behind Icarus was that we're not going to try to keep within a certain thing."
The latest release from Icarus is well-rounded, a manifestation of their intention in starting the project. As self-described, "its tones include ethereal sounding dance music, but it's not house music. It's danceable. It's organic, and rustic."  The EP addresses signature melodic progressive in its first track, "Echoes." Darker tech and underground influences come through on "Man Of The Land," a track that started with entrancing, spoken word vocals in mind. The following "Sirens" and "Running Away" land in a melancholy somewhere in between. 
As a group who got their start DJing, Icarus continues to do so, making stops around the UK and in Ibiza, where they played multiple festivals and clubs. They'll be doing the same this spring as they prepare to put out much more music to further establish their brand. In the past it's been work on Anjunadeep, OWSLA and Parlophone, remixing many artists like Martin Solveig. But for Icarus, moving forward means making their own arsenal of originals.
Upcoming UK shows:
April 23rd – Manchester – The Deaf Institute
April 24th – London – XOYO
April 25th – Glasgow – SWG3
April 26th – Bristol – Thekla
April 27th – Dublin – Button Factory
Connect with Icarus: Twitter | SoundCloud | Instagram | Facebook