News of the talent behind duo SOFI TUKKER isn't a new declaration on this site. The duo made up of Tucker Halpern on vocals, bass, percussion, and production, and Sophie Hawley-Weld on vocals, guitar, and percussion, first landed an Artist to Watch spotlight on our pages in 2016, and have since kept our attention. They have been able to achieve what most artists strive for, in claiming a space their own with their music that has an edginess, but taps into our love for catchy songs. In 2018, the duo launched their own label, landed sought after sync deals that got them featured in commercials with the likes of Apple, among other things. 
But it's a new moment for SOFI TUKKER, being recognized by the greater music industry with a GRAMMY nomination for a major career accomplishment. While they've been letting the fact sink in that their debut album TREEHOUSE has been nominated for Best Dance/Electronic Album, they've been hitting the circuit of annual GRAMMY week parties in Los Angeles. We caught up with them ahead of their performance during the 61st annual GRAMMY Awards Premiere Ceremony tomorrow, Sunday February 10. The event will be live streamed starting at 12:30 PM PST, via GRAMMY.com.
At AAM's 22nd annual Friends N Family party last night, Tucker donned a multi-colored leopard jacket, complimenting the newly leopard part of his always colored hair. "It took about five hours," he said. This is just one of the elements of their undeniable "cool" factor – this week they've styled themselves right in line with their signature, avant garde and underground inspired fashion. Sophie sourced her outfit herself, a complete rave-inspired get up with a structured sequin bandeau, white pants and furry rave hood. Musically, that factor is a product of them being able to tap into the world of underground house music, while creating music that's hard to not sing along to, very loudly. Their performance style captures such self-assuredness artistically, which makes them a shoe-in to be the first electronic group to perform at the GRAMMY's premiere event.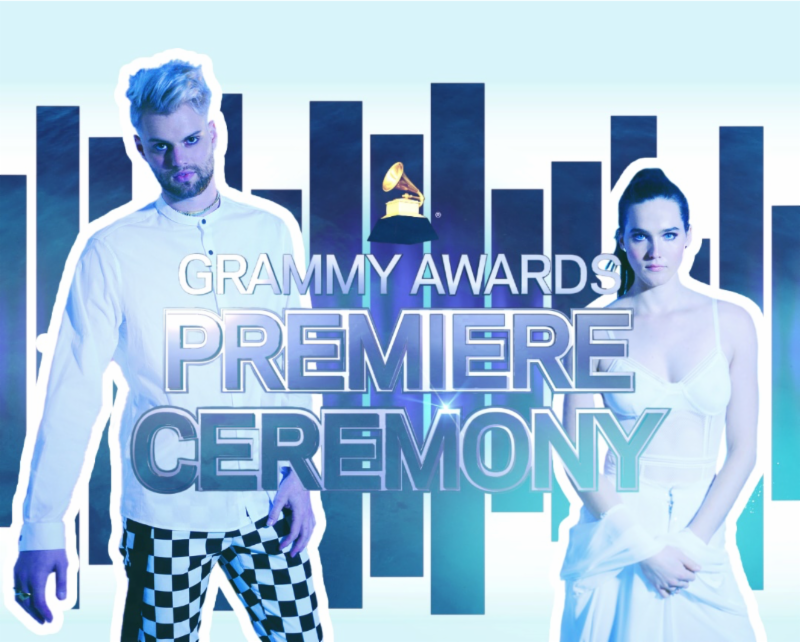 "This is an amazing bookend to our album cycle TREEHOUSE," the duo says of their nominations and opportunity to perform at The GRAMMYs. It's a time for them to start a new, with material they're ready to get out there. "It's cool timing." 
"It's fun because we're playing with the house band who are incredible musicians with an incredible band member who is apparently the leading Latin band leader in the world or something cool like that," said Tucker. "It's going to be really fun to play with crazy accomplished musicians and to be able to have fun and do our thing too." According to the both band members, they're looking forward to getting the energy going in the room. That fervent energy might have been built up this entire week, attending event after event. "Yeah, it's just a lot. I'm just stressed out," Sophie said of the whirlwind week. And in a stunning showcase of the band members's sync and love for one another, Tucker called some team members – and his parents, who were also in the room – over to give her a hug. In a painfully relatable moment breaking down in tears, it felt like a week's worth of pent up energy finally let loose, all with a sense of calm and purpose. "I'm a crier," she says with a laugh.
It's safe to say that this moment of emotion should probably be a permanent pre-show ritual for the group, as their DJ set at the event saw no signs of nerves. In fact, it was the most energetic and engaging performance of the night, something that should be a sight to see be translated from a party to an awards ceremony setting. 
Connect with SOFI TUKKER: Facebook / Twitter / Soundcloud / Spotify / Instagram