October 2018 marked Red Bull Music Festival's first touchdown in The 6. Held from October 17-25, the nine-day exhibition extended far beyond the confines of music and showcased what makes Toronto – Toronto: diversity, eccentricity, and collaboration. The festival utilized historic venues of the city like Roy Thomson Hall, The Fermenting Cellar, The Great Hall, and the historic Art Moderne masterpiece, The Carlu. Of the diverse extravaganza, which included a sonic-visual show with electro-pop singer Alice Glass and director Fioria Sigsimondi, and a conversation with legendary producer Scott Stortch, I was lucky enough to catch Round Robin: A night of improvised duets, OVO's DVSN with members of the Toronto Symphony Orchestra, and Collision – a show featuring some of Toronto's best hip hop talent.
Round Robin was the perfect showcase of the immense array of talent Toronto has to offer. People often assume local means average, but Round Robin proved otherwise. Curated in partnership with Toronto's PRACTICE, a monthly musical showcase, spectators saw just how engaging a show could be when the focus is solely the talent, minus all the fluff. No setlist, no flashy distractions – it was just straight improvisation. What made Round Robin even more interesting was the rules: one artist performs solo for 5 minutes before they are joined on stage by another artist. There is no rehearsal, just live collaboration on the spot. The first performer leaves and a new act comes joins the remaining artist on stage, and so on.
The show started off with the beautiful sounds of instrumentalist Maylee Todd. She had the audience locked in on each pull of her harp's strings before being joined on stage by experimental sound artist and drummer Angus Tarnawsky for some darker toned melodies. The night also featured Alex Ernewein on the keys, a frequent collaborator of Daniel Caesar and Charlotte Day Wilson, and the unconventional sounds of Tanya Tagaq, an Inuk throat singer (yes, you heard right).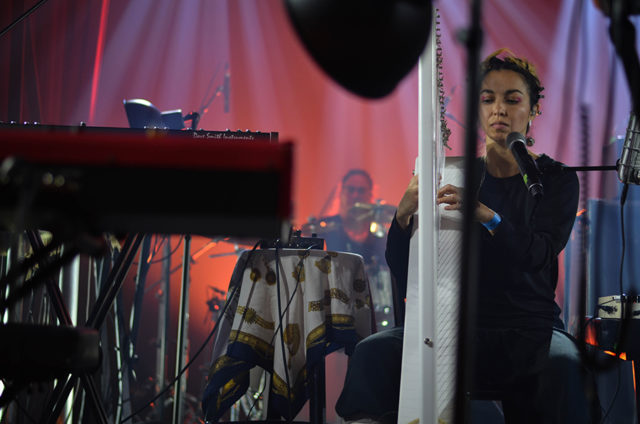 One of my favourite highlights was the improvised duet featuring Toronto's Casey MQ and TiKA. The two eclectic powerhouses and soulful singer-songwriters, who are no strangers to improvised collaboration, each brought their own unique spin to Round Robin. Casey MQ rocked the stage with the spirit of ad-lib on the keyboard while TiKA drew the crowd in with her intrinsically bold, but warm, stage presence. Their duet was affectionately natural and sincere; you would have never guessed that they didn't practise beforehand. I had a chance to chat with TiKA and Casey MQ about their work in Toronto's music scene and their history of musical collaboration with each other.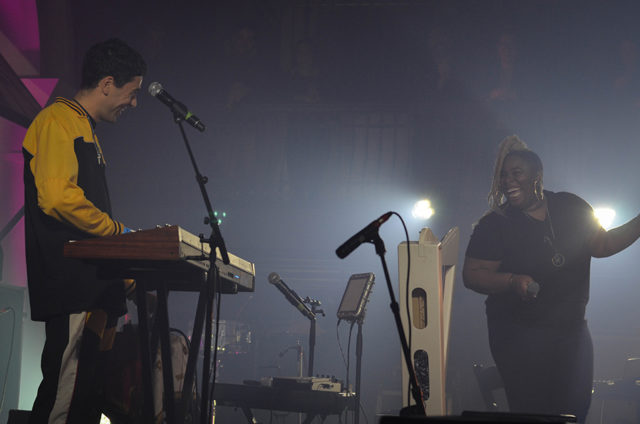 TiKA, who is a longtime player in Toronto's music scene, both on the corporate side and as an artist, was one of the original participants at PRACTICE. Her journey from PRACTICE's stage to Red Bulls' was a humbling one. She tells us, "When I first started performing in the city, I would secretly sneak to PRACTICE alone. I used to work in artist management and event curation before I became an artist myself, so it took me a really long time to admit that music was where I wanted to be or that I wanted to be at the forefront. PRACTICE was the event that really shaped my skills as a stage performer and it helped me to feel a lot more confident with improv on stage. The intimidation factor is kind of removed because you know everyone is doing it for the first time. It takes a lot of pressure off of you because it doesn't have to be perfect or refined, and that's the beauty of PRACTICE."
It was the very essence of spontaneity that led TiKA to eventually work on producing her own bodies of work – citing Casey MQ as the one producer who made the musical creation process flow effortlessly for her. TiKA details, "When I think back, I would say I've been a musician for about 4 years, but I've been trying music for over 10 years with different producers to establish a sound. Casey was the only producer that knew how to guide me through the process of music and guide me through my trauma. He was not abrasive, he never rushed me, he committed himself to the process because he believed in me. I feel like that level of support is so imperative to the growth of an artist."
As one could imagine, being an indie musician in Toronto's diverse scene is gratifying, but it's no walk in the park, especially if your music doesn't fit into the typical box of "popular music". Speaking about the experimental music scene in Toronto, Casey MQ tells us, "I think there are so many artists here that are actually doing great experimental work and really exploring their craft, and also doing things that no one could do because they're in Toronto and surrounded by this very specific environment. You find there are things you have to do to get around that because it's expensive to live here. You really have to be on top of it to keep afloat," 
"I think people are yearning for experimental music here, and when that stuff comes out of the city, people are so excited about it. I think we're seeing more and more queer experimental and electronic artists coming out. There's so much brewing and happening now."
Thankfully, TiKA and Casey had each other's companionship along the often turbulent, but rewarding, journey of being a musician in Toronto. In addition to being musical collaborators, the two have a deep-rooted friendship that spans years back. Casey says, "I met TiKA in 2014, and we really were discovering ourselves. That was so formative. I wasn't living in Toronto yet, and she was taking the GO bus to hang out with me in Brampton. We made music together and started working on her project. I was figuring out my queerness, and she was also figuring out her queerness. We just have something where we know each other and it comes through in the music. I'm so fortunate to have her as a collaborator and to continue to know that we will continue to discover more about ourselves through each other and vice versa."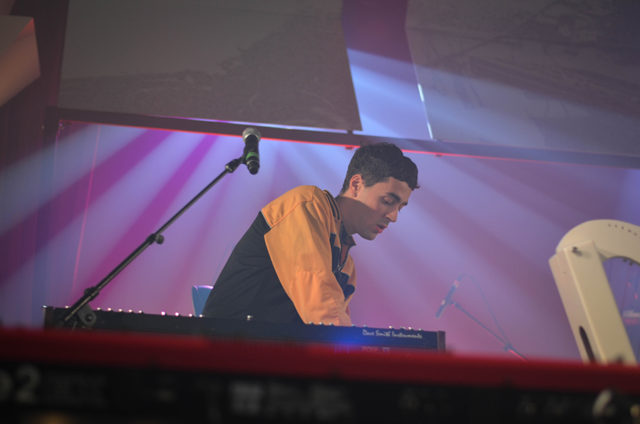 The contributions these two have given to the city extends beyond the tunes. TiKA has taken countless musicians under her wings as a mentor and event curator. She is responsible for platforms like The Known Unknown, Baregyal, and Iverna Island, a travelling festival for women of colour. Casey MQ is one of Toronto's most sought after producers and vocalists in the city, working with the likes of Zaki Ibrahim, A l l i e, Junia-T, Cadence Weapon, 2nd Son and many more. Casey is also a multi-instrumentalist, having spent several years as a music teacher. He is one of the founders of Hummingbird, an open mic showcase for youth in Toronto.
I left Round Robin feeling utterly inspired. Excited about the first introduction I had to the festival, I headed to see DVSN next. The city clearly couldn't contain their excitement; thousands of guests piled into Roy Thomson Hall's doors waiting eagerly to see how one of the city's biggest R&B acts would pull off a show with the Toronto Symphony Orchestra. The sold-out show also boasted a 13-piece choir, which was only fitting given the band's gospel roots. The progression of the show was a stark contrast to Round Robin – there wasn't the same spirit of discovery in the crowd, but the audience was nonetheless in awe, hooked onto every word as soulful crooner Daniel Daley sang his heart out.  There was an air of togetherness that could be felt flowing in the venue as thousands swayed their phones' flashlights back and forth for the final song. Although it felt like the Orchestra wasn't utilized to its fullest capacity, the show was one for the books, and an incredible juxtaposition of classical, gospel, and R&B music in Toronto.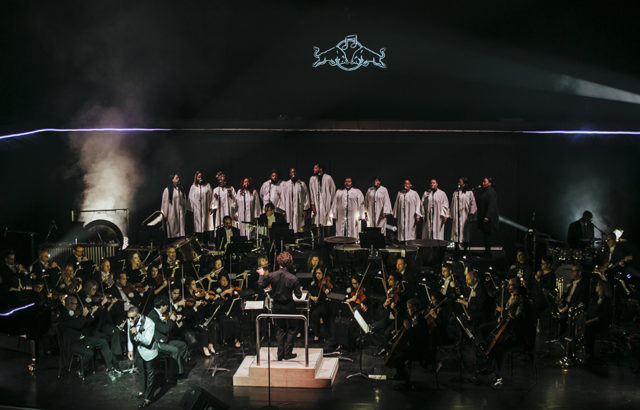 Photo courtesy of Red Bull Music
Next up, Collision. The Red Bull Music Festival Toronto would not have been complete without exploring the city's underground hip hop scene. Hip hop is such a core element of the city that it feels almost axiomatic to have a day dedicated to Toronto's MCs. While Drake may be synonymous with the Toronto rap scene to outsiders, those in Toronto know that the city has some of the most talented bar-spitters. Red Bull Music made an effort to feature the city's new class of skilled MCs who are killing it in Toronto and beyond.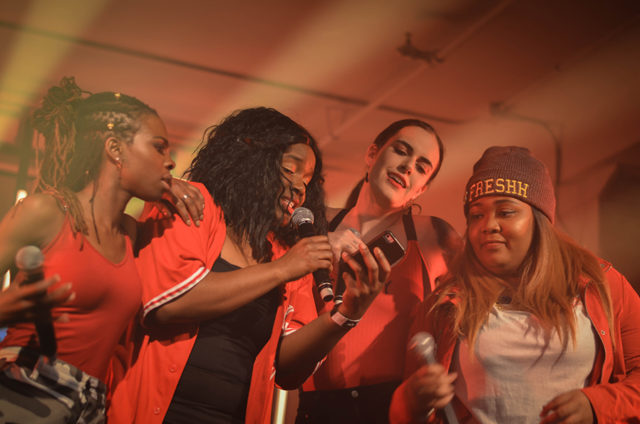 Hailing from Toronto's East End, Yasmine hit the stage first – amping the audience up with her unmatchable energy. Rexdale's Pilla B then rocked the stage with gritty ferocity. The support that Pilla B has built up in the city is truly remarkable. Having been to a live show of his before, it wasn't surprising to see the whole crowd singing along to every word at Collision. Cypher-born quartet The Sorority took over, showing the city that true Queens aren't always orthodox nor reserved. They had some of the wildest bars and impeccable stage presence. The Sorority finessed the stage with groovy dance moves, skits, and even a rap battle between Toronto's east and west ends. You could tell these ladies are masters of their craft. Toronto's R&B teenage powerhouse Ebhoni graced Collision with fierce confidence. She even brought up several up-and-coming rappers straight from her block – Weston Road. Lil Berete closed the night and had the crowd pumped, shaking the venue from the front row to the back with his energetic passion.
Red Bull Music has been a long-time supporter of Toronto's music scene and they hit a grand slam by curating a diverse, engaging, and conceptually unique festival that made an effort to shine a light on the city's up and coming talent. Here's to even more representation of the many facets of Toronto's music scene in the future.
Photos taken by Celeste Ceres