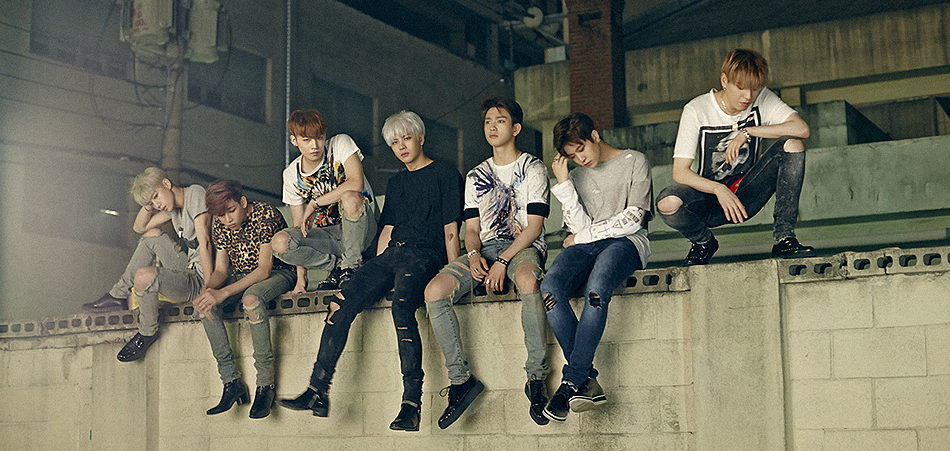 GOT7 may be fresh from their Eyes On You world tour, but the South Korean group have already made an ambitious comeback with "Lullaby." The group even have versions of "Lullaby" recorded in four different languages. 
With a title like "Lullaby," you might expect a soft ballad. However GOT7's fanbase — iGOT7 or Ahgase — know better. Actually, "Lullaby" is a glossy, synth-laden house track, with textures that overlap and bloom throughout. Keeping in the genre-blending tradition of K-pop, the song begins with surprising laid-back trap vibe. Trills twinkle in bursts as Jackson Wang raps in his signature growl. Yet suddenly, we transition to a slick drum and bass groove for the pre-chorus, and then in comes the chorus. The pulsating house rhythm making "Lullaby" so danceable. Lyrically the song is about the addicting feeling of being tempted by a lover. Members of the vocal line plead "Sweet talk to me babe/It's magical/Sweet lullaby". However knowing full well it's their own passionate tenor croons, in fact, doing all the seducing.
In the video, each member finds himself in a setting that seems perfectly normal. That is of course until reality distorts itself. JB finds a shimmering night sky behind a bookshelf, Jinyoung's car suddenly takes off into the sky, and objects around Youngjae come to life. But despite surreal twists, the group all seem to not only become comfortable with their new realities, but enjoy them. Reflected in the song's lyrics, GOT7 are perfectly content being spellbound by the one's they love.
"Lullaby" fronts GOT7's Present: YOU album, their second album of the year, following March's Eyes on You EP. The title track was recorded in three more languages besides Korean: English, Spanish and Mandarin Chinese.  GOT7 wanted to pay homage to their ever-growing international fan base: 
"We further realized the importance and love of fans all around the world during our world tour," said Jinyoung. "We felt like we could communicate directly with fans by speaking in their languages, so we decided to record our title track in four different languages."

The 16-track full-length also includes solos from every one of the seven members, which they each had a hand in writing. Listen to YOU on Spotify below.