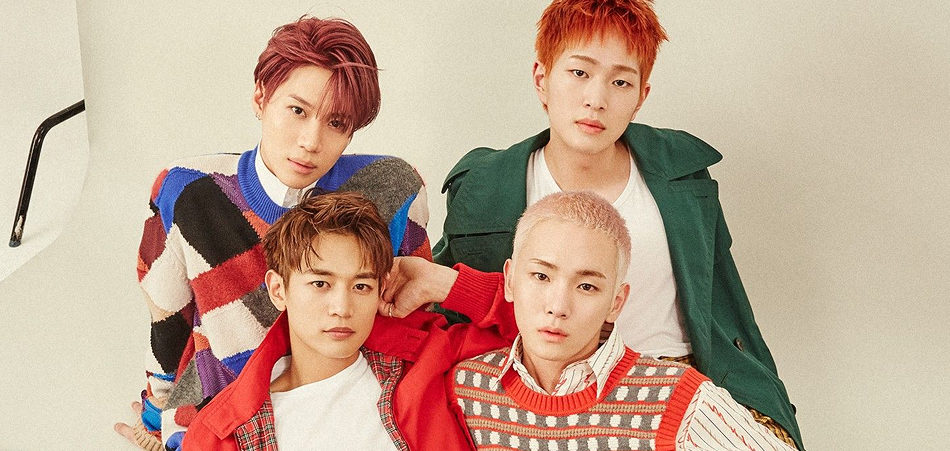 It's with a bittersweet sigh that SHINee's The Story of Light series came to an end with the release of their 16-track compilation album, 'The Story of Light' Epilogue on September 10. Luckily, the K-pop group tied up the trilogy with a lovely bow in the form of their new single "셀 수 없는 (Countless)," along with the vibrant, smooth visual.
"Countless" could have been a simple, bouncy tropical house tune, and it still would've been a solid track. But once the song gets going, in comes the unmistakable breathy croon of member Taemin, the sweet voices of Onew and Minho, and the easy agility of Key. When the four come together for the chorus, the song swells and bursts with brightness and passion — their powerful, seamlessly blended vocals soaring over a folded in sing-song-y harmonica and dance-pop synths.
Herein lies the power and magic of SHINee — they elevate their music with their emotive voices and heartfelt lyrics, leaving listeners in a different place than they expected to be when they first pressed play. "Countless" is about realizing the incalculable worth of the ones you love — a sentiment that comes through even if you don't speak Korean. The video reflects this powerful simplicity in its singular set, as well as the absence of complicated choreography that tends to steal the show. The camera just pans around the members as they express the heart of the song: "I have countless reasons why I love you more and more."
SHINee's sixth studio album was released to mark the band's 10th anniversary, and trickled out throughout the year in a series of three EPs, which were fronted by hit singles "Good Evening," "I Want You," and "Our Page." The maturity and ease with which the members blend together is the result of this decade-long partnership — one that has been filled with moments of joy and success, as well as times of deep sorrow. The Story of Light works are the first in which SHINee performs as a quartet, following the passing of beloved member Jonghyun late last year. The series is therefore both a nostalgic reflection on the group's journey thus far, as well as a harbinger of a hopeful future.
Connect with SHINee: Twitter | Instagram | YouTube | Spotify