In comparison to New York, Toronto or Los Angeles, Vancouver is definitively a much smaller city and is usually subject to smaller, intimate shows rather than being a host to larger, crowd-inducing festivals. Though I am a proud Vancouverite, Vancouver can sometimes live up to its name as being a 'sleepy city' and as such can seem lacklustre at times.
However small the scene in Vancouver may be, Canadian independent EDM record label Monstercat has made Vancouver its headquarters for the last six years, boasting a roster of impressive acts and partnerships such as with Marshmello, Vicetone, Tristam and Slander to name a few; their dedication in creating and empowering a community of passionate creatives through innovation, has helped put Vancouver on the global dance music map and helped lay its foundations for bigger and better things to come. 
To give back to their community and to give a big 'thank you!' to the city they call home, Monstercat hosts their own free block party, aptly named Monstercat Compound. With last year's wildly successful inaugural launch (which I also had the chance to enjoy), this year's Compound was even better with two stages of music and experience activations in music education, video games, art, merch, carnival games and food trucks. This time around, I was lucky enough to enjoy the VIP experience at the Compound – many thanks to Neyha and Conor of Monstercat for being wonderful hosts!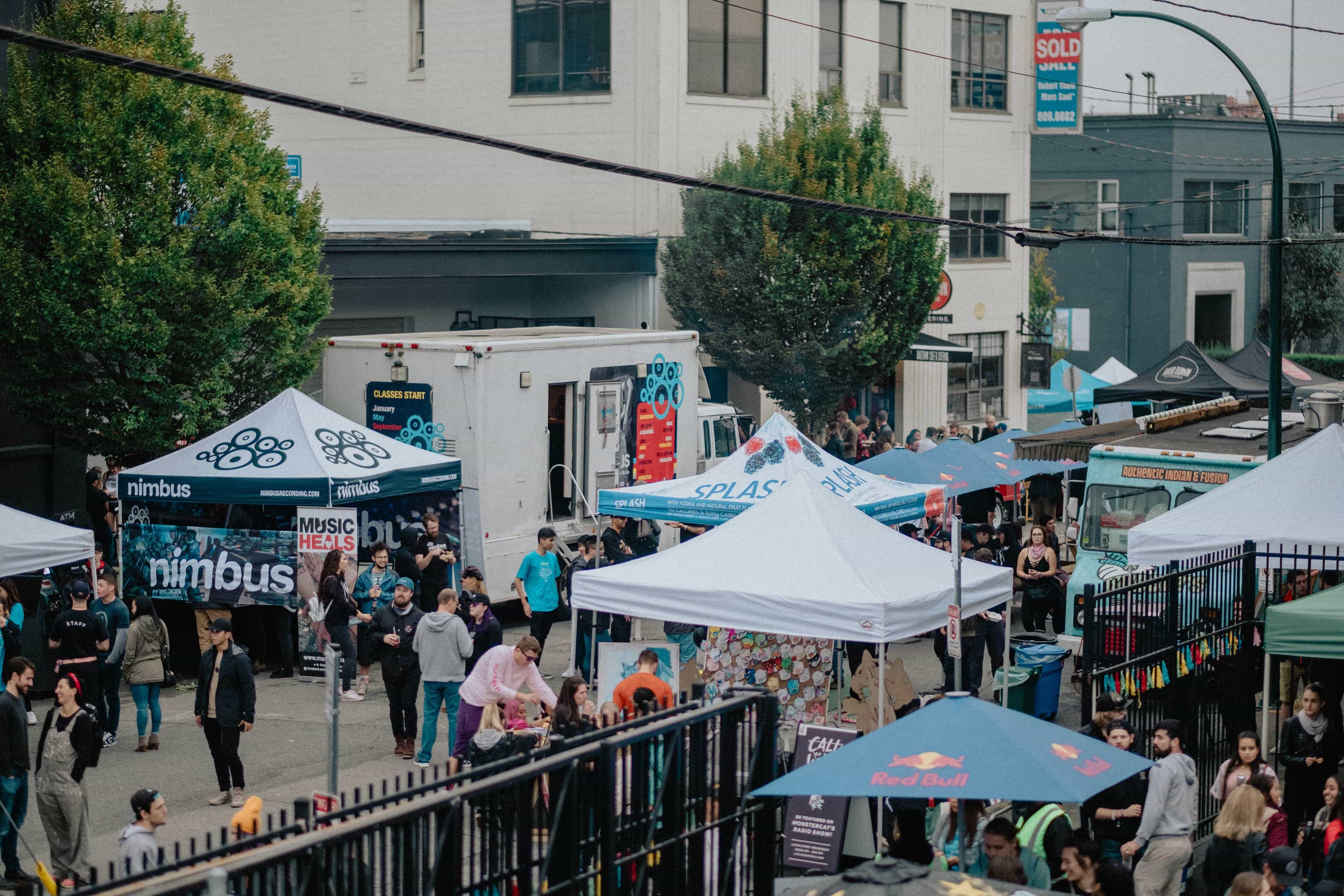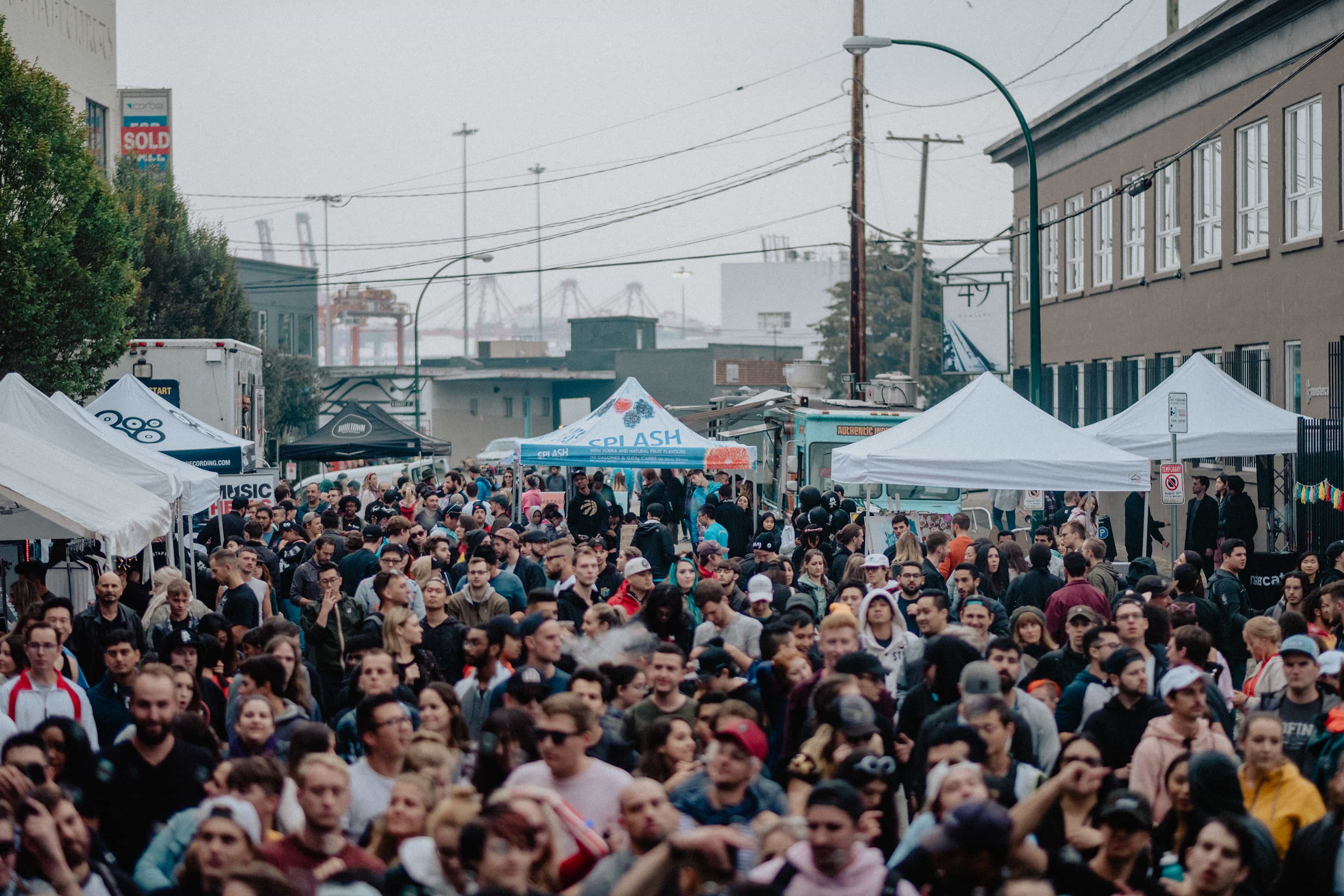 Though the day started off with bouts of drizzling rain, crowds of happy-go-lucky electronic music lovers came through and danced their way through the block – all right in front of Monstercat HQ. With one and a half blocks cordoned off, music fans were free to walk around as they pleased and immerse themselves with like-minded Monstercat fans whilst mingling with the people behind the scenes who have shaped the label to global proportions.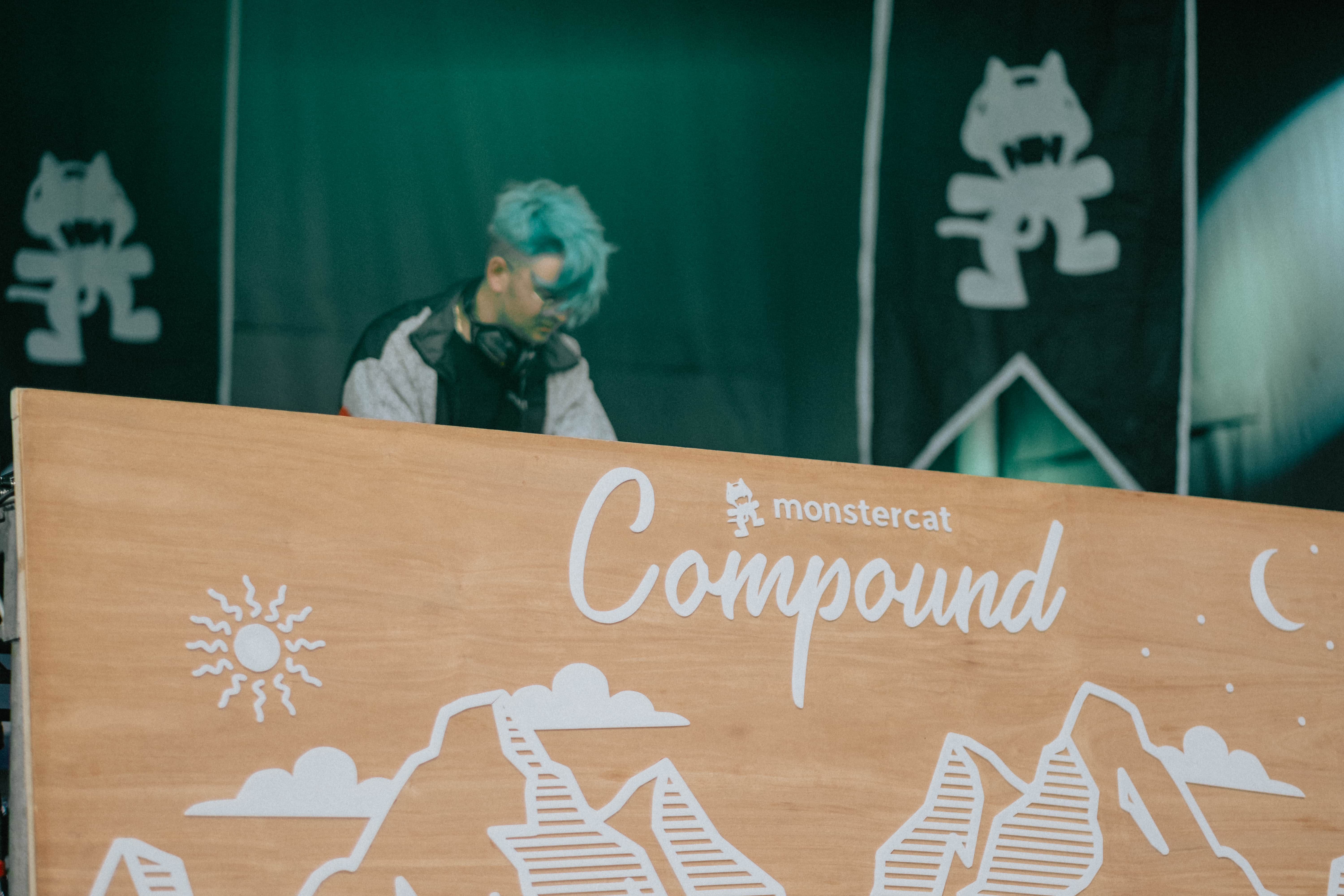 Although last year the Compound only had one stage and beer garden, this year's Compound gave way to two stages and two beer gardens – one being VIP. Main stage acts included Duality (Call Of The Wild Contest Winner), ORRI + Friends, Tails, dwilly, Bishu, Conro and headliner Vicetone, who riled up the crowd into a frenzy of screams and pure excitement. The main stage, draped in classic black and white Monstercat banners, a custom laser-cut wooden sign, flashing neon lights and one sweet bubble machine was phantasmagorical – almost unbelievable that a normal street had flourished and transformed to become home to a mini music festival. It was here I found most people, and the most enthusiastic Monstercat fans in their Monstercat apparel and gear to boot. The energy of the crowd was invigorating as I ducked past people to take photos and take in all that was happening around me.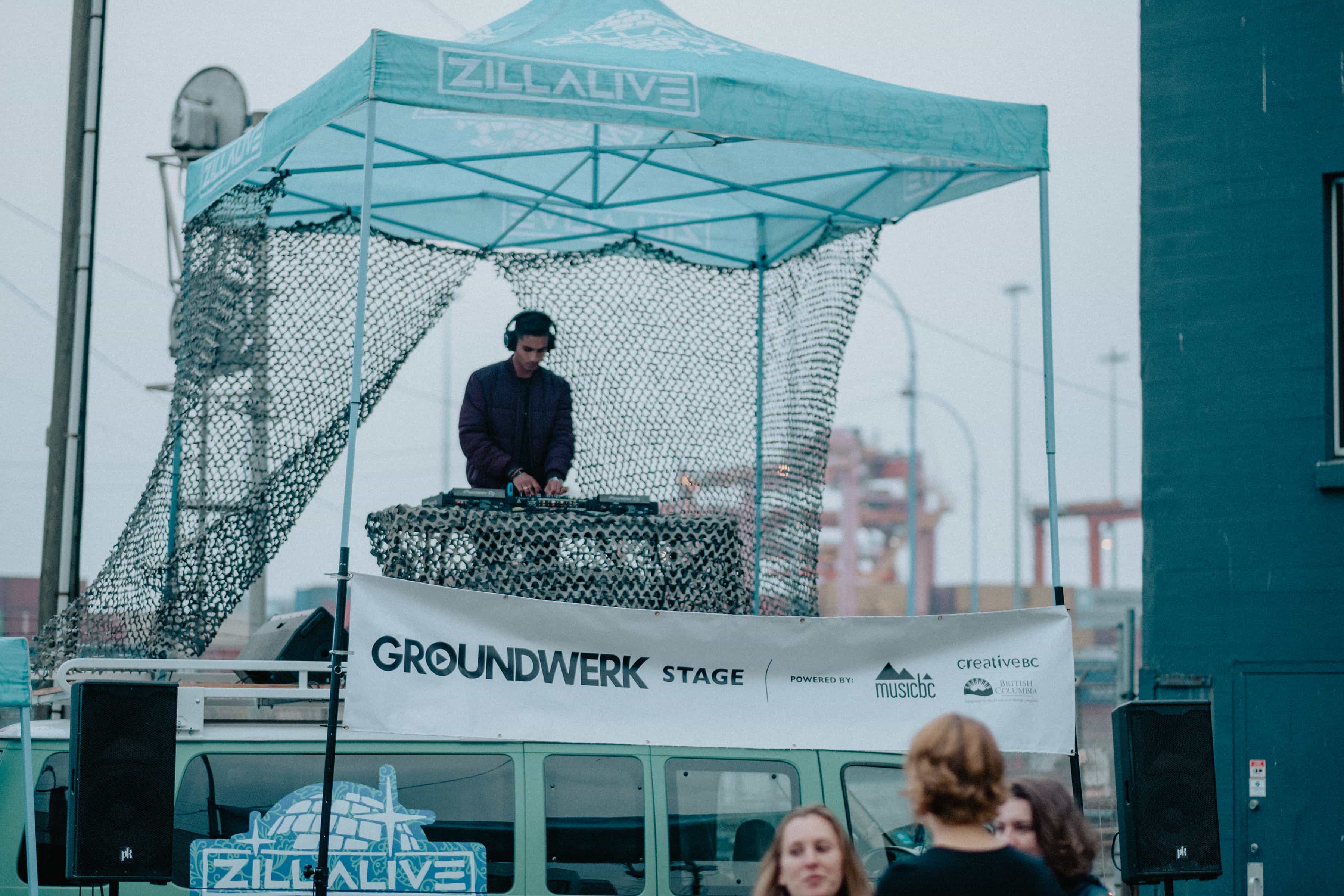 New this year, Groundwerk presents the second stage, powered by Music BC; the underground focus of this stage supplied an opportunity for curious music lovers to dip their toes in Vancouver's local underground music scene with local artists and DJs mixing on top of a retro green van. With techno and house blasting out of the speakers against a backdrop of chain-linked fences and railroad tracks, the grungy contrast was a stark difference but nevertheless, a very enjoyable one – perfect for newcomers of this genre. Locals Kasey Riot (Groundwerk contest selection), Solreia (Groundwerk x Music BC Contest Winner), Kardano, Shreshth, Aida, Joel West and Derrick Vnuk worked the smaller stage with the same amount of ferocity and passion as the main stage and I greatly enjoyed my time spent there grooving to the beats and watching hula-hoopers hoop and twirl in slow, alluring dances. 
As I wandered the street with friends, I noticed many Monstercat volunteers and staff mingling with event-goers; zealous and bubbly albeit the downcast sky, every staff member was in high spirits and their enthusiasm was infectious to everyone around them. I found myself looking at all the activations, and even won myself a branded lanyard from a retro Monstercat-themed claw machine. 
With VIP access in hand, I was able to enjoy ciders and beer in the VIP garden, and was given a chance to immerse myself in interesting and highly opinionated conversations of music, the current scene in Vancouver and global music domination. The ambitions of Monstercat, of its artists and their fervent support of all things innovative was a centrepiece in conversation, evidently seen in the set up of the stages and the careful planning of the entire event. I was highly impressed with how organized everything was and being given a chance to clamber onto both the extreme VIP balcony and the rooftop.
One of the highlights of my event experience was standing behind the artists onstage and seeing a sea of faces screaming enthusiastically and dancing the day away – the realization that people were here for the Monstercat community was undoubtedly astounding and comforting to see. With Duality kicking off the beginning of the Compound, following acts amped up the hype even further. ORRI + Friends played a slick house set, whilst Bishu, dwilly and Tails continued onwards with a mix of classic electronic and hard-hitting bass.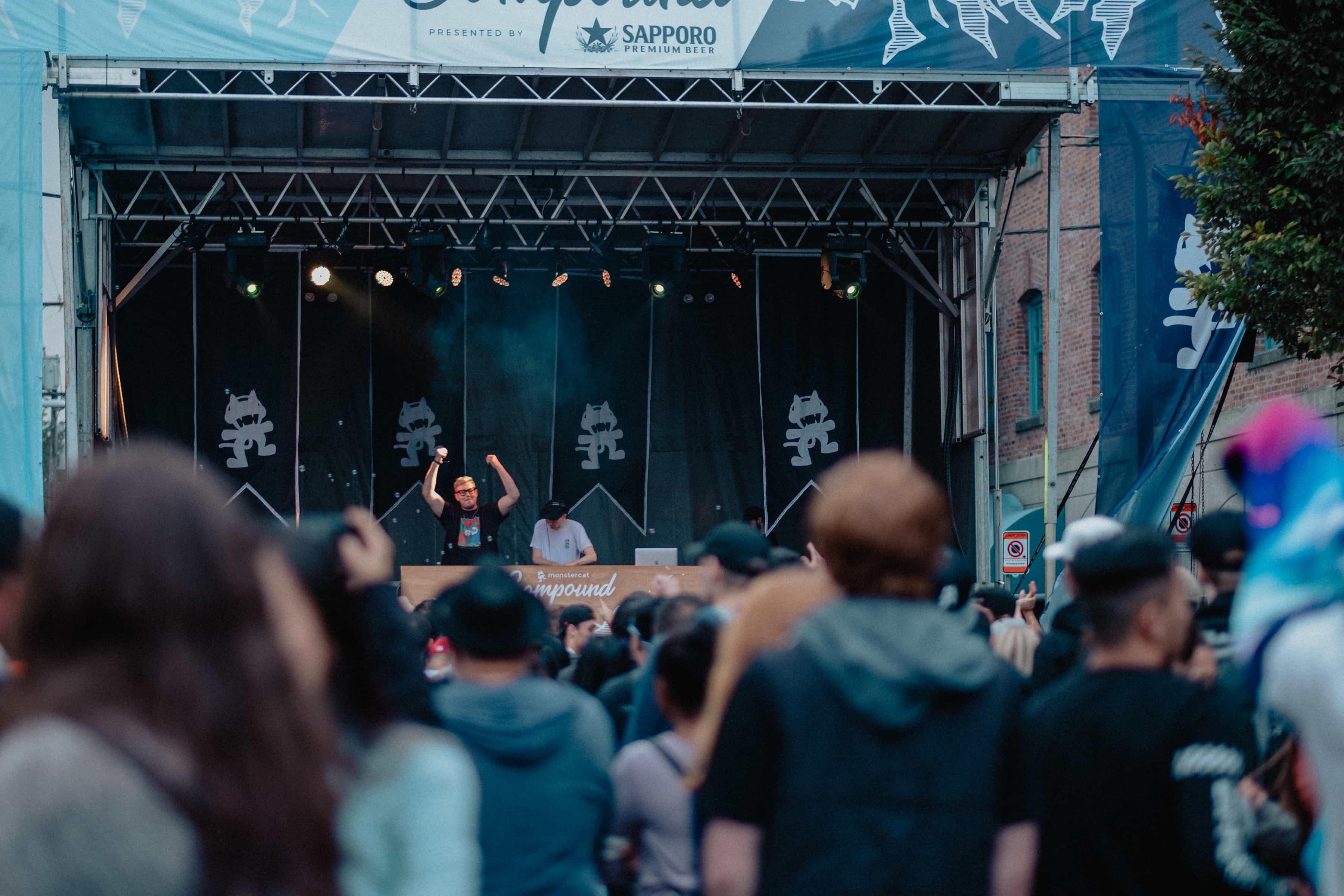 Particularly surprising and perhaps one of the most memorable moments of the day, was when Dr. Fresch showed up to do a surprise b2b with Tails. Their infectious energy and fantastic collaboration on stage, made way for Conro to step in and take over for his set in the most natural way possible, exuding comfortable confidence for his official live debut.
Before headliners Vicetone came on, I headed backstage into Monstercat HQ for a quick break, and to meet the artists in the hangout room. The amazing DJs who've absolutely rocked the stage in addition to other Monstercat artists, were congregated in a room strewn with snacks, alcohol and event posters, laughing and welcoming me into the room. I had a chance to speak to beautiful souls dwilly and Tails and recounted their sets as wholly thrilling and all around amazing.
Then came time to meet Vicetone, whom I had chance to sit down with right before their set. Riding on the success of the past few years in the industry and their utter domination of electronic dance music, Dutch DJ and production duo Ruben Den Boer and Victor Pool have taken the world by storm with their infectious and undeniably upbeat music that is both dance-floor ready and emotionally resonant.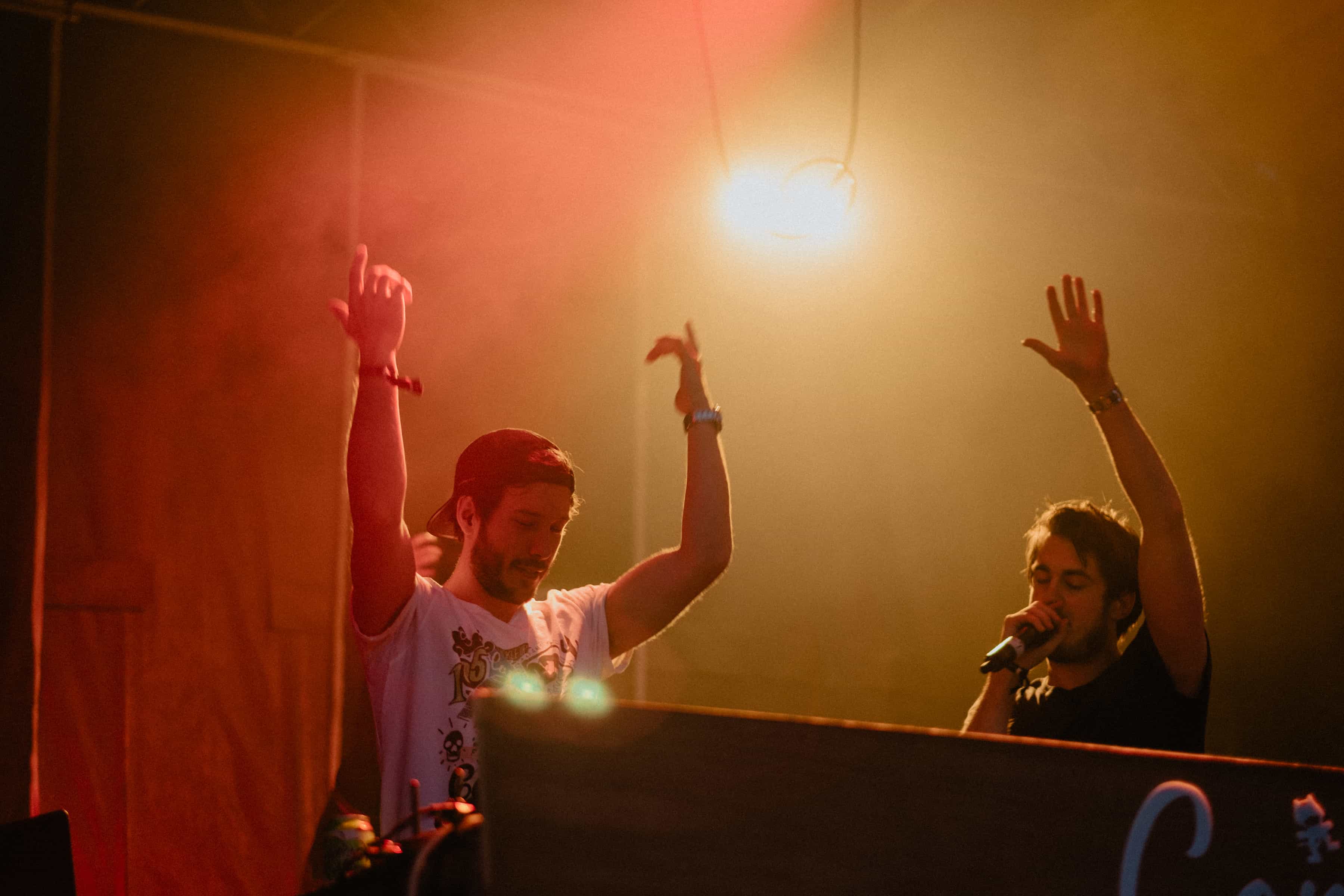 Though the duo are beyond famous for their music (some of their Twitter followers have followed me for the onstage clip of their set, possibly in hopes of seeing more) and their dedication in maintaining sonic authenticity and integrity, Ruben and Victor have not let fame take over their friendly, easy-going nature. In a room decorated with comfy leather couches and a table strewn with half-eaten boxes of sushi, the duo are as relaxed as can be as they settled into the couches with smiles on their faces. After all, they are normal people and it becomes apparent the one thing that sets them apart from the masses, is their undying love for music and their devotion to creating the best possible experience with their work. "We were fans of dance music before we ever produced anything, and you know, we used to go to rave parties with each other," Ruben remarks, "we knew this was meant to be." Evidently, their history with music helped them acclimate to finding a sound they both enjoyed and wanted to share.
From their humble beginnings to their current international standing, it's astounding how far they've come yet how much they've retained their sound. "Music wise, we both always liked the more melodic stuff," Victor notes. "Stuff that has more emotional feeling to it, and also more energetic – stuff you can play that people will go crazy to and also put on Spotify for workouts, for all situations." And it shows in all their releases; Vicetone tracks are played in clubs, through the radio and everywhere else imaginable – they're tracks that resonate with all walks of life and all aspects of it. So with that in mind, what makes it so? What are the inspirations that elicit such evocative songs to come out of production? In an era where the music industry thrives on always focusing on the new and gradually same-sounding, Ruben and Victor instead, take from the past and craft it into something incredibly innovative – something they have become experts at. 
Take for example, many of their tracks have almost Swedish House Mafia-sounding vibes. "The Swedes are so good with melodies and for us, that's really our biggest inspiration," Ruben remarks. However, their inspirations also come from another era and a completely different style of music. "We're both huge Eminem fans, 50 cent, Dr. Dre…all those 2000's era type of hip-hop. We grew up with that you know – it was on TV all the time, it was everywhere. That style of hip-hop was great; all the beats – super catchy, very to the point, very hook-oriented and we love that." It's no wonder then, more often than not, the duo often utilizes unique vocals to hook listeners in with simple, concise lyrics that really catch on.
It made sense then to lead the conversation into talking about their latest release, "Walk Thru Fire" featuring Meron Ryan; it's a song that utilizes a simple hook with their signature Vicetone sound – perhaps deriving from the inspirations they talked about. The sweet voice that is Meron Ryan was what started the production of "Walk Thru Fire", as Ruben and Victor recount how they felt when they received a sample of the vocals sans instrumentals – exactly how they prefer it. "If you only hear the vocals, the music will kind of just show up in your head," Ruben smiles and indeed, that was exactly how it happened. 
The duo took the vocals and changed the hook line first provided, made some cuts and focused it more around the lines I'll walk through fire which was part of the first pre-chorus. Switching things around, playing with sound – all the little things that the duo do to ensure their creative process is executed allowed for something that suddenly made sense to them. "We added melody in, using couple layers of "Nevada" and we tweaked it to make sure her vocals fit right in. Two years after "Nevada" comes out, they have similar sound, there are certain layers that they both use but different tempos, different everything – there's a lot that people will like about it but it's still fresh." And as such, a testament to their expertise in knowing what makes people dance, what'll make people happy whilst still staying true to their musical identity. 
As we continued to converse, sounds from the main stage filtered in, grounding us in the space we were in. With the duo as headliners, I knew they had released on Monstercat before – but to what extent was their partnership? In 2012, Victor and Ruben formed Vicetone and around the same time, Monstercat was also created. There were definite parallels to both their beginnings; Monstercat built a fanbase around YouTube while on SoundCloud, fans began to really like Vicetone's remixes and it was through their fans, that they both were able to expand into other venues. 
It was then Victor and Ruben created an original song, "Harmony", which would go on to become their first official release off a label – Monstercat. ""Harmony" had an orchestral feeling, still energetic, still house-y, so we got in touch with Monstercat if they wanted to release it and that was that – our first official mix," the duo notes. Their many remixes had given them traction and Monstercat had noticed, and thus, a relationship began.
Needless to say, Monstercat and Vancouver, hold a special place in their heart. "It's amazing – the atmosphere, the vibe, we always get a lot of people who come out for us," Ruben says and notes that almost always, shows are sold out. With even such a small city having die-hard fans, it's almost certain that other cities hold the same love for them, the future teeming with possibilities. 
"Five years down the road, we want to go to the moon," Victor jokes but in actuality, they both agree that this is what they're meant to do. "We don't have many other skills to be honest…if you really think about it, we wouldn't be able to hold any other job," Ruben follows. It's clear as day that the duo are incredibly passionate about their work and it shows through their creative process and how they delegate themselves. "We're not introverts, but we're happy to be in the studio. We usually work together because it's a lot more fun but if we have to be alone 8 hrs a day, it doesn't make us unhappy because we're in our own little world creating music, worrying about stuff that is very important to us in that exact moment. Even if it's trivial, it's something we want to get right." The enthusiasm and diligence they exude, only seeps into their outlook on life positively and seemingly, embody 'living in the present' as their motto.
 "The music scene keeps on changing, you never know what's going to happen, so we just got to be in the moment…release the tracks you like at the moment and hopefully keep on growing from that," Ruben notes. "Who we are when we're 21, to who we are now when we're 26 – we're not the same people. We grew up but we still love music that is energetic and that's not going to change." Almost to drive home the point, they recalled their beginnings of remixing as the jump off point in looking at things from a new perspective, and to always remember to stay humble and present.
"We always thought wow, this song could be so much better – guess we gotta do it," the pair smiles, perfectly poised. "We like staying at a studio for hours, for weeks at a time and it's insanely satisfying to finish a song, you know?"
Almost unsurprisingly, their 'live in the present' perspective also transfers over to their due diligence in their work. Profusely agreeing with each other, the pair are content in staying home while not on tour and they love it. "Some days you have nothing, because it just doesn't roll, but some days we'll roll through the whole song – it feels extremely nice, fulfilling and it feel like we contributed to something. Because everything you do, once it's finished, it'll be in the world and it'll stay that way forever."
That quote really struck a chord with me and was immensely profound – to be able to create something and let it live on in the world forever, is both something extremely present but also fortunate. Truly, I can see why Ruben and Victor's favourite music year had to be from 2009 to 2010, when Avicii released hit after hit, taking the world by storm with Swedish progressive house. We all have dreams and aspirations, and to Ruben and Victor, rising to the top of the electronic dance world has been all the more rewarding because of their dedication and hard work. 
Again, anything that you do to create and to set forth, will always stay in the world and be there; it is a testament of your identity, of your existence and of your dreams. Ruben and Victor have already left us with many gifts, and as they stood up for their photo, I understood right then and there: these two were far from done. They are unafraid and they are willing to continue to persevere in this changing world whilst still staying true to their identities as artists. "It's absurd. Two years ago, we would only be in Holland and now, we're all the way in Vietnam with 25,000 people losing their mind over [our] music. It's truly amazing."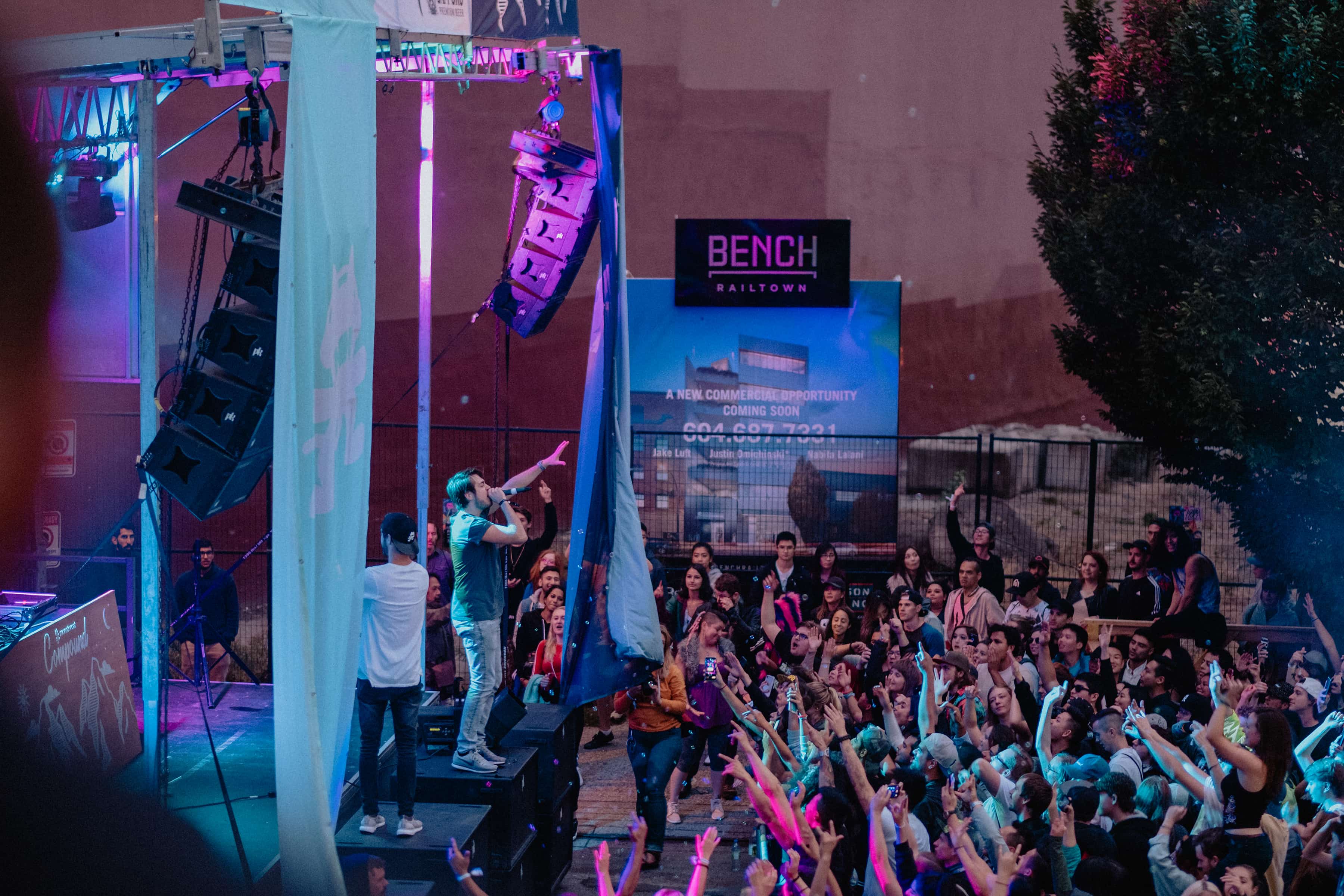 Feature image by Brandon Artis
Photos by Vivian Lin
Connect with Monstercat: Soundcloud | Twitter | Facebook | Instagram | Youtube
Connect with Vicetone: Soundcloud | Twitter | Facebook | Youtube