There has always been something in the water in New England when it comes to folk music, and Tall Heights are no exception. The electro-folk indie darlings are fresh off a tour with Judah & The Lion and Colony House, and are currently acting as both opener and backing band for Ben Folds on his co-headlining tour with Cake. They are planning to release their third album, Pretty Colors For Your Actions, on October 5 via Sony Music Masterworks, which will be followed by their own headlining tour. They couldn't have made it this far without the help of their friends, and they have honored this collaborative effort with a live video for lead single "The Deep End" filmed in a tiny green room alongside Brian Macdonald (of Judah & The Lion) and Colony House.
There's a certain energy buzzing beneath the surface of this video, or maybe it's humming. Either way, it's warm and welcoming in a way that conveys a genuine love of the track. The close-quarters in which this was filmed create an intimate setting, inviting viewers to step inside the room and sing along.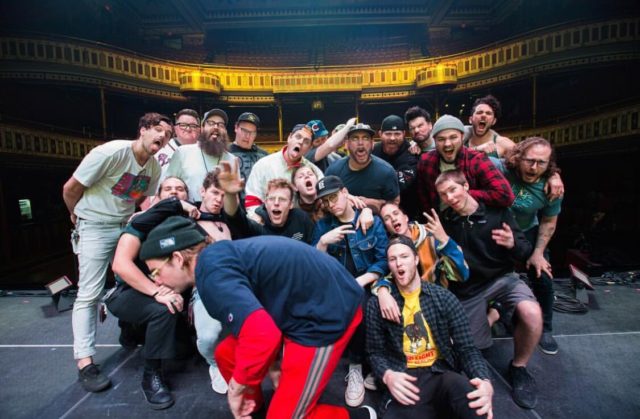 Of the video, Tall Heights said:
"Collaboration brings us our greatest purpose and joy. It's what Tall Heights is. We're currently doing it every night on the road with Ben Folds as his band, and we did it while opening the Going To Mars Tour for Judah & The Lion earlier this year. We crammed into a tiny backstage dressing room with our dear friends Brian Macdonald (Judah & The Lion) and all of the Colony House boys (lead singer Caleb Chapman filmed) to perform our new single, 'The Deep End.' It was super fun, we love every human in both of these amazing bands and we consider ourselves lucky to count them as our pals."
Connect with Tall Heights: Facebook | Soundcloud | Twitter