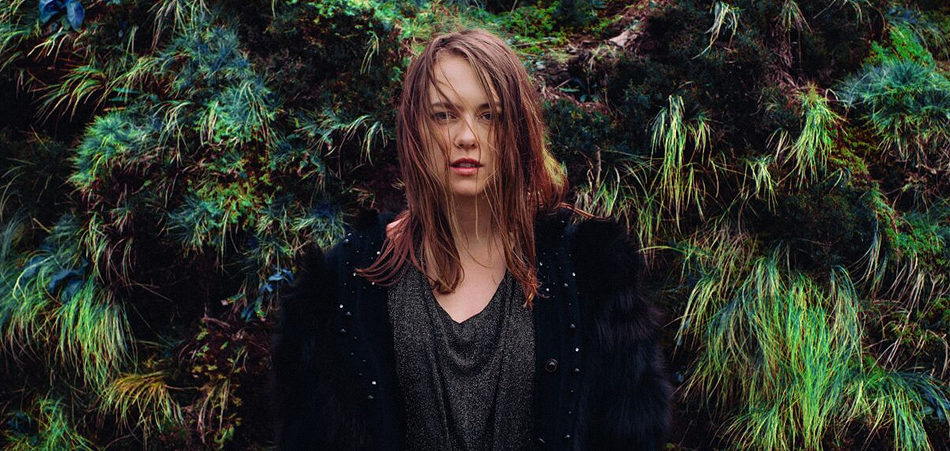 O-SHiN is the latest artist to create a visual companion to her sonic body of work. Early on, she realized a traditional music video wouldn't do her EP, 'I / ∞' justice. Of the visual poem, she says: "I wanted to create something that puts the music in a new context" she explained. "The combination of the elements from different songs melting into something new. As opposed to just singing a song - I wanted to tell a story." 
Shot in Gran Canaria with fledgling filmmaker Sebastian Nandryka, O-SHiN uses nature imagery to capture the elemental aspect of her music. The video sees her in the water, struggling, then running along the beach. Just as quickly, she is in a deserted landscape. O-SHiN is a hard artist to pigeonhole. She writes like a folk singer, but her music drifts between distinctly pop-leaning and more experimental. There is a touch of twenty-first century realism, but it is peppered with delightful elements of romanticism as well. 
EARMILK: There's a very stark shift in the video between water motifs and desert motifs. What about this imagery spoke to you, and why do you think you pair nature visuals with your music, which has quite an electronic undertone? 
O-SHiN: I always have been pairing nature visuals with my music because my music found its origin in the countryside, in a little Swedish barn. There is something earthy to my productions and I want people to see that, so they can become part of my brainwave. While the ocean is so big and wild it has something threatening and soothing at the same time. That's how I feel speaking/singing/thinking about the topic of death, which is the recurring theme throughout the work. 
EM: What was behind the decision to rework "Nameless" and turn it into "Aimless"? 
O: Sometimes when you are in the process of producing a song you end up with different versions of the same song. In this case, I really liked both versions. As 'Nameless' is lower and slower it feels like the sad version of 'Aimless', which is the more hopeful one.
EM: Can you explain the meaning behind "A Revelation?" 
O: I am basically begging for an answer to the question "what comes after death?". Even if you believe in the concept of "heaven" - I really can't see what that would look like, and if that would literally be a place or more like a state of mind or feeling. Wouldn't it be so much easier to die if you would know what to expect?
EM: Can you speak a little further about the death motif that seems to surround the EP? 
O: I just have been thinking about this topic a lot. I guess because death crept into my closer circle. Sometimes it got kicked out on time. But every time you or someone you love "survives" you know sooner or later it will happen anyway. It's such a weird thing if a person you know is missing and will never come back. It just doesn't feel right, but at the same time it's actually a normal part of life. Even though these things are sometimes very depressing, they give me energy at the same time, as it reminds us to focus on what is most important. Writing songs about it helps me to process my thoughts. 
Connect with O-SHiN: Soundcloud | Twitter | Facebook