Zedd is white-hot at the moment. Not long after he earned his second GRAMMY nomination for "Stay," he dropped "The Middle," a song so ubiquitous that it needs no further explanation. But here it is below in case you want to jam out while you read the rest of this article.
On Tuesday, July 3, the Russian-German electronic virtuoso will be headlining the eponymous Zedd In The Park, a one-day music festival at Los Angeles State Historic Park. Why is this significant, you ask? Before 2017, the park had been dormant for three years due to a rigorous $20 million renovation project. The venue eased its way back into relevance in May 2017 with Skyline, a small-scale festival featuring Lido and Elohim, among others, and a monster headlining set by Duke Dumont. This time around, LA Historic Park gets a huge shot of adrenaline with not only Zedd, but also Whethan, Medasin and Oliver Tree, three fast-rising artists blending the worlds of electronic and pop music with a great degree of success. With such a momentous show, you know Zedd is going to pull out all the stops, so ahead of the festival EARMILK is here to point out some unreleased jams to look out for that will have your crew wondering how in the world you saw them coming.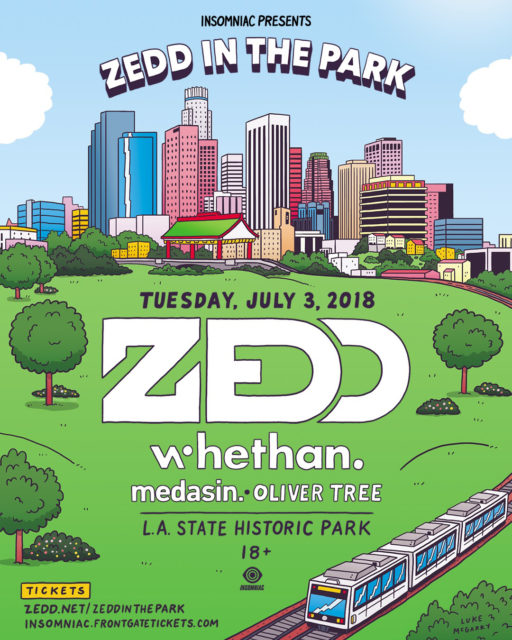 1. Zedd and Khalid collaboration
In March 2017, Khalid tweeted a Boomerang of himself in the studio with the caption "let's gooooo @Zedd X KHALID." More jaws dropped than when the "cash me ousside" goblin got her Atlantic Records deal. Could this be the show we finally get to hear this dream collaboration?
let's gooooo@Zedd X KHALID ??? pic.twitter.com/MRkMNEfAn8

— Khalid (@thegreatkhalid) March 12, 2017
2. New Zedd single with co-writer of "The Middle" and "Stay"
Just two weeks ago, Zedd declared on Twitter that he had finished mixing down his new single. Ho hum, another hit, right? Just like a wacky inventor would quip in the midst of a cringey Shark Tank pitch – "But wait, there's more!" Sarah Aarons, who co-wrote both "The Middle" and "Stay," immediately responded with a cryptic emoji, setting off a conversation revealing her as a writer yet again.
??‍♀️ https://t.co/GoF5oUcdJU

— Sarah Aarons (@sarah_aarons) June 13, 2018
3. Zedd and Shawn Mendes collaboration
In all his maddeningly succinct yet optimistic glory, Zedd confirmed a collaboration with Shawn Mendes back in May. Fun fact: at the exact same time, Ariana Grande's tween fanbase realized Zedd was also the guy behind "Break Free" and immediately bought tickets.
You will get it :)

— Zedd (@Zedd) May 31, 2018
4. Unreleased Whethan single
Let's not forget about the supporting artists here. Whethan is an absolute beast, collaborating with Louis The Child on a ridiculous EP before teaming up with Dua Lipa for "High," which appeared on the Fifty Shades Freed soundtrack. Look out for this nasty unreleased tune he unveiled via his spellbinding "Too Future" guest mix back in April. 
5. Remix of BTS' "Fake Love"
Frenzied K-Pop fans fell into a rabbit hole (you'll get that analogy in a minute) when Zedd dropped a rip-roaring remix of BTS' "Fake Love" at Ultra Korea earlier in June. Rumors swirled as to whether or not the remix was produced by Zedd, but track ID sleuths quickly found out it was created by Tokyo producer Bunny.
For tickets and more info visit: http://zedd.me/ZeddInTheParkTix