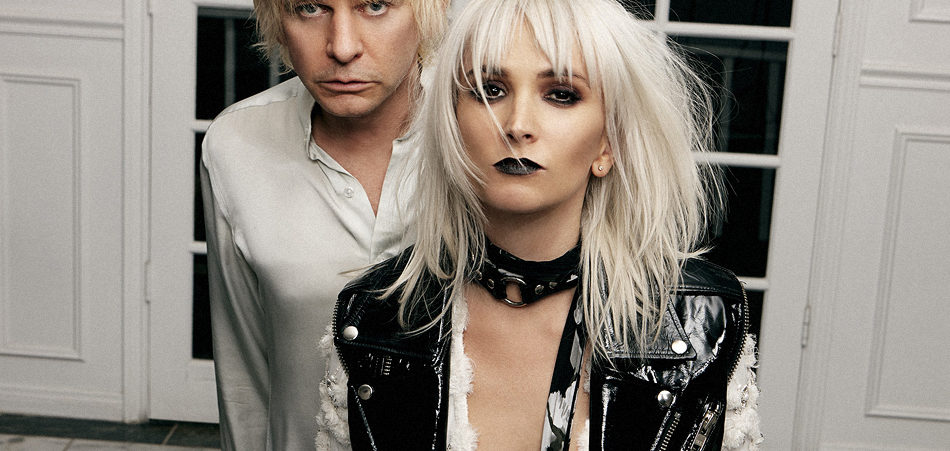 The British electro-punk duo SSHH have officially dropped their newest single and video, which will be officially released tomorrow along with seven remixes by the likes of YOUTH, Sondrio, Acaddamy, Secret Space, Jevo Robotic, and SSHH themselves. "Rising Tide" is one powerful treat. 
SSHH is all Siouxsie Sioux, sex and out-of-control control. This is powerful music "to fight to and fuck to." The dynamic duo, comprised of famed drummer Zak Starkey and vocalist Sshh, wrote and recorded the track in London about an explosive fight, trapped in a rainstorm. Sshh elaborates: 
The song is a true story. A love song that was born from a fiery argument between the two of us. We were driving in a heavy rain storm and I remember being furious beyond belief. Not only because we were having a huge fight, but because even though we were acting like assholes to each other, I  couldn't stop thinking how much I loved him. Just like I couldn't stop the rain from falling, or the stars from shining, I just can't stop loving this man!
The frantic production and eerie, underground sound completely contrast Sshh's seductive, ethereal vocal but complement the back-and-forth nature of the lyric. "Rising Tide" is equal parts sassy and heartfelt, a rare and unexpected quality in a genre which typically relies solely on anger as its emotive centre. Speaking further, Sshh says:
The music video relates to the song in the same way is that it's about contradictions. The raw, edgy, punky vibe of the video defies the electronic style of the music. The song has a dancey feel in the recording but when we play it live, we are very much a punk rock band. There is anger in the happiness and a little hate in the love. At the end of the day, passion rules. 
The video, co-directed by SSHH and Billy Zammit, is out through BMG worldwide Friday.