Success isn't always a straight line from school to career. Sometimes, it starts at karaoke and ends in a successful entrepreneurial trio-ship.
Sometimes it's weird to think this is what we do for a job. We didn't plan on doing that, and then it just happened. I think it's really cool for kids, sometimes they go to college and they're like 'I got to do this – this is what I have to do.' But, this goes to show if you care about something and you work really hard at it you can make your own path in what you want to do.
That's the answer Morgan Freed gave when we asked him what message he wanted to share with EARMILK readers in regards to Emo Nite, the emo-themed music night that started as a word of mouth gathering that filled a dive bar to the brims, but is now a monthly event hosting a star studded DJ lineup and drawing in people from all walks of life that have one thing in common – a deep rooted love of pop punk and emo music. We replied that we thought going after you want was good advice. He added, "Yeah, you can do whatever the fuck you want."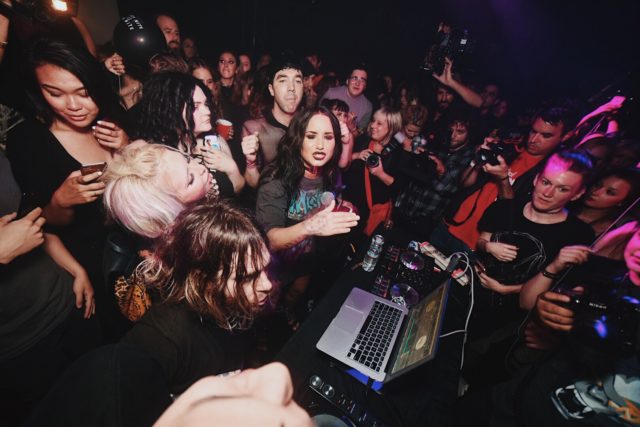 The story of Emo Nite starts back in December of 2014 when Babs Szabo and T.J. Petracca met at a mutual friend's birthday party in Echo Park when they decided to sing Dashboard Confessional karaoke together.
"We were like that was so fun wouldn't it be fun if we could go out to a bar and listen to music that we like instead of pop forty and whatever else they play at clubs all the time. So we worked with Morgan [Freed], and he was like, I have a friend who's a bartender maybe he'll let us come in there and pick the music one night. So we got that lined up and our very first Emo Nite and we just invited all of our friends to come and I guess they invited all of their friends to come and the very first one we were at capacity and had a line around the block."
Since that first night, the emo trio has hosted artists like Demi Lovato, Halsey, Machine Gun Kelly, Debby Ryan, Post Malone, and Kristen Stewart, moved to hosting four stage at the Echo & Echoplex where they host guest DJs and have four stages where they can also feature live bands.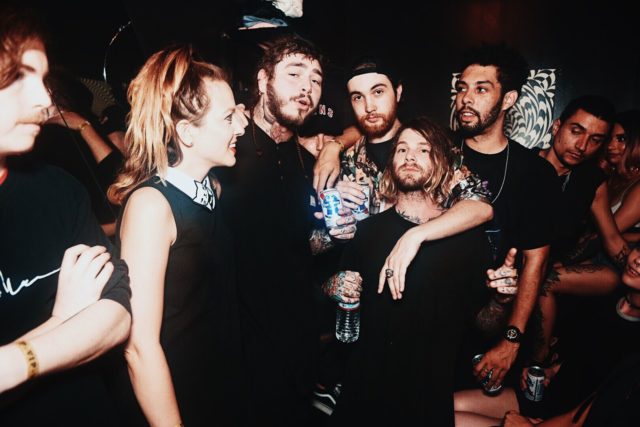 The success they've garnered has landed them collaborations with Obey, Urban Outfitters, and an up and coming event with Goldenvoice this December called Emo Nite Day, their first large scale event that will take place at the Shrine Expo Hall in Los Angeles.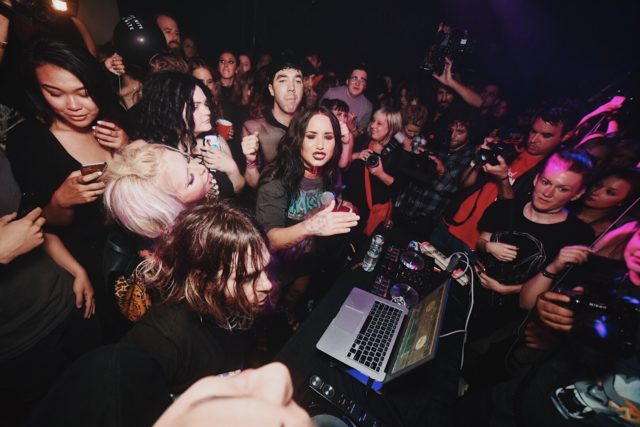 So what draws hoards of music fans and even artists that don't play music in the genre to Emo Nite? According to Babs it's a sense of community and a place to let their guard done. 
I feel like when you find out somebody else likes emo you have this immediate bond with them and you feel like you know them even though you may have just met them, and I feel like that's the vibe at Emo Nite too. People make friends really easily because they'll sing along to one song together and they just feel immediately connected to this person. So that's also been a really cool thing to see friendships form and people kinda come together based on this music that is essentially culture to some. Everyone can just expect having a really good time without having to have their guard up, or having to feel like they have to be a certain way to look cool or be cool.
For the founders of Emo Nite it's become a great way to tally up not only resurrections of centralized common experience, but one of a kind music events. Some of those moments include Puddles Pity Party the clown singing a My Chemical Romance cover, Dashboard Confessional playing an acoustic set at their one year anniversary, and Chris Conley of Saves the Day face-timing Morgan's sister on her birthday. With Emo Nite, Babs, Morgan, and T.J. have discovered the ultimate life hack for figuring out how to do what you want in life, and according to T.J. it's finding what you're passionate about and sharing it with as many people as possible. 
We were never promoters before this, we just kind of started this because we love it. It's not like we book club nights all the time, we never done anything like this before and we still don't. It's not like we have an Emo Nite on tuesday and a 90s night on wednesday, it's not really done with the intention to make money and just to throw a club night to do it. We do it because it's something that we're passionate about and that we care about.
Feature photo by Ward Robinson