On October 1st, LA based artist, musician, and poet Micah James is going to be hosting & curating an event called "Queer Isn't Kept: Amplification In Black Queer Voice" in collaboration with The Main Museum in Downtown LA from 4 pm to 7 pm (Free admission).
The event will be focused around an eclectic line-up of some of Los Angeles' most revered Black & Queer artist, musicians, and DJs, including Eddington Again,  Brandon Drew Holmes, Bapari, Black Gatsby, and many more.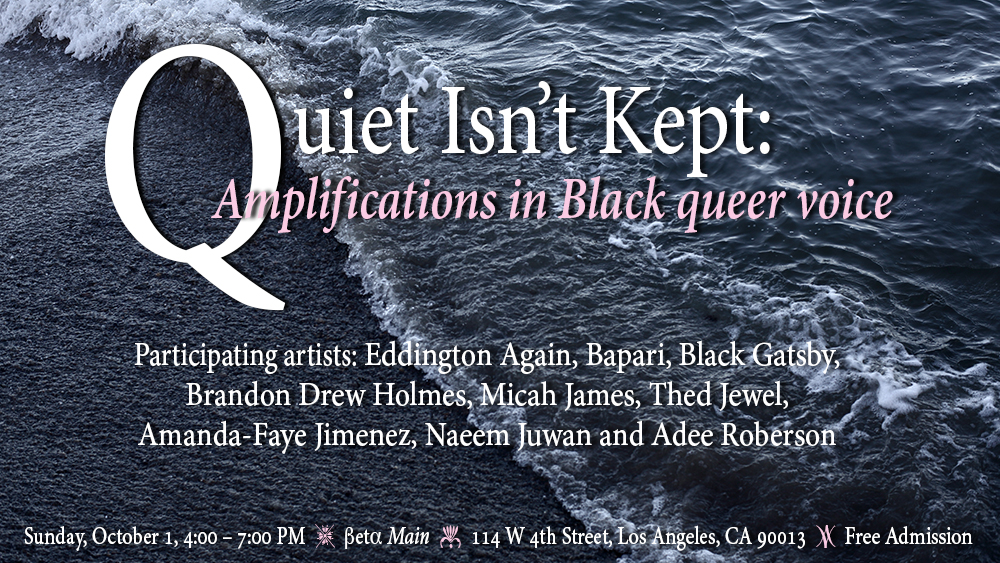 EARMILK has been given the opportunity to interview Micah and Eddington Again about how the event came into fruition, the current reception of the black queer voice within the music scene, and how art institutions like the Main Museum can best serve & support queer artist of color and their communities. 
EARMILK: Can you talk about the title of the program, "Quiet Isn't Kept: Amplifications in Black queer voice" where did that come from?
Micah James: I like the letter Q. I really like it written in cursive, especially and for some reason, the phrase "quiet is kept" was popping in my head as an opposing idea to Black queer radical imagination. And maybe that's inherently our collective starting place, too. As Black people, we're supposed to shut up and be happy with the scraps of society. To accept that there is no reciprocative humanity within white supremacy. and when you don't or accept that, when you decide to use your voice, you will be silenced, usually violently. Simiarly as Black People 

whose identities and experiences stray from the heteronormative, we are taught how valuable silence can be to our immediate safety and survival. Be quiet. Keep that shit to yourself. Don't tell nobody. Shhhh. Eventually, though, hopefully, we realize how detrimental that mentality is to our actual well-being, and quiet can no longer be kept.
https://www.youtube.com/watch?v=0ZEUheb4FA8
EM: 

 What does it mean to produce this event in partnership with an art museum? What's your relationship to art like?
MJ: 
Doing an event with a museum feels tricky because historically, institutional spaces haven't really had time for Black people. Our work, our presence, our anything. Save, of course, eras of major visibility for social injustice such as today or like, the civil rights movement. Right now, Black people (read: our pain as we're willing to perform it) are trending in the art world, so it gives the illusion of progress. But like I mentioned, Christopher is a friend and I like the programs that Beta Main has been doing so I was like sure. 
As far as my relationship with art… I guess I feel like an outsider. I didn't go to art school and I don't really have art world aspirations, but if I can hustle some money from it, that's cool. I won't downplay my interest in making things for the sake of sounding like I'm different than anyone else who does the same. You hope people will hear and see your work, and like it, and hopefully, you'll get the opportunity to explore more of what you have inside. But in the end, you really really really (4 more reallys) have to be clear about why you make shit and who it's for. If it isn't to lift up marginalized people, or at the very least to help you sort out mental health issues and help you breathe, then IDK. 
EM: What do you feel is the responsibility of artistic institutions like The Main Museum in respect to the Queer Black Voice.
MJ:  If spaces aren't creating positions of value for marginalized groups or showing their work consistently as a basic mode of operation, then it's just about vanity and moving up the ranks. If Black people aren't a trend to you then prove it. If women aren't just tokens to you, then prove it. If LGBTQ voices, especially ones that aren't white cis men, mean something to you, then prove it. The template must change and it's up to us to hold these places accountable because like I said, historically, they've let us down. 
https://www.youtube.com/watch?v=6__BH2_OW6I
EM: What are your thoughts on the current hip-hop scene and it's (slow) widening acceptance of openly Queer artists?
MJ: 
Hip-hop is pretty boring tbh. One of the best rappers alive is an old nigga—not to say I don't like young rappers, I just mean that nothing new is happening. I mean, that same old nigga I'm referencing, Andre 3K, still ain't grown enough in his work to stop saying wild shit about women.
Everyone goes at their own pace, but hip-hop is slooooowwwwww. Most rappers just talk big shit then drop a couple moments of performative introspection. *Shrugs* I love to rap. I'm pretty good at it. But it's like growing up in a religion. You learn god in a very intimate way but all the clergy and elders and accompaniments ain't shit. So you maybe leave religion but hopefully, you got god. 
As for openly queer artists, there are crumbs of acceptance and that's probably because hip-hop refuses to address its root misogyny. When (if) hip-hop stops hating women, we might see some changes.

https://www.youtube.com/watch?v=P5eYbIqKIkA
EM: Do you feel like the hip-hop scene is becoming more accepting of Queer voices?
Eddington Again: I feel like the hip-hop scene is still too afraid to really accept queer voices. We don't need them to though, there's a whole network of queer artist who love an support each other. A lot of our music is really forward and it goes over peoples heads. Those who are open minded get it.
EM: What do you feel is the responsibility of institutions like The Main Museum in regards to queer & black artists?
EA: Ideally give us a platform where we can express ourselves freely. Do more listening than talking and be open to learning. Work with us on building and creating more spaces for ourselves.
EM: How has today's sociopolitical climate shaped your recent output?
EA: Shit has been so chaotic the past couple years that I'm in an almost constant state of anxiety. Making music gives me a reason to calm the fuck down and center myself in order to channel what I want to put out. Im not sure how it has affected my music lyrically but I've definitely been creating more as of late.
EM: What are your general goals when you are creating? 
EA: Sometimes I am looking to connect and uplift the listener. Other times I might be looking to center myself or I could just poppin shit on the mic because I need to. More recently I have been exploring what I can do with my voice and trying to reach a new level of sonic beauty. Also exploring new ways to share info through my lyrics. I have a lot that I absorb and want to pass on so finding the many ways to articulate is important.
EM: Do you feel like an artist has an obligation to speak on social issues?
EA: It depends on the artist I guess. I don't think all artist have good intention and are maybe just here to add to the chaos. I feel a need to personally for the sake of progress.
EM: What is your definition of a safe space?
EA: A space where people can show up as their truest selfs, learn and share ideas with minimal judgment. Express themselves amongst those who are open minded and ok with exploring both the light and the dark sides. A space where there is honesty, transparency and clear intention. A space filled with acceptance. A space where people dont fuck with violence against one another 
Be sure to attend "Queer Isn't Kept: Amplification In Black Queer Voice" tomorrow in Downtown LA at The Main Museum's Beta Main (114 W 4th Street, Los Angeles, CA 90013) from 4 PM to 7 PM!
Connect with Micah James: Soundcloud / Bandcamp 
Connect with Eddington Again: Soundcloud / Twitter / Facebook 
Connect with The Main Museum: Facebook / Twitter / Instagram