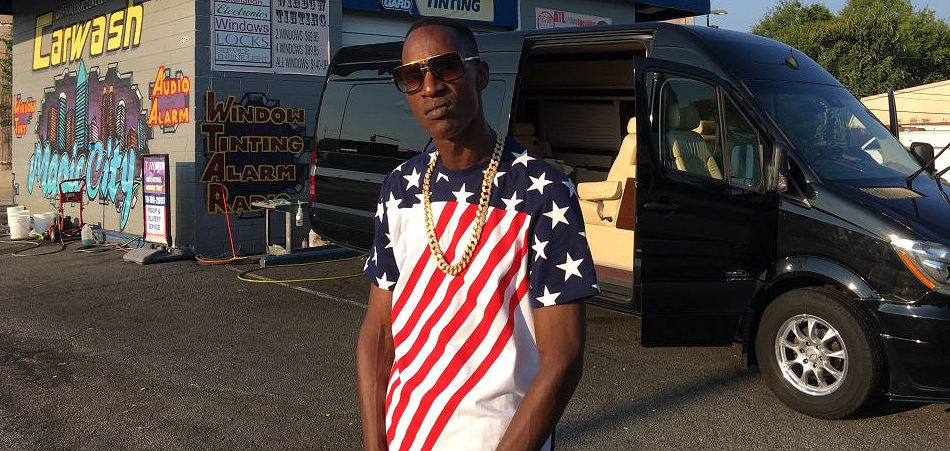 Figg Panamera is a name not commonly associated with commercial music success, but known better for entrepreneurial endeavors. In the early 1990s he began his career in the historic Fillmore district of San Francisco using the name JT The Bigga Figga.
"I was 18 years old and I put out an EP, Putting It On The Map, [in] June 1992 and then I put out an album, Don't Stop Till We Major, November 16, 1992. That was a major accomplishment for a teenager and it began my career."
JT The Bigga Figga would begin producing music two years later, and ended up discovering many artists including The Game. He would go on to produce for Master P and act as a mentor for producers like Zaytoven. He eventually moved from San Francisco to Atlanta and, in 2012, changed his name to Figg Panamera. 
There was no complication to the name change, and he kept it simple. 
"My people in Cali, they call me Figg. I bought a Porsche Panamera and just put the Panamera with the Figg and then that's how I came up with that," he said in a phone interview.
Early in June of this year, Figg Panamera released Cali Boy Down South, an album he says is dedicated to the streets that has guest appearances from 21 Savage, Kevin Gates, and others. The project is raw, unapologetically aggressive, and is Figg's acknowledgment of where he is at in his career. 
"I'm a California guy, I could never be from down south no matter how much I love it or how much I'm intertwined with it," Figg Panamera said. 
When talking about the album, he was confident that his songwriting abilities have developed nicely.
"I learned ad-lib game, I incorporated storytelling in my music. If you listen to Cali Boy Down South, you can visualize the stories. Each verse is a scene," he said. 
Rappers are often criticized for not releasing all of the music they make. Some artists sit on hundreds of songs to only put out 12 on an album. Figg Panamera is just the opposite. He takes a process-oriented approach to making an album. He said that every song he used every song he recorded for Cali Boy Down South.
"When I got 7 days in a row, I'll be finished with at least 12-15 songs," he said. 
Figg Panamera seems to have made music his priority, but his entrepreneurial endeavors have been equally as impressive. He is a talented, experienced businessman who has many independent accomplishments behind him. In 1991 he started Get Low Recordz and began producing for artists big and small. After he moved from California to Atlanta in 2010 he began a label and gave it a name that showed love to his two homes: Fillmoelanta. In 2012 he began Mandatory Biz Magazine and gave today's biggest acts their first cover story. Future, Sonny Digital, and YG were all seen on the cover of his magazine.
When speaking with Figg Panamera, he seemed especially proud of his most recent accomplishments. In 2015 he began Trapflix, a streaming website for independent and trap movies/documentaries. He has high expectations for his rapidly-expanding brand.
"A year from now, I see Trapflix at least at a million subscribers," he said. 
Most impressive however, is his most recent move. Figg Panamera went to the landlocked African country of Burkina Faso to be the spokesperson for an entrepreneurial program. He spoke at many schools and villages, and said that the people seemed "intrigued by his efforts."
He went to Africa knowing he would help people, but didn't realize the opportunity that would be presented. 
He bought people shoes, helped with the funding for the building of a water well, and spent money on the fixing of community centers in Burkina Faso.
"I came out there with about $8,000 because I knew I wanted to show some love," Figg Panamera said. "I want to help out. I didn't know that the school was going to be the thing that I was going to be putting my money towards." 
He ended up additionally paying a sum of money to fund the building of a school dedicated to entrepreneurship in Africa.
"They showed me where we could actually build a school. We could actually put a school in my honor," he said. "The rest of the money I have, I could put a deposit as a down payment towards building a school on 5 acres of land and the school would have 22 rooms. So that's going to cost probably about $100,000."
He said that employment in Africa is ugly, and that he wanted to share what he has. This selfless act of generosity is not getting the media attention it deserves. 
"At the school, I'm focusing strictly on things that we can do for ourselves. Same things I teach out here in America. If you can't get a job, you got to make a fucking job for yourself," Figg Panamera said. 
He preaches a positive message about self-sufficiency. His school will be named Fillmoe Africa and is planned to open on October 7th. It's hard not to support a class act who is doing everything he can for as many people as he can, and the people in Africa seemed to understand the incredible sacrifices Figg Panamera is making.
"They [were] so appreciative. They stole heart out there in Africa," Figg Panamera said.
Connect to Figg Panamera: Twitter | SoundCloud | Instagram