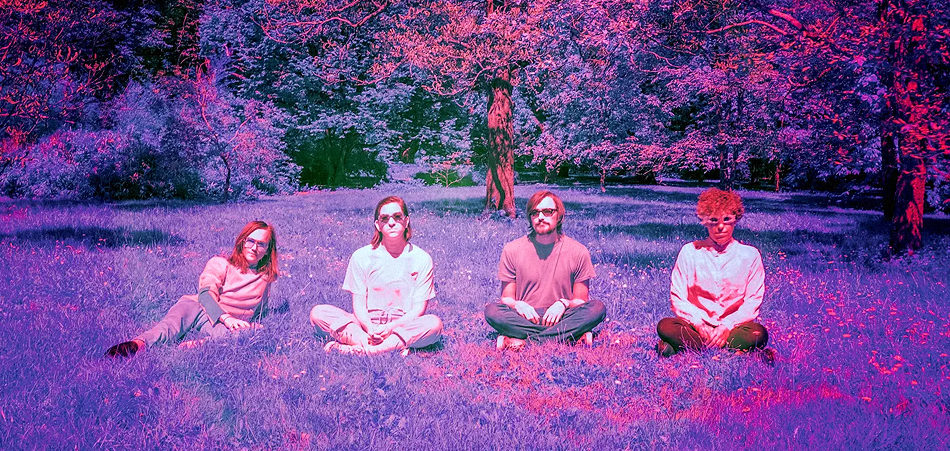 [bandcamp width=100% height=120 track=667909654 size=large bgcol=ffffff linkcol=0687f5 tracklist=false artwork=small]
Psych rockers Bat House are fired up, and they aren't slowing down. After garnering a strong local following back in Boston, these four musical friends released their self-titled debut album back in April. Comprised of Alexandra Juleen, Emmet Hayes, Nicole Pompei, and Shane Blank, Bat House tells the familiar story of housemates turned rock band with added drive, one-of-a-kind ideas, and legendary killer live sets.
Now only a few months later, they've dropped the experimental, strummy "Endless Stair." It surges and stumbles on journey of luminous sounds that truly feel endless - clearly an homage to the sound title. Let it unwind your stress during post-work afternoon couch time or paint the walls during late-night insomnia with its vivid sounds and vocals. Either way, it's six minutes of mind wandering exploration and sensational psychedelic rock music.
When talking about their freshest tune "Endless Stair," Bat House said,
We wrote, recorded, produced, mixed, and mastered this tune in our house in Allston in about 2 weeks time. We're experimenting with new sounds, and there is a twist to this song that you can only hear in the live version. 
After all the buzz about Bat House live shows, grab your favorite trippy tee and go dance with this quartet this fall at one of their newly announced tour dates.
North American Tour Dates:
9/9 - Burlington, VT  - Speaking Volumes Art Hop Showcase
9/11 - Montreal, CA - La Vitrola
9/13 - Toronto, CA - The Cavern
9/14 - Erie, PA - PACA
9/15 - Meadville, PA - Allegheny College 
9/16 - Pittsburgh, PA - The Hive
9/17 - Columbus, OH - Spacebar
9/18 - Milwaukee, WI - Cactus Club
9/19 - Chicago, IL - Subterranean Downstairs (Audiotree performance 1 pm UTC)
9/20 - Bloomington, IN - The Bishop
9/21 - Cincinnati, OH - The Octave 
9/22 - Nashville, TN - The Cobra
9/23 - Athens, OH - The Union
9/24 - Roanoke, VA - The Spot on Kirk
9/29 - Boston, MA - ONCE Somerville Fuzztival
10/25 - Boston, MA - The Middle East Upstairs
Connect with Bat House: Facebook | Instagram | Website
Press photo by Kit Castagne