There's isn't really a publication, curation project or blog dedicated to DIY punk, indie and alternative music… kind of. If there is, it's either too deep into the oi! punk realm for our (subjective) tastes, too plagued by awful local acts, or it's updated too infrequently to keep tabs on. Or it's a mixture of all of the above.
Plus, what even is punk by today's standards?
EARMILK is now proudly presenting a bi-weekly feature/playlist called "Under the Crust," featuring 30 tracks from must-hear projects in punk, indie, alternative, emo, hardcore and everything in between. Every two weeks, we'll update our playlist and provide six blurbs on recent bands we've delved into, tracks we believe deserve more attention, bands we've heard locally in our DIY-communities, bands who have reached out to us, or bands/songs who simply have missed your radar, alongside a few oldies/goodies.
Being that this is the first entry of "Under the Crust," we've rounded up a slew of songs from recent noteworthy releases and old albums we've put back into rotation.
Here are this week's Six Tings:
1. Rozwell Kid "Wendy's Trash Can"
Rozwell Kid released their fourth studio album Precious Art a few weeks ago on SideOneDummy Records. The album kicks off with "Wendy's Trash Can," which I can say kicks major ass. When I put on Precious Art for its first listening, I ended up replaying this track three times in a row before diving into the entire album. I could be hyping it up here, but I think everything about this songs is addictive. There's a catchy hook, cool guitar melodies and clear, borderline absurdist lyrics. A strong introduction to Rozwell Kid, Precious Art and the first edition of this playlist. And if you like the track as much as I do, you can always watch the music video for 10 hours straight thanks to SideOneDummy's YouTube account, as seen above.
2. Smidley "Fuck This"
Conor Murphy is typically known as frontman of emo outfit, Foxing, but this year marks his debut as a solo artist under the moniker Smidley Triple Crown Records via . Named after the singer's beloved and deceased dog, Smidley is the sonically brighter counterpart of Foxing. Although the depressing and often self-deprecating lyrics are still present on Smidley's debut self-titled record, it's much more lighthearted than Foxing. In fact, upon a few listens, it's hardly comparable. "Fuck This" is an example of the warm indie pop Murphy has crafted this year, packaged together with jovial, harsh lyrics. It's fun if you're not really listening to the words.
3. Ratboys "Crying About the Planets"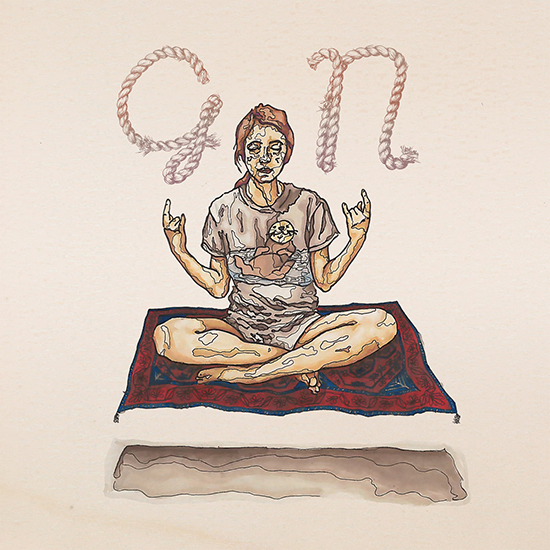 I listened to Ratboys' new record GN last night while playing Sleeping Dogs on my PlayStation 4. In between a cockfight and punching a dude out who was just using his cell phone, I started to note the beautiful, skilled mood Julia Steiner set up for the listener on "Crying About the Planets". A slow, teetering guitar followed by a steady drum beat and a quiet bassline that seems to add to the track's atmosphere. After flowing through my ears a bit, Steiner's vocal melody starts to chase after the guitar before the track's tension eventually blossoms into a tight groove. This song is good. Anyway, I paused playing Sleeping Dogs for a bit and gave this song my full attention for another play-through. It absolutely demands it. Don't sleep on this new Ratboys record.
4. People Like You "Variations on an Aria"
Do you like math rocky guitars? Do you like jazz? Do you like indie rock, beautiful vocals and pop tendencies? You like People Like You. Trust me. The band is made up of members of the now defunct I Kill Giants and combines pop, punk and jazz that kicks all sorts of ass.
5. Diners "Fifteen On A Skateboard"
A few months ago, Bob over at Asian Man Records sent me a copy of an album called Three by a band called Diners. I listened to it expecting it to be a full-blown punk record. It's not. Instead, I was given an indie pop album made by a gentle man named Tyler Broderick, who sounded like he was obsessed with The Beach Boys and being happy. "Fifteen On A Skateboard" makes me happy. It's a pleasant song, like most of Threes, and it's drastically under-heard by the public. Get to it, and peep Diners' latest album A Soft Day while you're at it.
6. Oso Oso "reindeer games"
It's July, which means plenty of music publications have been releasing their "Best Albums of the Year (So Far)" lists. Most websites have fucked up majorly by not including Oso Oso's The Yunahon Mixtape on their lists, and I'm not sure why. Long Islander Jade Lilitri constructed a hefty amount of indie pop and rock with Oso Oso's latest record, with most tracks feeling similar to vibes heard on an early 00's romance movie soundtrack or purely late 90's alternative. Whatever the comparison, "reindeer games" definitely stands out as one of the album's most blissful feelings of love and butterflies.