Brooklyn psych-pop band Spirit Plate are anticipating the release of their sophomore record Youth Moose, due out early August via Campers' Rule Records. The album is inspired by frontman Brian Russ's 12 years of living in New York City through the chaos, gentrification, and decay that has taken over through the years.
Today, EARMILK has the premiere on Youth Moose's album opener, "All Day Long". The song starts off with a groove of sunny vibes through a guiding guitar melody. The digital only track is a warm welcome for listeners of Youth Moose, shining as a feel-good summer single.
Russ commented on the song:
'All Day Long' is our most straight ahead rock and roll type song on Youth Moose.

When writing the song I was thinking about all the stuff people don't tell you about with what's going on in their lives that they keep locked up in their heads, because they're either too shy, not feeling it, would get embarrassed, because they don't want the spotlight on them at that moment, or it's just too exhausting to even bring up. Like how you could be talking to someone and it's their birthday but they don't even mention that and you only find out that it was their birthday after the fact a couple days later. How cool is that? Some people are mysterious like that.

But also it's generally about what happens when there's a lack of communication in a relationship. Someone's hiding something, the other person knows it – but it eventually has got to come out – "you can't hide that all day long." It's gonna boil over.

So our idea was for 'All Day Long' to be the first track on the record and kind of create a seamless bridge between our previous material (which had more of a rock sensibility to it) and this new record, which overall is on a different kind of sonic path, more experimental. Then we realized we weren't going to be able to literally fit all 11 songs on the vinyl due to the physical length constraints per side. We thought, "All Day Long" is one of those ones that doesn't quite fit in with the rest, but still a song we love. So we came up with the weird idea to make it the opening track when you hear the record digitally, but if you hear the record on vinyl, you don't even get "All Day Long" on it, so that adds a new dimension to the whole vinyl vs. digital thing. Towards the end of the track there are some digital artifacts, weird blips and noises that you hear layered in with the outro guitar solo. Those came about in an accidental way, through experimenting with sounds on the computer. But they are kind of perfect for this song in a way – like making a statement "this is a digital only song. You'll never hear it on vinyl.
Bassist and backing vocalist Brad Connolley also chimed in:
'All Day Long' was the first song recorded over the course of 2 nights in a tiny Brooklyn rehearsal space. That first night we didn't even listen back to the tracks, we just threw up some microphones and moved on when it felt like we got it. Looking back it was a pretty crazy way to do things, but on the other hand it somehow captured exactly the feeling what we were going for. This song in particular feels like at any moment it's going to go off the rails, in the best way possible.
Spirit Plate's Youth Moose drops on Campers' Rule Records August 8. Pre-order the vinyl and grab a hand numbered edition of the record and be on the lookout for Spirit Plate at one of their upcoming show, this Saturday.
Official Campers' Rule Records and Cara Bella Presents Northside Showcase
Tender Trap
66 Greenpoint Ave.
Brooklyn
w/ Grim Streaker, Caged Animals, Debbie Downer, Finger Fingerrr (Brazil)
RSVP on Facebook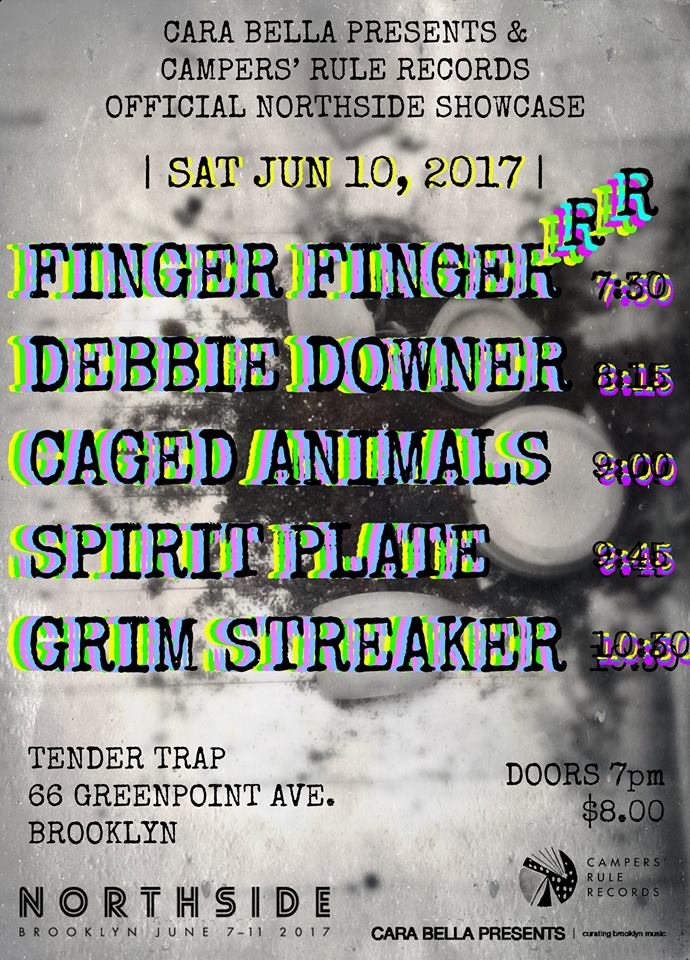 Connect with Spirit Plate: Twitter | Facebook | Bandcamp