An integral component to making an imprint in the music scene, is the quality of delivering the most unexpected. That's exactly what Sydney based producer Oski has accomplished in his output, as he continues to challenge audiences with his intricate sounds. It's bass music on steroids, pulled and pushed to produce something completely refreshing to the scene. Oski's sound has gone through heavy evolution over the years, veering from dubstep to trap and everything in between. But experimentation and punchy sound design is what highlights Oski's craft from the overloaded electronic world.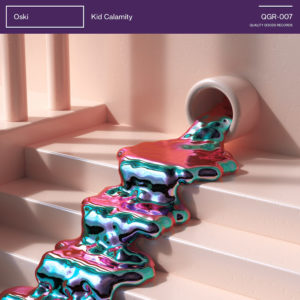 Today, EARMILK is excited to premiere the single "Go My Way" ft. The Arcturians, off his upcoming Kid Calamity EP (set for release on May 26th). The track is revealed off UZ's cutting edge imprint Quality Goods Records, who've also recently released his Kid Chrome EP. The Arcturians bring forward their sharp dubstep sound to the track, giving a futuristic edge to "Go My Way". Beginning with languid vocals and daunting string chords, the bass-line gradually deteriorates to a rebelliously loud bass-line. The rawness in the bass dances outside your speakers, headphones or whatever your listening device is, and becomes an entity of its own. "Go My Way" has a sinister feel to the track but still retains a ridiculously contagious groove in it's wonkiness. Playful yet menacing, "Go My Way" is a sonic funhouse that will challenge your senses in an amusing and whimsical way. 
You can obtain of a copy of the track here.
Connect with Oski:  Facebook | Twitter | Soundcloud