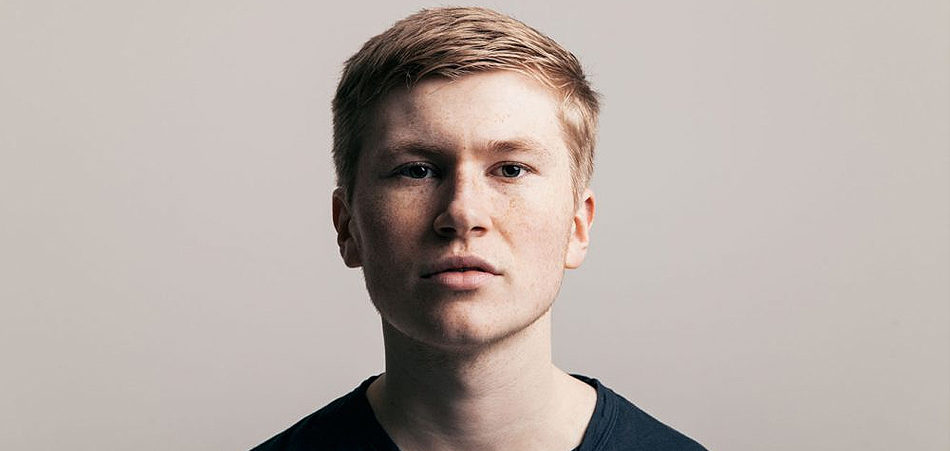 Elliot Adamson is just one of those names that keeps popping up on all kinds of social media, appearing on some stellar line-ups and producing unique house tracks and mixes.
The young producer and DJ is the latest to come out of the Newcastle talent pool, coming onto the scene as someone who doesn't follow rules and is showing no signs of slowing down. Elliot's online and real life persona is that of someone ready to grab every opportunity that comes their way with a no holds barred attitude. The 21-year-old is only at the start of his career - and we wanted to know where the journey began for Elliot and whether making music was always in sight.
My house was very much a 'dont drop out of maths and do music Elliot' kinda house. Everyone was so convinced of my own failure, I think that's why I'm quite resilient really, if someone tells you that you're a failure you're gonna believe them or you're gonna ignore them or you're gonna just be like 'fuck you' - you know? When it feels like no one wants you doing something you have to really believe in it, but it's nothing personal I think it's just environment. Small town Northern England man, they don't know anyone who's doing it so they just can't see it working. I think this is quite personal to talk about but I really hate those interviews that are like 'hey, my dad played piano mannnn, Im an artist mannnn, from newcastle mannnn, 6pm in newcastle out 7th april follow my snapchat'. In small town england an A&R is more likely to be a fish and chip shop. I moved to London when I was 18 for a bit, that was great, it made me realise that I wasn't crazy (and that I am a bit crazy). Didn't go to uni much, but did make loads of records - that's a win win.
After releases on Hot Creations and ViVa music, plus support from Jackmaster, Skream and Patrick Topping, Friday 7th of April saw the release of Elliot's latest track '6pm in Newcastle' on record label Weapons. Staying true to his smooth production and full of his tongue in cheek attitude, this ready to roll club dancer mixes hi-hats with a catchy synth melody layered with a groove packed beat. Before he came into the spotlight - Elliot was well known on the Newcastle club circuit, he played his first ever show back in his home setting and gives a no-nonsense account of that.
"It was absolutely awful! It was at Digital Newcastle and I was like 16 or something. I had a load of cds not in cases in my backpack with all the tracklists written in my phone, parallels a lot to how I play now really, an absolute shit show! I think it was for a DJ Competition actually - I lost of course cause I'm not actually that good. I think the competition was to play at this festival in Newcastle and they let me play even though I lost, which seems to happen with a lot of things, kinda like Gareth Gates!"
With someone as vibrant as Elliot is, in both music and personality, you can be sure he is well known for his eclectic choice in music during sets and also his choice of remixes. Soundcloud is a treasure trove of some of Elliot's earlier works including his edit of The Streets 'Weak become Heroes' - which has notched up a tasty 120k listens and his well loved Villalobos 'Enfants (Chants)' edit. To wrap up with Elliot, we asked which three tracks he's been taking to his sets lately - with some very interesting shouts.
Patrick Topping - Be Sharp, Say Nout
I like to think I've played this one out more than Patrick but there's this thing where he's more popular than me and djs a bit more haha. There was a point when I'd played it more than him though which I was proper buzzing about cause the record is mint! I asked if I could do an alt mix fleshing the record out with gospel choir and really just digging it out - then realised that would be loads of effort and probably quite expensive, which kinda clashes with me being lazy as fuck and skint as a fart!
Calvin Harris - I'm Not Alone (Deadmau5 Remix)
I think DJing for me gets really special when you make people like music that they thought they wouldn't like - usually that manifests in playing ambient records at after parties, breakcore in warm up sets and erm... Calvin Harris in peak time sets! He's mint man, I'm fully about him actually, the mans too hot like a furnace. I usually mix Denis Sulta - Dubelle Oh XX into this and it shouldn't work at all but it does so well and makes me feel like I might have a future in this DJing business.
Kanye West - Fade
I used to hammer this, bloody great record, started playing it again and love it just as much. The crowds usually hate it and just look really confused cause its like 20bpm slower than the pace of what I usually play at but like... if your family hated your girlfriend would you break up with her?"
'6pm in Newcastle' is out now on Weapons and can be streamed HERE and purchased HERE. 5% of all Weapons profits will go to those displaced by war.
Connect with Elliot Adamson: Facebook | Twitter | Soundcloud
Connect with Weapons: Facebook | Twitter
Weapons have a Spotify playlist of 'proper dance music' updated weekly, check it out HERE.