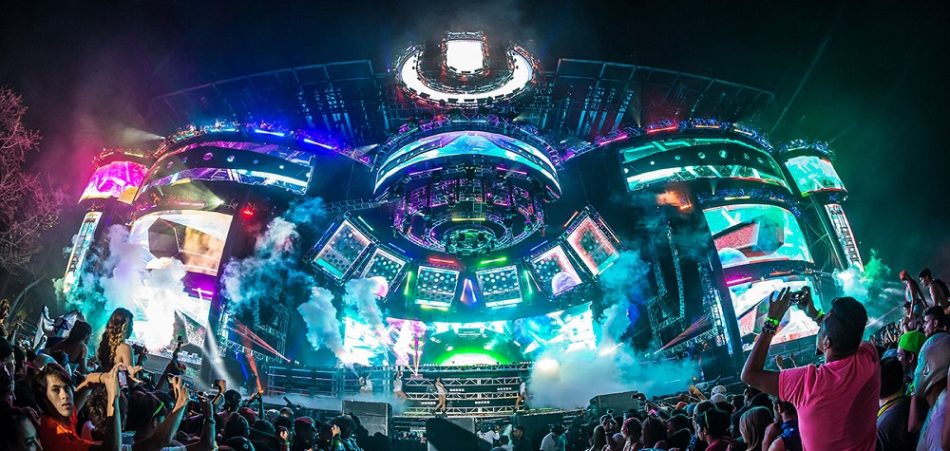 It's that time of year again!!! Music festival season is upon us, and worldwide music lovers prepare to have their wallets happily drained on months of music madness. While big dogs such as Coachella and Lollapalooza will (deservingly) command most of the world's attention, the season is always unofficially kick-started by one of oldest and most durable dance music festivals in the world: Ultra Music Festival. Founded in 1999, Ultra has established Miami as one of the cultural safe havens for all types of electronic dance music. Furthermore, for the last 7 years or so, Ultra has acted as the culmination of Miami Music Week, a week-long celebration of all things  dance music related (and a week containing some of the best private club and pool parties ever). 
But Ultra has always been the crowning jewel, with hundreds of thousands descending on Bayfront Park in Downtown Miami for the spectacular three-day event. This year the event takes place from May 24-26, and easily has the most stacked lineup in Ultra history. While Ultra has never eschewed live performances in the past, the organizers this year especially focused on their inclusion, with acts such as Justice, The Prodigy, and ZHU all doing live performance shows. Of course there are plenty of DJ performances as well, with a venerable who's who planning to drop their best sets for the masses.
Understandably all this can be quite daunting to the uninitiated. But you know Earmilk always got you! This year I'm picking five of the must-see performances of the festival, so may properly coordinate and align your nights per my suggestions (lol). 
(Quick caveat: my selection criteria is based on acts that I think you may not have already seen live, but also who I feel will put on a particularly compelling live set, regardless of genre or affiliation). 
  Rezz
We'll start with possibly the #1 breakthrough artist of 2017 (and yes I realize it's only March). Isabelle Rezazadeh aka REZZ has come a long way in the short time she's been DJing, having caught the ear of industry leader Skrillex with fat-ass bass drops and pulsating synth melodies on early productions such as "Disconnect" and "Contorted."  Of course, once the 21 year old signed with Skrillex's Nest HQ (itself an off-shoot of his OWSLA label), it was game-on. Now signed with Deadmau5's Mau5trap, when 2017 is over, we'll probably have to change her status from "on the rise" to "arrived." Make sure you catch her set at the Ultra Worldwide stage on Sunday. 
  Grandtheft
Toronto DJ/producer Grandtheft also had a hell of a 2016. While having established himself as one of the driving forces in trap music, the recent years have seen the DJ explore more melodic genres, dabbling in future bass, bass house and even moombahton. 2016 was particularly kind to Grandtheft, as his song "Easy Go" with Delaney Jane became one of the biggest hits of the year. Now  signed with Diplo's Mad Decent, Ultra is only the first pit stop it what is sure to be a busy 2017.  Make sure you catch his set at Mad Decent stage on Friday. 
  Alpha 9 (aka Arty)
I know, I know. Why on Earth would you put an artist with exactly ONE (1) track on your "must-see" list?? Well I totally would (and will) when that artist is formerly known as Arty, one of the premiere big-room progressive house/trance acts of the decade. Recently, the Russian DJ/producer transformed his moniker "Arty" into his anything-goes handle, producing bass house, dnb, trap, and dubstep all under the previously "progressive only" name. But with Alpha 9 (which was his handle before he became Arty), it seems he wants to continue captivating audiences with ulta-smooth, melodic progressive tunes. And I say "it seems" because Ultra is Alpha 9's debut performance... so we really don't know what to expect! So whatever you do, don't miss his set on the A State of Trance (ASOT) stage on Sunday. 
 Sasha & Digweed
I understand there are probably (hopefully) a lot of people reading this under the age of 24... and through no fault of their own, they've likely never heard of pioneering electronic music duo Sasha & John Digweed. I'll let you google them if you want... but suffice to say, in large part electronic music wouldn't be what it is today, if it weren't for these two (for reference, these guys played the second-ever Ultra Festival, in 2000). But that's the past. Presently, the guys are headlining the Resistance stage (Ultra's love song to all things deep, tech, and prog-house related) on Saturday, and this is their first major festival performance together in over a decade. In other words, this is definitely worth seeing. 
  Justice
I'm not sure you could have expected anything else. If you've never witnessed a live Justice performance, you are in for a real treat. Routinely considered one of the best live performances in music today (not just electronic or dance), the hope is that their Ultra performance is the precursor to what will be a global tour for their recent album, Woman. Without a doubt one of the biggest acts in music today, the duo closes out the entire festival on the Ultra Live stage on Sunday. If there's one performance you absolutely shouldn't miss, this is it. 
And that's it for our Ultra 2017 preview! For those going today, make sure you stay safe and have a blast (and know that those that can't make it are ridiculously jealous). But again, we have your back! Earmilk.com will be featuring live links to Ultra's Resistance stage through BE-AT.TV, one of the world's leading streaming services. So while we may not be able to completely cure your FOMO, we may temporarily reduce the pain for you.
... Or, make it worse haha. 
Connect with Ultra Music Festival: Official site | Facebook | Twitter