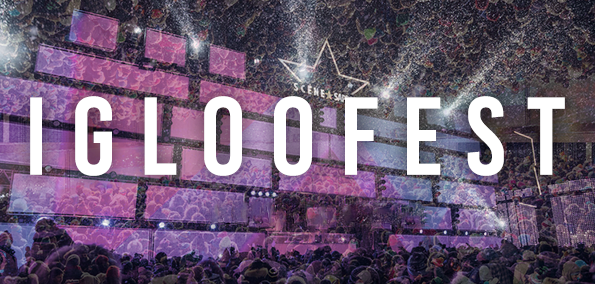 Igloofest takes place right beside the piers in Montreal's old port. The stretch of dock is transformed in the winter from January 12th to February 4th over four weekends long every Thursday to Saturday. Igloofest showcases international and underground talent in a wonderland of colourful lights, music, and snow. The festival is one of Montreal's most memorable events because of the outdoor environment, amazing music, and group energy.
The amount of impressive musicians coming to play over all twelve dates can be daunting to look into at first. If you're a seasonal fan then you may have a good idea of who you want to see, but not know what date it is happening. Below is EARMILK's curated list of five artists noteworthy of seeing over the winter.  
Apparat - January 12th
The Berlin-based musician will bring the opening night of Igloofest into a techno lured party.Apparat is one-half of Moderat and always attracts a large crowd in Montreal. The opening night of Igloofest should be no different. Deadlift is opening for Apparat, originally from Quebec, she has claimed a residency now on radio in Berlin making a name for herself.  
The opening night of Igloofest on January 13th will see a progressive set of quality techno music. A Montreal artist CRI will also be playing back to back with SHOUT! The show is worth seeing for the fact that there is always an initial buzz around the first and last nights of any stretched out events.
Mr. Nokturn - January 19th 
The Montreal bass artist is part of the original founders of Trash Family, a collective that regularly holds electro shows in Montreal. They have a solid fan base that regularly attend events. His energy on stage and knowledge of dub scene shows through Mr.Nokturn's versatile sets. The Videotron stage is being curated by the collective on January 19th with other performances by KTZ, Ozias, and Digital Fire. The collection of loyal fans who come often to bass shows will surely attract a strong crowd on the start of the second weekend. 
EatsEverything - January 28th
The English producer and label head of edible is bringing his signature sound to the outdoors of Montreal, moving from rain to snow. Daniel Pearce is a founding figure in helping the Bristol house scene flourish, EatsEverything has done everything from two essential mixes in one year, private NYE Boiler Rooms, and much more. 
Eats Everything will be playing after Catz 'N Dogz, a Polish duo who originally supported Pearce's first single on their Pets imprint. Since then the DJs have had successful careers in their own right, both having been involved with Claude VonStroke's Dirty Bird label. You can expect a fun night of warming techno and house, as these old friends hang out on stage. 
SNAILS - February 2nd
One of Montreal's most memorable bass artists is SNAILS, a lead figure in a defining a new style of dubstep. His music is distinct and his hardcore fans always easily recognizable at shows bearing snail brand attire. When playing in Montreal he brings a major crowd to hear his bass music who respect the local hero who has worked with Skrillex, OWLSA, Kill The Noise, Botnek frequently, and more.  
SNAILS will be playing at a Kannibalen Records hosted main stage on February 2nd alongside Apashe and Dabin. The all-Canadian lineup of unique DJs all play a variety of bass and trap music and will be inspired from each other's energy on stage. The crew of artists is sure to bring a big amount of attendee's who appreciate seeing a diverse group of musicians with live and DJ sets. 
Green Velvet - February 3rd 
The legendary house artist from Chicago will be playing one of the final few nights of Igloofest. His iconic deep house sound and experimental ventures will surely be appreciated by a loyal following that Curtis Jones has earned over the years. Vocals and other creative samples are part of Green Velvet's live library on stage and will set a good mood for the night. Shiba San is opening for Green Velvet on that night, which will bring another major French DJ into the occasion.    
The upcoming year in Montreal will see a special turn out due to the fact that it is the cities 375th anniversary. There will be an increase in tourism over the year and large events like Igloofest have proven how the city of Montreal and Canada's inhabitants can party under any weather condition. There are multiple artists worth seeing over the twelve dates, while a few are more convincing. Check the mixes, artists, and Earmilk's Survival Guide before making it to Igloofest this winter.  
Connect with Igloofest: Website | Facebook | Twitter | Youtube | Instagram