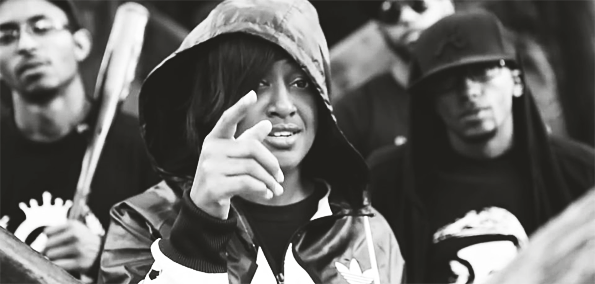 Thanks to being the ONLY full feature on Kendrick Lamar's To Pimp A Butterfly the mainstream world was introduced to Rapsody in 2015. As you could guess, the North Carolina emcee has been around for quite a while, but only within the past year has she broken on to the scene with some very well placed features. Another notable feature is off of Anderson .Paak's certified classic Malibu that dropped this year. Rapsody gives a fantastic female perspective on the song "Without You" which also happens to be one of my favorite songs off of the album and of 2016.
So, it would only make sense that a new solo Rapsody track, and one that is produced by the legendary producer 9th Wonder with help from Kash and Khrysis, caught my eye. 9th is no slouch, so if he is producing a track for you, and if you are featured on .Paak and Kendrick albums, I'd say that says quite a lot about you.
"Fire", like many new releases these past few days, centers around the current political environment and attitude. But, while some have come out with guns blazing (looking at you YG), Rapsody aims for the positive side of things. This is evident right from the get go when she exclaims, "The sun rise tomorrow, no matter how dark the night gets". As the song progresses she spits "Don't matter who in the big house, we gon still march and fight" as a clear call to action that she has no plans to take the election news lightly. Again though, while some may be arguing or disagreeing, Rapsody feels that what's done is done, but that doesn't mean the world should just sit idly by. There are things that need to be changed in this world and she is going to fight for them.
Press play below and keep your eyes and ears on EARMILK for more updates on Rapsody.