I have this theory that R&B music is called so because the sound is straight speaking from the soul. Proven by the ideology that the spirit undoubtedly wants to sing. Zeroni masters this vulnerable artistry of rhythmic freedom over old school beats like no other songstress. Not because she's dropping mind-fucking bars but because the riffs in her vocals are so raw you almost feel naughty listening to them. You feel like the young goddess is serenading you to sleep, but in that sort of lullaby where the song is too addicting to fall into a slumber during. So you listen again. And again. Until its 4 am in the morning and you've lost all cares in the world because you had 6 hours of feeling something – your unable to identify what exactly – but that's the beauty of it all. 
Gabriel Michal Clarke is a 21 years young artist who goes by the name Zeroni.  The Washington D.C. native let us pick her brain about the art of poetry, 90's R&B, Lauryn Hill and how she basically started the So Gone Challenge. The young star always knew she had a gift but it seemed out of reach to pursue singing.
"I loved to sing since I was very little.  I remember singing Aretha Franklin's Respect when I was in kindergarten and I always knew I could sing but I never thought I'd get anywhere with it. I thought it was a crazy dream for a regular person to have."
But as you listen to her craft, you realize she isn't just any "regular person". The young singer told us, "most of my songs are freestyles – I write poetry so all of my song concepts come from that".  As a poet myself, I was incredibly intrigued to see some of her spoken word. So she sexted us a pic of some of her most recent work.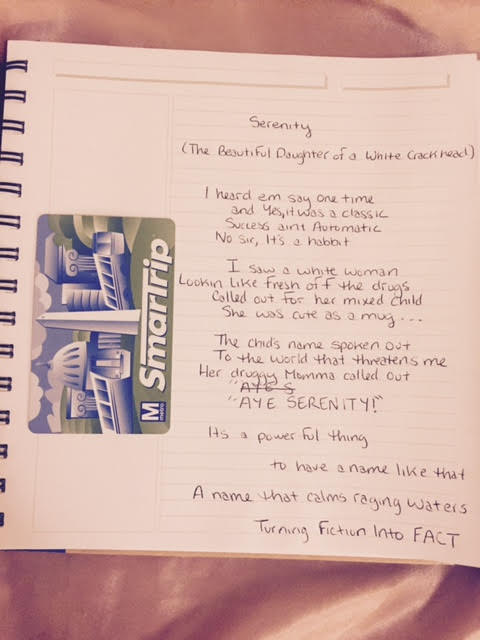 Serenity
(The Beautiful Daughter of a White Crackhead) 
I heard em say one time

and yes, it was a classic

Success ain't automatic

No sir it's a habit

 

I saw a white woman 

Lookin like Fresh off the drugs 

Called out for her mixed child 

she was cute as a mug 

 

The child's name spoken out

To the world that threatens me

Her druggy momma called out 

"AYE SERENITY"

 

It's a powerful thing to have a name like that 

A name that calms ranging waters

Turning fiction into fact 
Looking into Zeroni's work sheds light on the rawness of hip-hop. It holds a certain vulnerability inside of the expertise that is unmatched by other styles of song. Baby girl just recently combined all of her previously released tracks on to one project/playlist titled Times We Had.
[soundcloud url="https://api.soundcloud.com/playlists/263817800" params="auto_play=false&hide_related=false&show_comments=true&show_user=true&show_reposts=false&visual=true" width="100%" height="450" iframe="true" /]
The 17 track project has full on productions and even some little snippets of Zeroni just fucking around over a beat. Times We Had starts with "11:11" over Monica's "So Gone" beat. I wrongfully assumed this was part of the "So Gone Challenge" because of the timing with the track release. The artist set me straight on what went down with the conception of that track and how she practically invented the challenge.
"11:11 actually wasn't part of the "So Gone Challenge" believe it or not. I wrote the song last November so it's a year old. I have a habit of taking music down and putting it back up but people who have been following my music since last fall or before the "So Gone" challenge started will tell you I DID THAT MONICA BEAT BEFORE EVERYBODY ELSE AND THAT'S BECAUSE I LOVE MONICA!"
The song begins in typical Zeroni freestyle fashion asking if she can hear herself in the headphones, yet singing it so delicately that you'd think she was serenading you with a love song. The track proceeds to unfold some my favorite lyrics I've potentially ever heard. She sings, "pussy pop on a handstand / you ain't looking for a man". Because…#PowerToThePussy. Always. On "Further", Zeroni takes a stab at remixing Drakes track "Karaoke" and absolutely slays the entire thing. She turned "Karaoke" from a love ballad into a jazzy-lounge-liquid-lullaby.
Then on "Can't You Tell" she discusses being a "sexaholic" and that feeling when you really really want to fuck with someone and you get all the butterflies. You almost want to shake the person out of frustration like "CAN'T YOU TELL I'M INTO YOU OR YOU JUST PLAYING GAMES WITH MY HEART?!" The song really taps into the emotion of the bone clenching anxiousness of attempting to wrap your head around the unknown.
"Bitter and Dark" sort of acts an answer to the anxiousness in the track before. Maybe feelings aren't reciprocated or maybe you never voiced that you have feelings in the first place. She really masters the importance of embodying the lyrics you preach. As an artist, your words come across so much more genuine if you're really live and breathe your speech. Like when she sings about heartbreak, and you feel like you've been dumped or she says she's anxious and you all the sudden find yourself biting your nails in suspense.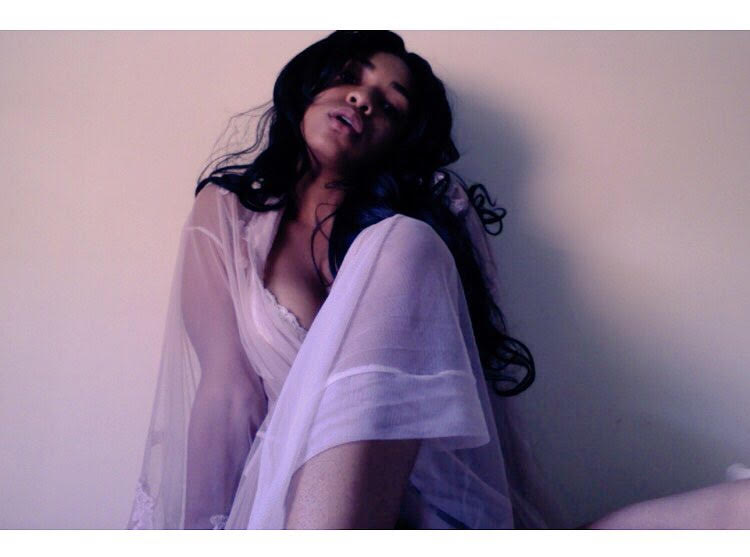 The first track I heard from the angelic artist was "Cage". An interpretive take on the Inoj track "I Want To Be Your Lady Baby" but also known as infamous "running man track." This supplies us with that same signature jazz liquid lullaby.
Matter fact, all her tracks do. When she sings about sex you feel the touch from the fingertips on the small of your back. Her songs all feel like they harness one of Ms. Hill's infamous lines from "Nothing Even Matters" saying, "The sweetest thing I've ever known is like a kiss on the collarbone". Which makes sense, as she noted Lauryn Hill as one of her favorite artists and inspiration with her craft. 
"My favorite OG has to be Lauryn Hill. I was talking to my older sister about this recently and she said " Lauryn Hill is the essence of Black Woman" like that's the perfect explanation. Lauryn embodies the thoughts, wisdom, memories and heartbreak of so many black women. She is deep and isn't afraid to carry herself with a certain air of royalty."
Likewise, she stated 90's R&B has inspired a lot of her sound. Naturally, because no one did it better than the people of the 90's. The young star would make 90's artist proud as she has mastered the delicate art of freestyling which was pioneered by the godfathers of the hip-hop genre. But it isn't all 90's sound that has inspired Zeroni, she describes the fact there is something about Tink & Jhene Aiko (fellow Pisces artists) that really resonate with her soul.
"They are role models because they are so real and their voice really gives the Pisces vibe of serenity and finding peace within your sadness, both of them and SZA have helped me through a lot."
The young sultry songstress is just getting started. She released a collaboration joint this week with rapper TeedaTeezy titled "20/50".
[soundcloud url="https://api.soundcloud.com/tracks/291835310" params="auto_play=false&hide_related=false&show_comments=true&show_user=true&show_reposts=false&visual=true" width="100%" height="450" iframe="true" /]
I'm telling you – this woman is bound to be a queen. She's got the mentality, the vocals and soul to really speak for independent, fearless ladies. Keep an eye on her, I wouldn't be surprised if she was featured on Drake's album circa 2018. Or Party Next Door's next panty dropping project. You'll be the first to know that she is about to blow – catch her while she's still low-key. 
Connect with Zeroni: Soundcloud | Twitter | Instagram | Facebook