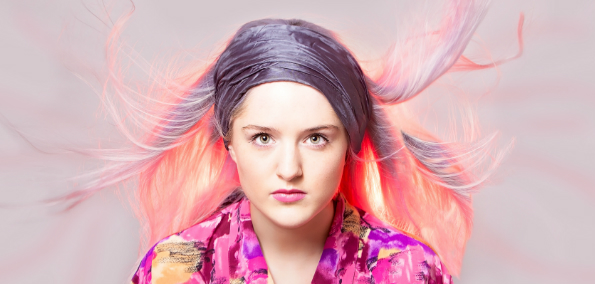 A couple years back, I was enjoying some after-work drinks at Neck of The Woods in SF, expecting that night's performers to merely serve as background music to my 8pm wind-down. I quickly learned I was in for much more than background music, however, when the featured artist on the bill, Be Charlotte, came on stage and stupefied the audience with her graceful, yet overpowering assortment of tracks that demanded utmost attention. 
Fast-forward to 2016 and Be Charlotte is not only making some serious noise in her native Scotland, but also gearing up for a November tour in Southeast Asia. Not too bad for a 19 year-old.
Today, Be Charlotte makes her EARMILK debut with "Drawing Windows," a beautiful and poignant track where she vicariously sees through the eyes of a patient overburdened by mental health examinations and scrutiny. Charlotte's captivating, lush vocals and next-level songwriting are well beyond her years, and "Drawing Windows" makes that strikingly clear.
EM: What was the inspiration behind "Drawing Windows"?
Be Charlotte: I overhead someone in a cafe talking about being tested for psychosis. They were talking about the House Tree Person Test and the phrase "drawing windows on a house " really stuck in my head. I thought it was quite a unique sentence so wanted to use it to write something a little bit different.
EM: "Drawing Windows" is the b-side to your previous single, "Machines That Breathe." Is there any connection between these two tracks?
Be Charlotte: I guess there is a running theme through most of my work in that I want to write songs that mean something specific to me, but are ambiguous enough for the listener to interpret in their own way. Both of these songs are observations I've made about my surroundings and discussions I've had with people around me. One is about mental health, and the other is about our growing obsession with digital identities and living life on the internet. I just enjoy having the freedom to say things in a different and unique way and hopefully we've captured that with these tracks.
EM: Who are your biggest musical influences?
Be Charlotte: Tracy Chapman, Lianne Lehavas, Paolo Nutini.
EM: You're gearing up for a Southeast Asia tour in November. Is there a particular stop you're particularly excited about performing at?
Be Charlotte: I'm excited about each of the destinations. I was in Thailand earlier this year but it will be the first time any of us have went to Hong Kong, Singapore, Vietnam and Taiwan. It'll be a very cultured tour and we will hopefully try some new food, learn a bit about the cities and make some new friends and fans. I feel very lucky to have these opportunities...but I've worked hard to get my music to a stage where it can be taken to different parts of the world. We finish off the tour with our first London headline show before heading back to Scotland to celebrate at the Scottish Music Awards.  
EM: What else are you currently working on? Any new projects in the works?
Be Charlotte: I am writing a lot at the minute and we've been recording songs at Karma Sound Studios in Thailand. I'm hoping we will release another single in January or February and do some gigs in Europe before heading to North America in March. I'm just going to keep writing lots of music and get to a stage where I feel comfortable enough to start talking about making an album. Until then it's just a case of focusing on one song at a time and gigging in different regions to build our profile there.
Connect with Be Charlotte: Twitter | SoundCloud | Facebook | Official Website