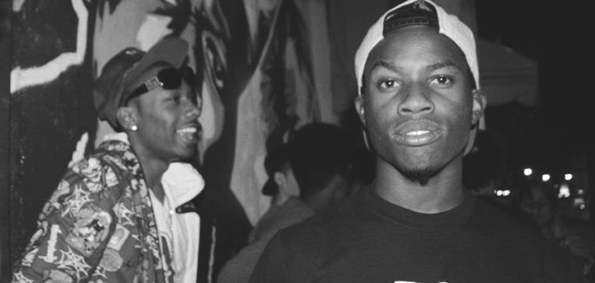 Denzel Curry & Joey Bada$$ are both young powerhouses in the hip hop game right now and have been for a minute. Yesterday they released their visual for "Zenith" proving that they can lyrically stimulate our mind, and also visually fuck with it all while sending a political message.
On the surface we see a video that shows the two artists in adjacent rooms watching each other on a small TV screen. On one side you have Denzel Curry and his C9 squad in a sterile white room wearing all black. On the other side you got Joey and his PRO ERA crew wearing all white in a pitch black room. While both are spitting their respective versus, they are trying to "wake up" their homies from this mind control. Because we are heightened individuals and the meaning of Zenith is straight up "the highest point reached by a celestial or other object", we have to look more into what this video is trying to say. I think this visual is likely a metaphor for different members of our society quite literally being trapped "inside the box". Not being able to step out of their viewpoint but still being able to recognize there is another "side" (hence watching the other room on the TV screen) yet struggling to get others in your circle to being culturally aware of this separation. 
Curry gives us a taste of the psychological warfare by saying, "Catch me on a Zenith / fuck a TV screen bitch let it die / look at your reflection and ask / who am I? / I internally extinguish the evil / so I look externally to a place where I can see you."
At one point Joey says, "Catch me on a Zenith / channeling a fucking genius / while I cast away these demons trying to catch me when I'm sleepin'"
Once Curry throws a chair and finally makes it through the physical wall separating them, both the PRO ERA & C9 crews wake up from their brainwash and escape in a monotone colored world. 
Check out this dope mind trip of a video for yourself! 
Connect with Denzel Curry: Soundcloud | Facebook | Twittter | Instagram 
Connect with Joey Bada$$: Soundcloud | Facebook  | Twitter | Instagram
Directed by: JMP
DP: Joey Szela
AC: Andrew Percival
Art Dept: Chris Gilmore
Grip: Antonio Esposito
PA: Ben Weigher
Edit: Joey Szela