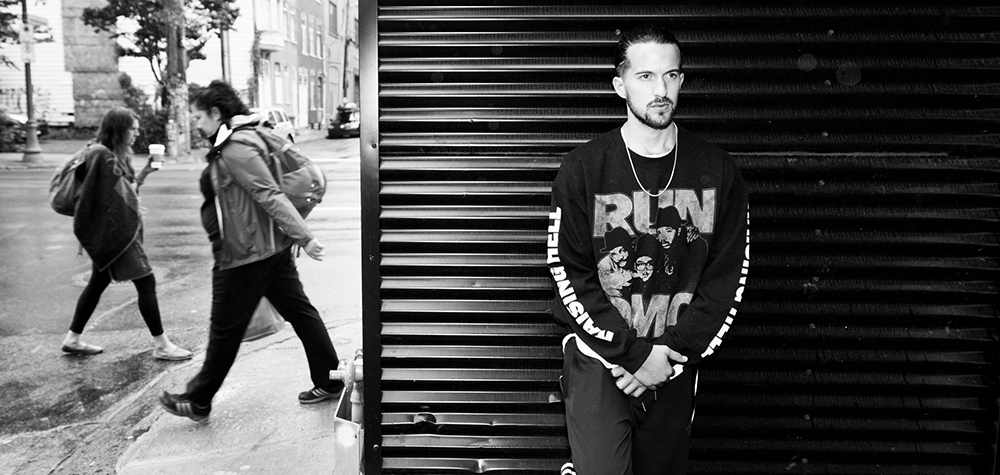 Future house pioneer Tchami has been making waves as both an industry leading producer and front man of label, Confession. The fairly new label is already home to various cutting edge artists that hang around the future house scene, including Dustycloud, Malaa and Brohug. What started as a simple Soundcloud hashtag coined by Tchami, "future house" grew to become an empire taking over the electronic world. Far beyond infectious bass-lines and a timeless club sound, what Confession does as a label is gather sophisticated producers who depict genuine talent and passion. 
Contributing to the roster of innovative producers, ANGELZ returns to Confession with a fresh new EP, Saint Thug. Hailing from Quebec City, ANGELZ is one of the first artists to release on Confession with the banger "Hey Girl". He has formerly produced on the renowned Def Jam Records; utilizing his hip-hop influence, the Canadian producer has properly moved forward in his signature style, taking on the funky yet gritty g-house sound.
Saint Thug begins with the track "Crew". Through gasps and breaths, an enticing synth coils around the bass trickled beat. The drop reveals itself with a strong metallic sound, involving glitchy static and industrial inspirations.
"ATBWFM" jumps right into a catchy, ego-boosting loop, "All these bitches wanna fuck". This looping layers over trickling blips that taper into the deep beat. The track merges classic house 808's with a fat bass sound sure to please the dance floor.
The following track "Stunt" exhibits ANGELZ ability to collage varying samples and sounds to create funky and eclectic work. With a screeching and buzzing melody, the track is an undefinable number that'll appeal to a range of electronic music fans across the board.
Saint Thug is concluded with an unexpected bang in "Want it All". ANGELZ ends it off by punching in some hip hop influenced vocals and punchy percussion. The first drop reels in some delectably filthy dub infused growls. The serrated texture adds an exciting dimension to the track, depicting a colourful evolution in ANGELZ sound. 
Maintaining the reputable perception of the Confession label, ANGELZ goes above and beyond in this latest release. Diving deeper into g-house realm but additionally throwing in elements of varying aesthetics, he proves himself as a producer willing to grow. Saint Thug brings together the catchy nature of hip hop hooks and hypnotic depth of house music, citing the EP as a must listen from front to back. EARMILK had the opportunity to speak with ANGELZ regarding his latest work, inspirations and thoughts on the state of electronic music today. 
---
EARMILK: What influenced you to get into producing music?  Who are some of your all time inspirations when it comes to music? 
A: I grew up in a very musical family, by the time I was 5 I knew all the classics of the last 3 decades. The first time I listened to The Chemical Brothers and The Prodigy, I knew it was something entirely different. Fast forward a couple years of selling  mix tapes in primary school (just my favorite tunes) later , I became very into hip hop. I would spend nights reading the booklets of my CDs and that's when I started noticing the same names coming up again and again on my favorite records.  'Produced by The Neptunes' ,  'Produced by Timbaland' or  'Produced by Scott Storch'. I  ended up on the Star Trak forums to stay up to date with Pharrell and Chad (my childhood heroes) and after a bit I kept venturing over to the  'Beats' section of the forum. I started listening to the top posts and my mind was blown, some of these unknown guys were making stuff that was on the level of all my favorite tunes. At that point there was no doubt in my mind that I could do this too, I just had to learn how. 
EM: What up and comers do you think are crafting groundbreaking music today? How does one stand out in such a saturated market?
A: Everyone on Confession, Hucci's label Veyron Arche is my kind of  stuff also Record Record is another one with very high quality standards in the alternative landscape. One stands out by having clear and strong musical ideas. I don't know if it will make any sense but : If you're not technical then kill it and work around your limitations and just make the hottest non-technical shit ever and assume it (most of your favorite hip hop producers don't know and don't care about any technical aspect) and if you're very technical then don't make just producer porn but have fun and use your skills to stand out with clever tricks. 
EM: Tell us about the creative process of  Saint Thug  and how it's like releasing it off Tchami's imprint Confession.
A: I've always liked making music based off a concept, in that case even before I started working on it I knew  'Saint Thug' was going to be the name. The EP is noticeably dark, the musical arrangements remind of something that would play in the catacombs and the drops have  a lot of personality and  a lot of rawness.Releasing on it on Confession was the original intent, it was my duty to come up with something that is challenging because  a lot of eyes are on us. 
EM: Describe your present sound and how you feel you've progressed artistically after Def Jam.
A: For the first 9 years of my producing experience , I was making beats. The next 3, I was making songs. I was making every style of hip hop, from Alchemist sampled type beats to bass heavy crunk to hyphy. Now I focus on dance music. I used to send my songs to the rappers then they would do their thing  and I was pretty much left out of all the process except the initial instrumental part. Now I do everything myself, I do songwriting as well & I'm in control of every idea. 
EM: What advice would you give for producers out there trying to cultivate their own signature sound?
A: It starts with finding out who your main inspirations are. Dig deep and really pinpoint them, then find out why they moved you. Once you have a fairly accurate picture what your background is, start figuring out what kind of music you want to make. There's  a lot of horror movies out but there's only one  'The Shining'. Once you start seeing music as something more than just  'tunes' but something that takes people places, you're gonna see why it's exciting to develop a unique sound. I don't make music according to the rules, I just go by the vibe. If  every single time I sit down to work on music I follow my instincts, patterns in stylistic choices will start appearing. That's your signature sound. 
EM: In what direction do you feel like electronic music is moving towards today? And what do you feel is lacking in the scene? 
A: I don't think the scene is lacking anything. Every day I discover new exciting music , especially coming out of places like Africa and South America where some of these kids make music only with their cell-phones and it's inspired by the mainstream but because their tools are so limited it becomes something completely crazy and new. I think electronic music is just a way of presenting music and I don't regret putting in the work and being part of this new era. 
Connect with ANGELZ: Facebook | Soundcloud | Twitter