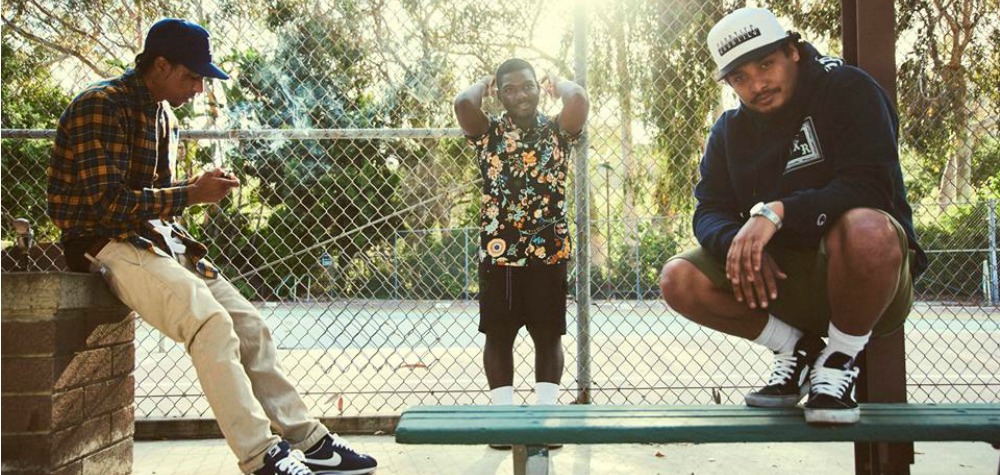 Warm Brew might be Cali's finest group of rappers rolling out of LA since Dr. Dre's early squad with NWA. The trio consists of Ray Wright, Manu Li and Serk Spliff. The recent Red Bull Records sign were playing Frank Ocean's game for a hot second but they just came in real hot with the release of their latest project, Diagnosis. 
[soundcloud url="https://api.soundcloud.com/playlists/241034166" params="auto_play=false&hide_related=false&show_comments=true&show_user=true&show_reposts=false&visual=true" width="100%" height="450" iframe="true" /]
The EP begins with a "Mission" where Swiff D lays down a silky soundscape for the trio to run rhymes through. The video for this track was released this week - showing the Ghetto Beach Boyz in their element. 
Next up in the crew features one of my personal favorites on the R&B scene right now, SiR. He reminds us of a 'Party Next Door' type but with a more "Seducing Your Chick And Is Legit Bout To Fuck Her at The Party Next Door" vibe. You can just feel the female's pheromones leaking while listening to this track.  This cut is a more 'after party pleaser', it's perfect to lay down as you're trying to, well, lay it down.  "I Swear" is your classic turn up track featuring Compton's own Buddy & produced by Al B Smoov. As if this entire tracklist wasn't already perfectly fit for your next function; Warm Brew still comes through with the steady tracks for your next BBQ. But then, "Play This in Car" comes on and fucks you up. You were at the function and now you gotta be in the whip. The solution here is to plan it so you're slapping this on the way to the function or when you leave. Or, you can be an absolute pimp and pull your whip up to the function with your doors open and have your cake and eat it too. It knocks too hard to not be appreciated by some quality subs.
The last two tracks remind me heavily of some OG Outkast shit. "24 Pivot" feels like a west coast cut on some new age Mac Dre anthem shit. The laid back cadence and catchy hook can have this track playing day or night. My favorite of the project is the last but not least, "Hallelujah". I struggle to find the words that describe how I feel when this song hits. Once the beat drops, 25 seconds in - there is no physically possible way you can sit still. Each member of the trio weaves through this production seamless. They have an undeniable gift of gab, married with on point rhythm and there is no way to separate the two. The production is full of choir samples, a steady percussion and graceful piano keys but the pockets are filled perfectly by the squad. Then this angel comes in at the end pouring her soul all over the beat and  "Hallelujah" has never made more sense in your life then it does right now. It's impossible not to replay this song over and over again. In total, this entire EP will stay in rotation for years on end - this Diagnosis acts as a timeless cure. 
And guess what? This EP is available on iTunes!! Which means you can buy it, right now! With your moneys! Support artists, yo. 
Connect with Warm Brew: Soundcloud | iTunes | Twitter | Facebook | Instagram | AllThingsWarmBrew