This article was co-authored by Cailey Lindberg and Dana Guth 
As a resident, it's common to hear almost everyone you know talking about wanting to leave Boston at one time or another. They come here for school, but often don't want to stay following graduation, unless they're in healthcare or education. Often there are hems and haws about how it's time to move on, then some do, and some don't. But back in 2013, a festival popped up called Boston Calling and all of a sudden this neighborhood-like city had it's own festival, which occurred twice a year on Memorial Day weekend and in early September. 
Despite it's residents' (perhaps unwarranted) complaints, Boston does have a viable music scene, although the same people do tend to win the Boston Music Awards every year. The festival has done an excellent job of showcasing local talent with Bad Rabbits (2013), Clifflight (2014) and this year Palehound (who won Best New Artist at the BMA's and frequently tour in Europe.) Clifflight moved on to California, Bad Rabbits stayed in Boston and it remains to be seen what will become of Palehound. 
You've perhaps read Boston Calling is the festival you go to if you'll never leave Boston, and as you look around, most of the attendees really are longtime locals. The farthest anyone traveled to attend was likely Connecticut or New Hampshire, which was a given considering the stellar line-up. There are no hotel packages for Boston Calling, and without any camping options or affordable places to rest your head in the swanky Financial District, foreigners – i.e. those not born and raised in the Northeast – would have to extend considerable effort to attend. And with Firefly (bigger), Governor's Ball (cooler), and Osheaga (livelier) just around the corner, why would they? 
But maybe the insular nature of Boston Calling isn't such a bad thing. In fact, it is probably the festival's greatest charm, and Boston Calling has never claimed to be Firefly or Governor's Ball. Wandering around, we casually bumped into a handful of colleagues, coworkers and friends, bonding over our excitement to see Sia and Haim. It's a festival where you can "check in" with people you know, and even if your phone dies you probably won't lose people. The local stage was also a big draw, showcasing Boston favorites between larger acts.
Other festivals almost always lack this sort of geographical cohesion. While festivals like Bonnaroo and Mysteryland build camaraderie around camping grounds and the struggle of getting (and staying) there, Boston Calling offers a deeper, more casual way to connect. It's reminiscent of the city itself, you can see a familiar face, smile, and give a friendly nod between bites from the local food truck Bon Me or the ever popular Tasty Burger.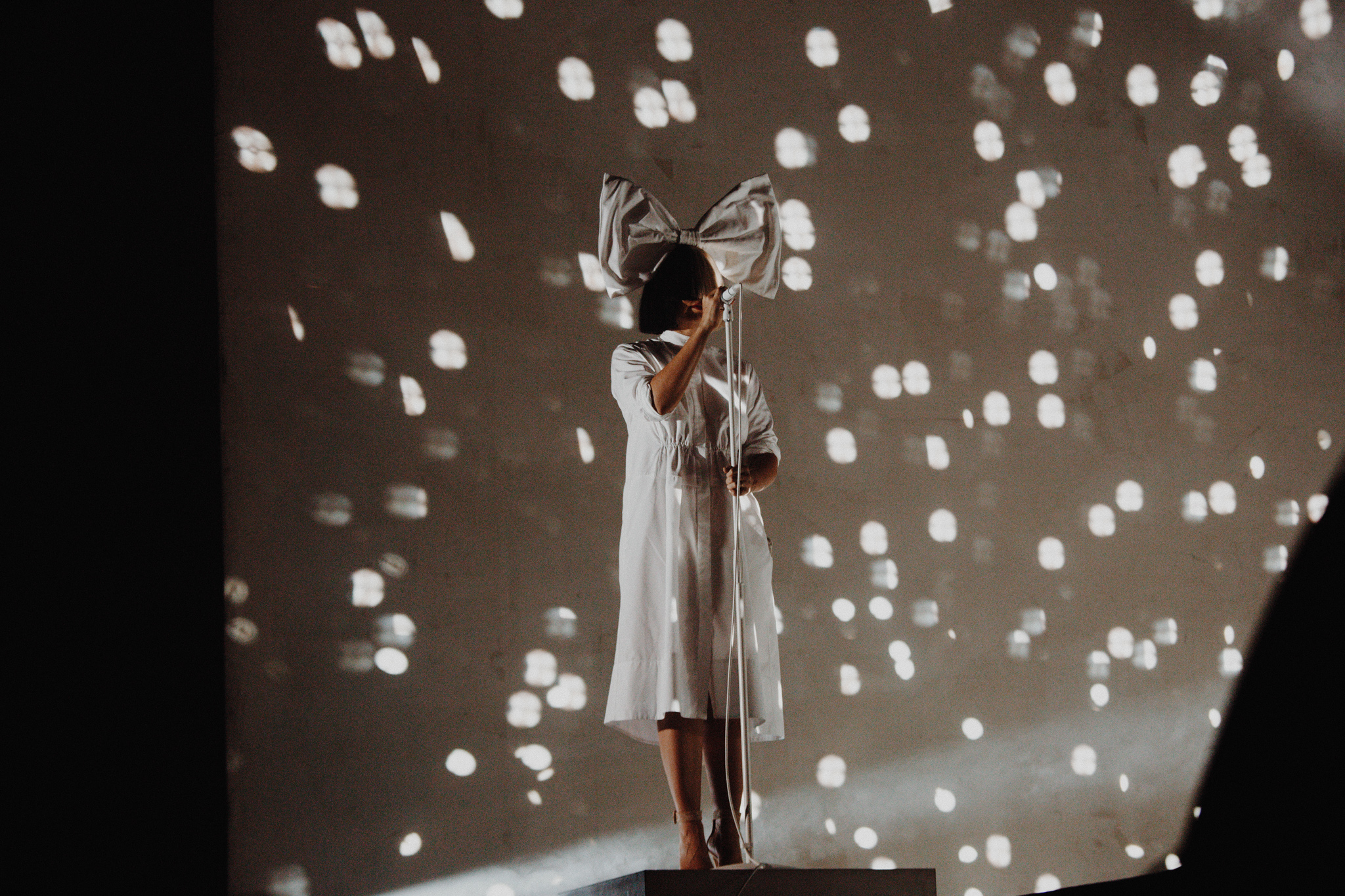 Since the vibe of Boston Calling is so neatly in line with Boston as a city, that means they share the same clean and comfortable aesthetic. While they were surely the select few twenty somethings that decided to drop acid for Sia's headlining set (Friday night) or Odezsa on Saturday, it curated a family friendly environment. Children felt welcome (and there were more than a few very #Boston urban hipsters dancing with babies strapped to their chests) but party-happy festival-goers were likely alienated to some extent. There was a joint burning near us during Sia's performance, but in keeping with Massachusett's liberal nature, weed is decriminalized in Boston.
Boston Calling is undeniably, almost stiflingly tame, making drugs and alcohol a non-issue and true to form, the majority of alcohol being sold is from local brewery Sam Adams. It's also worth noting that the majority of the audience is wealthy and white, which is another trait perfectly characteristic of the festival's location in the crisp, nine-to-five Financial District. Despite it's open stance on LGBT, Boston often receives criticism for being a racist and divided city, with somewhat segregated populations. 
This could all change for the better next year, when the festival moves to Allston, which is a student-heavy pinpoint for artists and diverse creativity. "Allston Rock City" or "Allston Rat City" as it is sometimes called, is actually where the local band chosen for the mainstage this year, Palehound, was birthed. The festival is additionally set to expand into an innovative art and music showcase in the vein of SXSW, which might lend it an even more open-minded attitude. The week long SXSW began as a small, grass roots music festival in the equally small city of Austin, Texas.
Boston Calling also will cut the event to one weekend instead of two, choosing Memorial Day weekend, which strangely enough edges out many of the city's students who will have left town for the summer. But maybe Boston Calling is really for the locals, and you can feel the stalwart Boston pride the minute that you walk in the front gates. It's also worth remembering that it is a festival still in it's infancy, and with extremely limited festival performances, someone must have pulled major strings to get Sia.
Five Bands to Watch from Boston Calling 
Palehound 
Since Boston Calling does such an excellent job of showcasing local talent, we couldn't write this post without mentioning the band picked for a main stage performance, Palehound. The canine-themed group has thus far released one full-length album, Dry Food, and one EP, Bent Nail to critical acclaim from critics.
They were also special enough to be featured on the renowned NPR's Tiny Desk and have been reviewed in respected outlets Stereogum and Pitchfork. Front woman Ellen Kempner's ethereal vocals resonated well with the audience and the band had decent personality onstage, with the non-frills attitude that one would expect from their genre. There were also a surprising amount of people there for such an early set, so it's clear that the band has a cult following in Boston.
[soundcloud url="https://api.soundcloud.com/tracks/207674481" params="auto_play=false&hide_related=false&show_comments=true&show_user=true&show_reposts=false&visual=true" width="100%" height="450" iframe="true" /]
Lizzo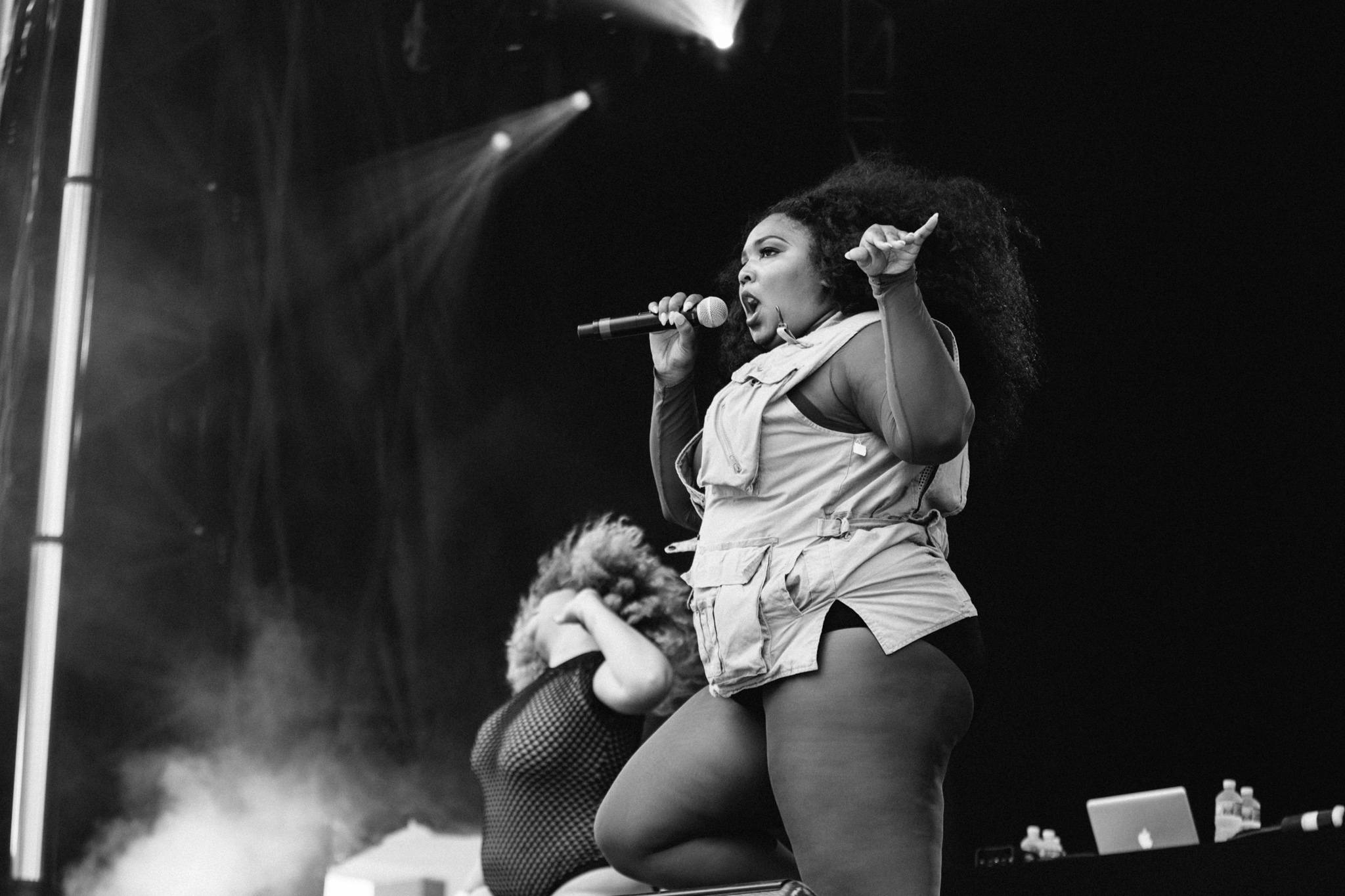 Lizzo probably had the worst time slot on Saturday, around 2PM when City Hall and the reflective pavement had reached 95 degrees at least. But the Minneapolis based alternative hip-hop artist didn't let the heat curb her energy, and in our opinion put on one of the most spirited performances of the day. She bounced and jived around the stage with her group of back-up singers and dancers with unfathomable energy.
It is also worth noting that Lizzo was one of two African American performers featured at Boston Calling, along with Vince Staples, but the crowd sincerely loved her vibe on stage. Lizzo's debut album Lizzobanger's was released in 2013 and experienced regional and national success. Her performance skills have clearly not gone un-noticed due to a performing slot on the Late Show With David Letterman in 2014. Her song "Good As Hell" was also recently featured on on Barbershop: The Next Cut. 
Vince Staples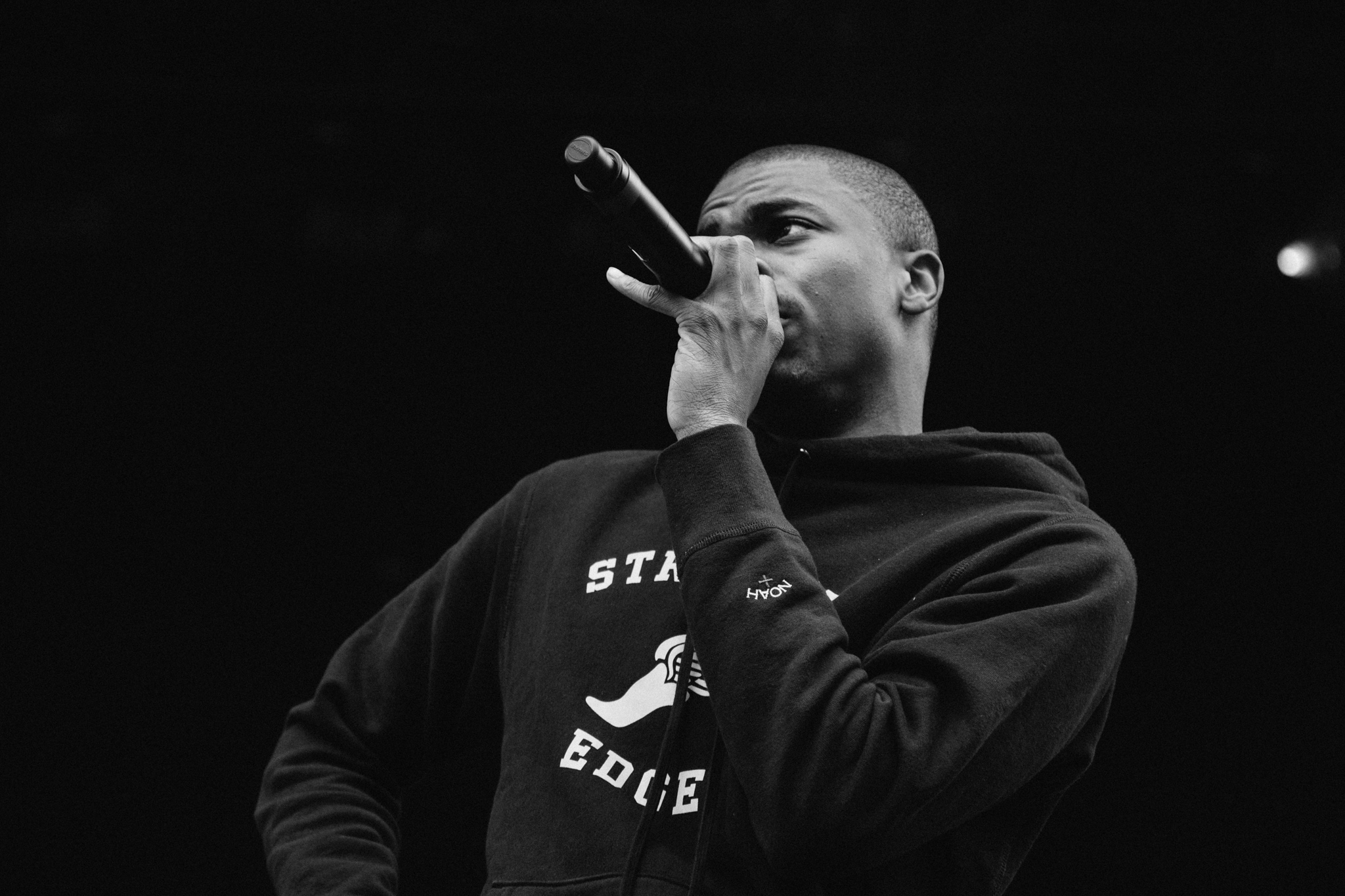 Vince Staples is rumored to be the next big name in hip-hop and his spirited, on-point rap performance did not disprove this. The young artist is one-third of the hip-hop group Cutthroat Boyz and brought a Long Beach flavor to Boston during his set. He got lucky with a time slot on Sunday, when it was considerably cooler and easier to move around the stage.
Staples has your standard rap background but has seemed to be able to translate it into something unique and fresh, and he actually received some of the loudest cheers during the daytime sets. Obviously no one would beat the fan fanaticism garnered by Sia on Friday night, but Staples has had some high profile collaborations with Meek Mill and Young Thug as of late. Staples is certainly one to watch, as his debut album Summertime '06 was released to critical acclaim, garnering him a spot in the 2015 Freshman class for hip-hop publication XXL Magazine. 
Christine and the Queens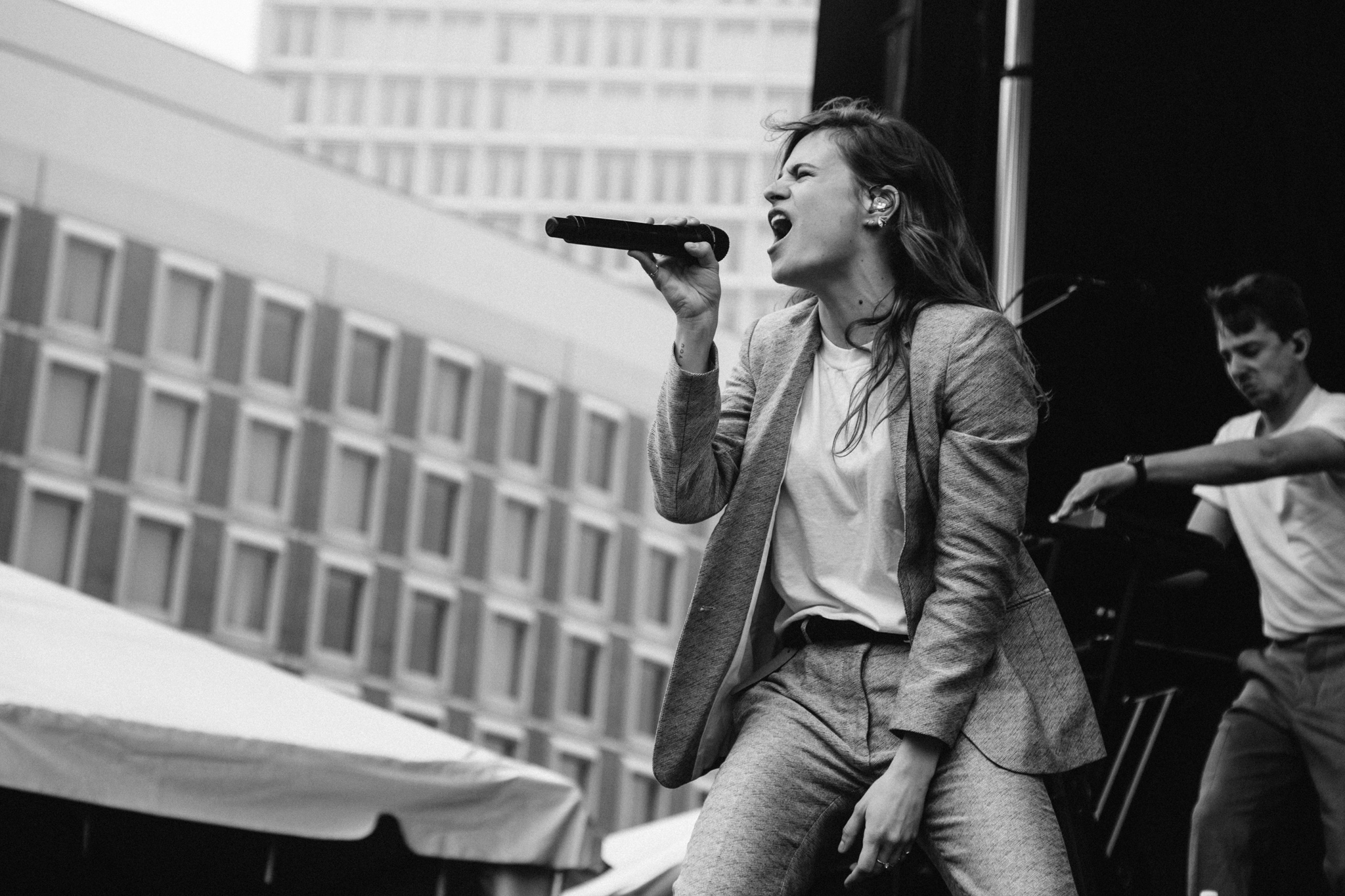 We had to wait until Sunday to see a performance by Christine and the Queens (and interview artist Heloise Letissier), but on that cool Sunday afternoon it was certainly worth it. As a more seasoned artist, the French singer and songwriter certainly seemed comfortable on stage, along with her back-up dancers in gender bending outfits. With Michael Jackson moves, her set was just fun, and brimming with bubbly energy.
It makes sense that her latest music was edited by Neon Gold Records as she is in keeping with the kind of alt-electro-poppy infectious music that the label promotes. She also toured North America in 2015 with Marina and the Diamonds for her first English EP Saint Claude. She told us that it was her first time performing in Boston with great enthusiasm, which was only matched by her tiny frame bouncing around the stage.
Janelle Monae 
Most festival goers may have already been familiar with Janelle Monae's electric, feminine zing-brand of R&B, and Boston Calling was just another rung on her ladder towards superstardom. Channeling the likes of OutKast and Prince, the singer/dancer/songwriter is a crackling, funkadelic live wire who just so happens to champion radical girl power with lyrics like "You cannot police me, so get off my areola."
Monae famously tested her breakout album The Electric Lady in strip clubs to see what everyone could (and could not) easily get down to. With that product, a nine-piece band, and a half-dozen more groovy hooks, this set was near perfection. As she gyrated onstage in a black-and-white tux and red lipstick, it's tough to imagine any club, stadium, or festival not vibrating in tune with the rich bubblegum-funk that Monae shoots off.
Connect with Boston Calling: Facebook | Twitter | Website 
Photos courtesy of Jason Cox Photography: Facebook | Website | Tumblr