By trade, Dave Douglas is a trumpeter, composer, and fearless explorer of jazz and other types of music that can be both composed and improvised (they often lie somewhere in between). His prowess has developed over the course of three decades and forty odd records, attracting a cadre of talented musicians along the way. Three of them now play with him in High Risk, a foursome that consists of himself, Mark Guliana (Bowie's Blackstar), Ghostly producer extraordinaire Zachary Saginaw (aka Shigeto), and Jonathan Maron, a prominent figure in the acid jazz/fusion movement of the '90s. The group's individual talents allow the band to put itself in 'high risk' situations that ultimately pay dividends in equally high rewards. Such is the story behind both their moniker and "Let's Get One Thing Straight," High Risk's new single that's premiering today on EARMILK. In Douglas' words:
"'Let's Get One Thing Straight' was created by the whole band in the moment. I wanted to create a situation where we really were at risk, we were on a high wire, where the exigencies of being in the moment and creating with your wits – from one second to the next – was what it was about. That's why the band is called High Risk."
The track opens to industrial clacking and Douglas's hellish fanfare. Maron's bass slips in and out of key as Shigeto's electronics skitter and scratch beneath the surface. Guliana's drums act as the glue, juggling the individual pieces until they dovetail into a Miles-esque jazz fusion collage (see: In a Silent Way).
Like Miles' seminal fusion record, "Let's Get One Thing Straight" is oblique and dizzying. It's a vertiginous balancing act that chugs like a machine gone haywire, recklessly maneuvering along some precipice. As the instruments veer in and out of focus, high-wiring along key and pitch and meter, we realize that they could fall off the proverbial cliff at any moment. But that's where the energy is. That's what piques our curiosity and forces us to listen more intently. The terrain, unpredictable and rife with what-ifs, is the musical equivalent of staring into the abyss. What do they see, standing at the edge? Will they fall? They never do.
There's never any doubt of the risk taken in "Let's Get One Thing Straight," nor is there any question of its reward.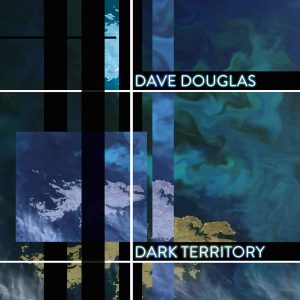 High Risk's new LP, Dark Territory, arrives on July 8 via Douglas' Greenleaf Music. You can pre-order the record now over at Bandcamp.
Connect with High Risk: SoundCloud | Twitter | Facebook