Moby isn't just a pioneer in the music industry, he's a trailblazer. Along with a few other artists like Fatboy Slim, Moby's name has been synonymous with chart topping, but avant garde electronic music since the 1990's. Throughout his career, he's been able to find that sought after sweet spot of creativity and expression and success. 
Moby started his career as an outsider – oddly enough, as a white, devout Christian kid from the suburbs – in the club culture of the 1980's and 1990's. He went on to sell 20 million albums throughout his career, winning Grammys and accolades for his albums from 2001's debut Play, through this year's Long Ambients 1: Calm. Sleep. He's delved into video, hip hop and collaboration in a career that's spanned over thirty years.
This coming spring, though, Moby will officially launch into a tour for something he hasn't done before. His autobiography, entitled Porcelain, an account of his unique and quiet trailblazing experience, be out May 17th via Penguin Press. Music From Porcelain, a compilation of Moby's own greatest work as well as a curated selection of electronic music classics, will accompany the book as a soundtrack as well.
"The music in 'porcelain' is almost as important a character in the book as i am. to that end I've compiled a collection of songs written about in the book, both mine and other people's, in a little time capsule to accompany it. These songs all remind me of the New York that I lived in and was smitten with from 1989 – 1999," 
Moby's Porcelain book tour will include readings and signings with appearances from Moby himself. Check out details behind the tour and Music From Porcelain below.
Tracklisting:
CD 1 – Moby Tracks
Mobility

Go! (Woodtick Mix)
Ah Ah

Next Is the E

Rock the House
Thousand

Feeling So Real

God Moving Over the Face of the Waters
Come On Baby

That's When I Reach for My Revolver
Honey

Natural Blues

Bodyrock

Why Does My Heart Feel So Bad?
Porcelaint
CD 2 – Other Artists
Break 4 Luv – Raze

Pacific State – 808 State

Scenario – A Tribe Called Quest
Definition of a Track – Precious

I'll House You – Jungle Bros

Top Billin' – Audio 2

Follow Me – Aly-Us

Raw – Big Daddy Kane

Pause – Run DMC

Energy Flash – Joey Beltram
Anasthesia (Out Of History Mix) – T-99
Feel So Real – Dream Frequency
Plastic Dreams – Jay Dee

Set It Off – Strafe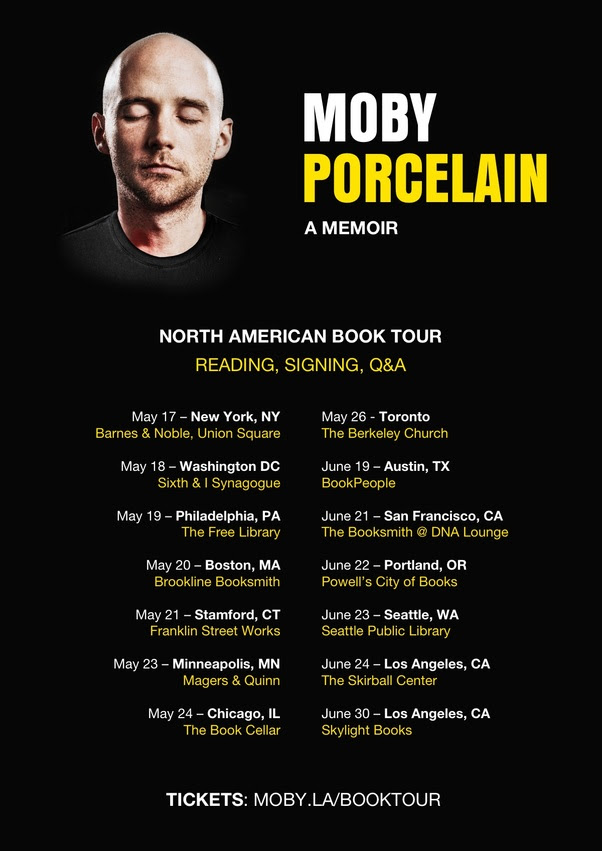 Connect with Moby: Official Site | DJ Site | Facebook | Instagram | Twitter