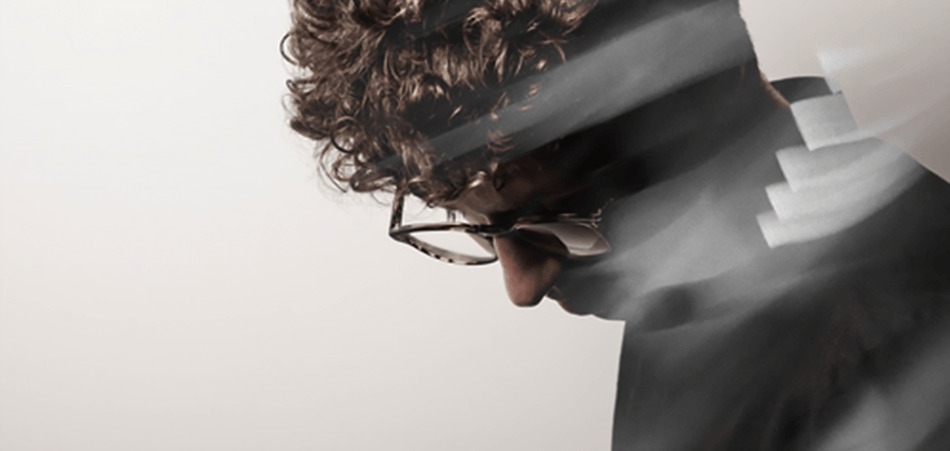 Guy Andrews is an enthusiastic musician who is consistently in the process of reinventing the creative sounds he uses. His latest project is a twelve track album, Our Spaces, which features a completely new palate of music separate to what you might usually expect from electronic music. The London based producer keeps his composition distinct and distortions authentic. Our Spaces is a sonic voyage into Guy's creative and emotional thinking now avaliable from Houndstooth Label.
I met with Guy during Outlier Festival in London to hear more about his latest release and upcoming musical projects. Outlier Festival is a new event series curated by Bonobo, another successful London-based musician, who is bringing the branded event to a global scale in Berlin, New York, London, and elsewhere. Both Guy and Bonobo share similar patterns of thought in their production process through a fascination with original sounds. If you're familiar with the type of downtempo music Bonobo does so well, than Guy will be an interesting extension to the genre to read more about. We spoke in detail about his last 
EARMILK: I want to ask you about Our Spaces. Can you say how long the album took to make?
Guy Andrews: It has been about a year and a half to two years. I was not actively seeking to write an album at the time, but aiming to switch my style. I wanted to do something new. I wrote four tracks and it turned into a full album because I was really enjoying it.
GA: Even though Our Spaces is 12 tracks long, I wrote about 16 tracks within the two years, which is actually quite quick for me! I'm usually much slower at writing music. It flowed naturally, so making an album wasn't really an active decision all along.
[soundcloud url="https://api.soundcloud.com/playlists/201081260" params="color=ff5500&auto_play=false&hide_related=false&show_comments=true&show_user=true&show_reposts=false" width="100%" height="450" iframe="true" /]
EM: So when you mention starting that you didn't see the full project, but it became that way, what was motivating you? Going for the milestone or just enjoying the process?
GA: Probably the latter because I am really happy when I am writing music. I was able to fuse different elements of my production styles, but figured out how to put live instrumentation into tracks, which when combined can still work a sound system.
GA: Writing this kind of music I am able to portray a lot more emotion than I could write music that is more functional. I was blending my feelings with electronic music, which is really rewarding.
GA: It took a long time to do that, since I am getting to the point where my production is good enough. Just making a digital sound from a synthesizer fit next to a non-digital sound and seem natural is incredibly tough. I only got there at the end of writing my album.
EM: Would you say then that you're completely satisfied with the result and is there anything you would change looking back?
GA: With anything music related I have zero expectations whatsoever. Yeah, I am proud of the effort I put in, but it was more finding my feet with a sound. Working a full time day job as well, writing an album alongside that is quite hard. I'm happy that I'm disciplined enough to have finished it (laughs).
GA: It's great to have Houndstooth, the label behind me, to release music that doesn't use A&R. I'm actually putting my emotions out in front of people through music and it is not being tampered with by anyone else.
EM: That's awesome man, it's important to have control over your own work.
GA: Yeah definitely, I'm by no means a control freak. When it comes to music however, labels can change records to sell more, which I understand the reasoning. I think with my music, I want it to be honest of what I want to write. I found someone up to put Our Spaces out, in terms of the label being happy to not do A&R and me being happy to have someone to release with.
EM: In the process of changing your sounds, you did redesign your creative palate to make music on this album, can you give that more context?
GA: Yeah basically before I built up a bunch of sounds that were based around Dance floors, huge subs, big synths, etc. I was trying to write a lot of music that could include these sounds, but I was really struggling. It got to the point where I listening to so much different non-dance music, that I realized the arsenal of sounds I had isn't really relevant to the music I want to write now.
GA: I literally went home and deleted all these sounds that I had spent the last couple of years making to start from scratch. I was using the same kind of synths, but using them in different ways. I would think what kind of emotion am I trying to portray. Creating a whole palate of sound took about 6 months to do; working with distortion and making it much more tonal so I can actually play chords. 
GA: Creating the synthesizer to sound organic and to have human elements of movement actually took a lot of time. I still had all the skills from writing dance floor based music, but set out with a completely different mindset. 
EM: What are some of the biggest challenges electronic music producers face today? 
GA: To be honest, just making sounds that people haven't heard before. Especially producers who opt for the software function, it's really easy to go down digital template routes where you sound like ordinary EDM. I could use samples, but actually changing it to something different is where the skills are with production.
GA: It's a big struggle for producers, although I'm a complete advocate of using digital technology. Often with these synths, the pre-sets are so good and fit into what you're trying to do instantly. It's quite easy to think too much about the music and composition side, but neglect the synthesis and production part. I'm not saying I'm not guilty of this; I still use 808 loops because they have their certain place. We have so much choice and abilities to synthase all the tools available, yet actually creating new sounds is extremely hard. 
EM: That's a really interesting perspective; I think that artists who record their own sounds are making a progressive approach to the creative process, such as an artist like Bonobo.
GA: That is completely what I'm trying to get across! Whether it's sampling, or synths, or whatever you want to do. Just having that kind of ear for what will sound good. When you're singing you can record in different ways, literally placing the mic has real influence in the way it sounds.
GA: I don't really feel that people give artists like Throwing Snow and Bonobo enough credit for that aspect of production. Finding the core sample from live recordings, whether an instrument, folly, or abstract rhythm, is really tough to get right. Jon Hopkins is a great example because of the effects he puts on stuff. That is how you make yourself an individual electronic producer.
EM: Who are your biggest musical inspirations in general?
GA: I absolutely love Tool, Smashing Pumpkins, and Sonic Youth as well. I grew up listening to these bands and DJing drum and bass, since 9 years old. The electronic side comes from those days, but in terms of song writing and dynamic range, Smashing Pumpkins is a great inspiration.
GA: Tool's album and track Ænima has a distinct drop at the end, which is literally my favourite moment of music in general. It gives me goosebumps, the track is so raw! Tool's composition flows so well, since it's so much tension and release.
GA: I find writing builds, similar to metal music, in electronic music really hard to recreate. I suppose with bands like Tool, the way they play riffs on the guitar can start softly, which becomes harder through their energy. In electronic music, working with digital sounds that are quite rigid, I want to bring back that human element of building up sounds. I think I'm only discovering this in the interview! (Laughs). 
EM: What upcoming projects do you have planned for 2016?
GA: I have an upcoming release that is a collaboration with a Japanese Vibraphoneplayer named Masayoshi Fujita. In terms of my writing, I suppose I have to start making another album, it's pretty mad! I would really love to take another step back from things, so I've got this palate of sounds from the past few years. That's there, but maybe let's go down more of a live sounding route or end up writing a weird form of techno.
GA: Now that I've released Our Spaces, I need to promote it and tour playing the tracks. It's figuring out what I want to be inspired by? Where am I in my life now? It's kind of cool, because I'm thinking in my mind what actually is next, I need to think what about my life I want to write about and put out to the public. I am trying to collect up experiences and put that outwards in a form of music.