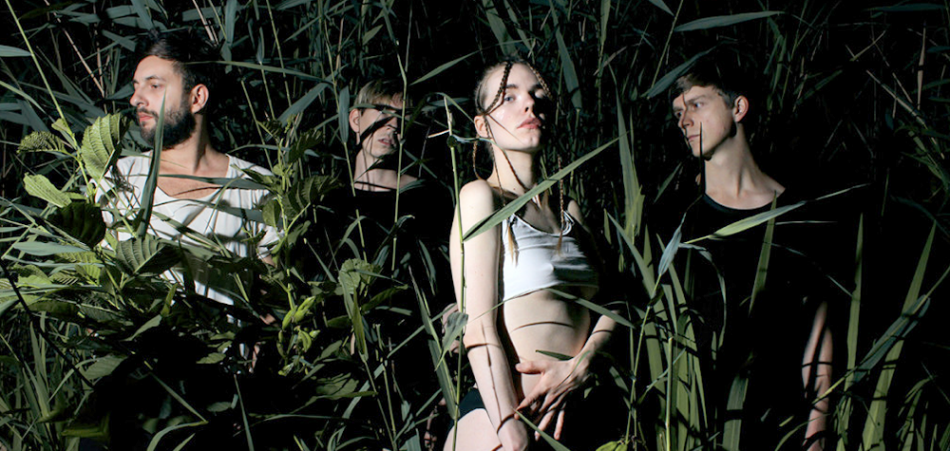 In 2008, Fiordmoss was founded inside a Berlin apartment shared by friends, Roman and Petra. A fire claimed both Roman's record collection and Petra's guitar, provoking a sense of tragic beauty that's been present in their music ever since.
Two EPs and two new bandmates later, Fiordmoss are in the midst of recording their first full-length album. The upcoming LP's first single, "Madstone"—described by Red Bull Music Academy as a "haunted pop gem"—reflects the grim dualities of the tragic and the beautiful. EARMILK is premiering a new, self-directed accompanying video that captures the song's "haunted" qualities while exploring normative gender roles. The four-minute video follows a man and a woman as they struggle to find one another.
Filmed at highway truck stops on the outskirts of Berlin, the video opens with a shot of a semi at night. Darkly lustrous electronics clang beneath Petra's foreboding vocal, adding nefarious undertones to the hulking freighter. In following shots, the portrayals of both the man and the woman oscillate between fragile and predatory, displaying the complexities of gender identities: blank eyes in a bathtub; exaggerated running shots; bare-skin stills; violent, slow-motion water sequences. In unsettling collage, the shots exhibit struggle and sorrow and uncertainty. But somewhere within the darkness there is still love, and that seems to be the point.