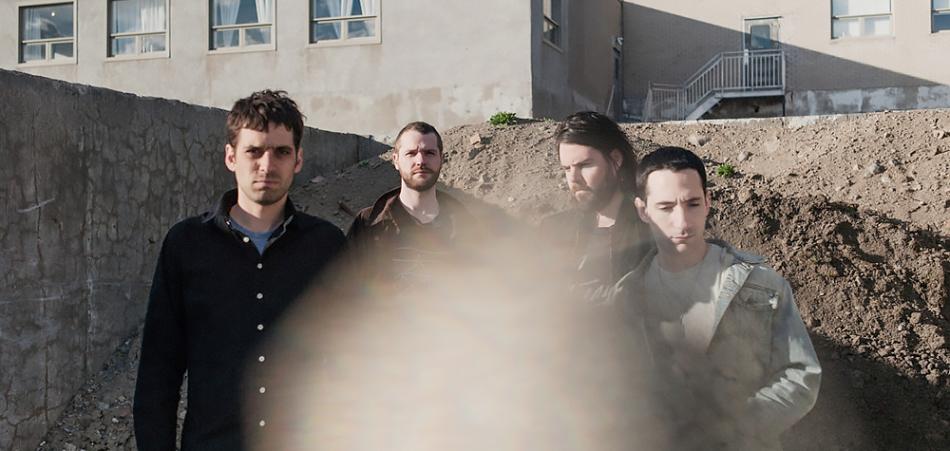 One of Montreal's best musical exports Suuns recently unveiled details surrounding their highly anticipated third studio LP entitled Hold/Still.
Proving to be a meticulous, eerily enigmatic offering at the very least, Hold/Still is set for release April 15/16 (via Secretly Canadian), which marks a transitional time of year often thought of as an annual winter thaw period. In light of that, EARMILK asked the band to encapsulate this mood of said seasonal milieu with an exclusive curation of tracks that Suuns have found themselves delving into as of late.
We can't help but think that by listening to the below tunes in full, you'll feel a heightened rush of anticipation for what to expect from Hold/Still. 
Jerusalem In My Heart - "7ebr-el-3oyoun"
"What can I say. A dear friend, a true talent. We toured with JIMH last year, and I heard him play this track every night. And every night I would get choked up, thinking about how lucky I was to be there to hear this amazing music"
Big Brave - "Look At How The World Has Made A Change"
"One of the most dope bands to emerge out of Montreal in a while. Super heavy, super rad. Nice people, too"
Domenique Dumont - "Comme Ça"
"Don't know anything about this dude, but I love his latest EP. Instantly on a beach" 
 Beatrice Dillon - "Face A"
"What's not to love about this track? Minimal in all the right ways, with stereoscopic saxophone"
Young Thug - "I'll Tell You What"
"It's like the whole of Slime Season 2 is one long song in its own language. Cheeky motherfucker. Every time I listen to this I hear whole new verses"
Dense & Pika - "Bad Ink"
"I could dance to this forever. I like the big slow bass grindy techno"
Pre-order 'Hold/Still' HERE. To see the band in the flesh, buy tickets HERE. Full tour dates found below. 
07-Apr 

- Bar le Cha-Cha, Ste-Therese QC, CA
09-Apr 

- La Taverne, St-Casimir QC, CA
15-Apr 

- L'Anti, Quebec City QC, CA
16-Apr 

- Le Naufrageur, Carleton QC, CA
20-Apr 

- La Tulipe, Montreal QC, CA
21-Apr 

- St Alban's Church, Ottawa ON, CA
22-Apr 

- Adelaide Hall, Toronto ON, CA
23-Apr 

-  Athens, OH @ Ohio University at Casa Nueva
24-Apr

- Bloomington, IN @ The Bishop Bar
26-Apr

 - Philadelphia, PA @ Johnny Brenda's
27-Apr

 - Washington, DC @ DC9
28-Apr

 - New York, NY @ The Marlin Room at Webster Hall
29-Apr

 - Allston, MA @ Great Scott
30-Apr 

- Portsmouth, NH @ 3S Artspace
19-May – Berghain, Berlin, DE
20-May – Melkweg, Amsterdam, NL
21-May – Grand Mix, Lille, FR
22-May – La Nuit De Botanique Festival, Brussels, BE
24-May – ICA, London, UK – Tickets
27-May – Immergut Festival, Neustrelitz, DE – Tickets
28-May – Seewiesen Festival, KleinReifling, AT
30-May – TBA, Paris, FR
01-June – PrimaveraSound, Barcelona, ES
05-June – Maifield Derby Festival, Mannheim, DE
08-June – Monk, Rome, IT
09-June – Beaches Brew Festival, Ravenna, IT