Switzerland based producer Nora En Pure creates music that's meant to take you away. It could be to a tropical paradise, a favorite city, or simply the dance floor. For Daniella Niederer, the mind behind Nora En Pure, it's her hometown in South Africa. When I hear her music, I imagine an epic beach party. It could be the dead of winter, but it's a party that's so hype it brings the heat.
Nora En Pure's new Into The Wild EP comes at the right point in the year when all the touring and festivals get going for summer. The leading single "Into The Wild" really captures this free spirit and energy with luscious production and fleeting string melodies. Eventually, what sounds like a soft "let's get drunk" billows through to remind you you're here to party.
[soundcloud url="https://api.soundcloud.com/tracks/207999326" width="100%" height="450" iframe="true" /]
The B-side single "U Got My Body" picks up right where the first track leaves off. It leads with this mysterious horn sound and jumps into the hot and heavy track. Try not to dance to this—I wish you luck. 
[soundcloud url="https://api.soundcloud.com/tracks/206825221" width="100%" height="450" iframe="true" /]
Ahead of the full release of her new EP, Nora En Pure takes the time to chat with us. Nora's also offering a pair of signed V-MODA Crossfade LP2 headphones, customized in black and gold to match hers! Enter the contest below.
Win a V-MODA Crossfade LP2 headphones signed by Nora En Pure

Describe your Into The Wild EP for us.
This new EP brings together my signature sound and some new experimental elements. The title track is typical NEP sound with the focus on the uplifting but dramatic strings. This is a piece of my favourite music! The second track "U Got My Body" has a more experimental side to it. Since some time I liked this trumpet sound, so I built up the track around those elements.
Your music always sounds so spacious and grand, what inspires your style?
When creating music I often think of a scene or a happening where I wanna take the listener to. The breaks and build-ups are a big part of that as well as the combination of classical and also exotic instruments.
I'm not the first to say that your tunes summon an urge to travel, where are some of your favorite places to visit? Is there anywhere you're eager to go to?
That's exactly what I want to create - in that sense - thank you! :) I have travelled the world extensively already before touring for my shows. However I think it's more that I miss my home country South Africa. The country is very diverse especially in its vegetation and wildlife. It's much more pristine, wild and original than many countries these days. I love to dream of that when I'm in Europe.
Who are some of your favorite artists?
I grew up listening rather to rock bands or classical music. Movie soundtracks have also always fascinated me.
In the electronic scene however, I adore the work of my buddy Passenger 10 and Sons Of Maria. Also funky tracks of Sonny Fodera or Patrick Topping keep on having regular spins in my sets.
What songs are you excited to play out live?
At the moment the two new tracks from the EP are every time a highlight and getting an incredible response already, it's amazing to see that. Otherwise I still enjoy EDX's "Remember House" track as people cannot help but dance to its heavy bass line.
The dance world has always been so dominated by males, and it's great to see more and more woman at the front of the culture now. Whether or not gender comes to play, do you ever feel like a role model? Is there any advice you would offer to anyone male or female trying to "make it" as an artist?
Other than being yourself… not much. There are so many artists and similar ones already, people want new and different things, it would be a waste to copy styles instead of living your own! But that is unfortunately what I keep on seeing from the label point of view. As for gender differences, I love to see that females are getting more credit these days. Women have a great rhythm and mostly a good understanding of music, the technical aspects of music can be taught, the intuitive feelings for it cannot.
Other than this new EP, what else does the future hold for Nora En Pure?
There will be a couple of remixes coming out this year, I am also looking into some interesting collaborations but nothing is decided yet. I hope to get working on some new tracks soon already, but touring makes it sometimes difficult to have this longer intense relation to the track that I need to build it. The summer is full of some amazing shows including nice festivals in The Netherlands, Norway, US, Fiji and many more.
I hope to see some of my supporters there on tour :)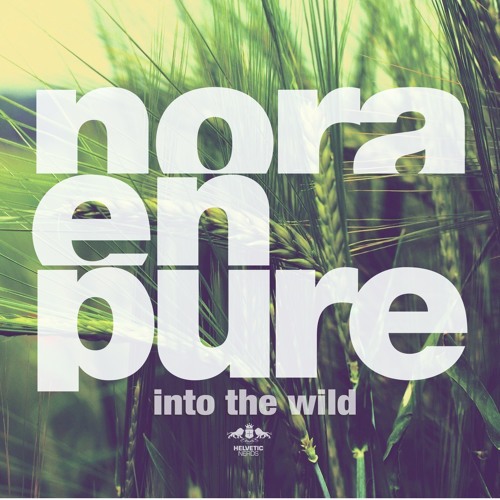 Nora En Pure
'Into The Wild' EP
Enormous Tunes
June 22, 2015 (June 8 from Beatport)