Not too long ago, Ministry of Sound created a special mix series entitled Masterpiece – a compilation retrospective inviting house music's greatest accomplished artists to create their own vision of the genre's history through a multi-disc release. Previously inviting those like Goldie, David Rodigan and others who this generation of fans may not know by name, they inducted a new, more familiar name to their honorable club last month: Armand van Helden. A producer whose success story is one that other artists dream of, van Helden worked his way up to stardom through working in the underground, rehabilitating club scene of 1990s New York, eventually going on to become a hit maker and one half of Duck Sauce (along with A-Trak).
We got to sit down with the American icon and look at his personal history and its relationship to music, the development of house and of course his own contribution to Masterpiece all in his own words.
[soundcloud url="https://api.soundcloud.com/tracks/190952437" params="auto_play=false&hide_related=false&show_comments=true&show_user=true&show_reposts=false&visual=true" width="100%" height="450" iframe="true" /]
This recent compilation that I worked on for Ministry of Sound, they usually ask various people in the industry with various styles to take part in this Masterpiece series. They tend to ask people who have developed a career in music, so when they asked me I really thought it was a big honor. I know it's a thing where people kind of just dig up old records to show the public their musical tastes and build a collection. But for me, I thought it would be so much better to theme each disc, mix each disc, and make each disc a part of my own identity and a part of my life as well.
Late 1980s
The last disc on Masterpiece is Freestyle, which predates me getting into house music. Because freestyle is actually older than house – the first freestyle record they quote as being Shannon's "Let the Music Play" from 1984, and house came through in around '85, '86 (and the thing about house is that it was very underground and took a while for it to get to the clubs). Nightclubbing though, in the '80s, was just as big as it was in the '70s, and predominantly the music playing was freestyle or soul and funk. It wasn't hip hop and it wasn't house and for sure wasn't rock. For me, freestyle was a big thing from about 1984-1989 when I got into house and it therefore felt cheesy from then on. I remember it got so cheesy I actually wasn't hanging out with the same people anymore once I got into house. It was crazy – today's analogy, it would be dubstep's transition to trap. Freestyle, in short, though is like "Planet Rock" by Afrika Bambaataa with vocals.
1991
'91 was the first time I put a real record out on a real label. It was called "Deep Creed" and it was on Nervous Records. Before that I was in my home making beats and that alone because I was living up in Boston, and in those days everything was coming out of New York City. But I got lucky and got a record picked up and just started to think "Hey, maybe I have a chance at this game."
At the time I was actually working at a mutual fund company so I was doing this stuff when I would get home and that would be it, along with clubbing a lot and working as a promoter as well. The first disc in the mix series is called 'The Loft: Boston' and The Loft was a club that I started in 1991 as well, I think winter of '91. I was a promoter and the house DJ here and there, wasn't that busy and was getting little gigs here and there, but The Loft was "the one."
The disc is really from my deep house days, which to be honest, not a lot of people know that when I went from freestyle to hip hop and got into house music I got into an extremely deep form of it. We're talking in 1988 when I got into that, which is crazy that I went very deep very quickly.
We were really lucky with The Loft: we found this after hours spot in Boston until 6 AM, and the cool thing about The Loft simply is that it was one floor with deep house for the real heads, and one floor with rave and techno. It was a very unique environment for 1991; usually those camps didn't sit together. It was one of those kind of clubs that created a cult environment, and I would intentionally let in some of the younger generation because I know that you can mold them (I was 21 at the time, so maybe 18 young). I thought about how the older you get, the more jaded you get and the less you want to be there every week so that you wouldn't be considered "that" type of person. But when you're 18, you don't have anything else going on, so The Loft kind of became a church for this younger generation and they were the ones propelling it. They had this insane energy in the club: they would scream to the records and stuff, so they were an important key thing for us there.
It was pretty unique for Boston, though we did kind of already have a small scene already. I wasn't the only one out there, but we were really copying New York. It's weird, in Boston all we did was want to be like New York – not in sports – but in music, we wanted to be like New York.
1993
I worked on The Loft until about '93 and then during the summer of '93 I moved to New York. I was somehow able to gather up enough funds and I had been wanting to move there since even before I started up at The Loft. When I was in Boston I made one trip down to New York during the Fourth of July weekend and I just lost my mind: it was my first time "really" being there at age 19 and after that I just didn't know why I was living in Boston. So I always wanted to get to New York but it just took me a while to get it right, and I moved there on this business plan of selling tracks.
The Yacht Rock disc on Masterpiece has really nothing to do with house music, but really was a pivotal time for me growing up as a kid when a parents when my parents would play these records around the house. I would hear these songs, and they didn't really resonate with me when I was a kid because I thought, "Well, that's my parents' music." But it sure as hell did when I became a record collector when I was about 24 or 25 and started picking up break beats and everything. It was then that I rediscovered Fleetwood Mac, Steely Dan and Doobie Brothers and thought "Oh my God I love this music." So I lived the music when it was new, but didn't say to anyone that I really liked it, and then when I hit my mid-20's man did it resonate with me.
By the point I had moved to New York, I had a number of releases out already, and I was starting to realize that back then you could make a good $1200 on a 12". Generally it would be a minimum of two songs: an A or a B side and two totally different dubs, generally four tracks. Every single house music record label at that time was based in New York City, so my plan was to do three record releases a week ($1200 was a lot of money back then). And I went with that idea and it worked out for me, and "Witch Doktor" was about a year later on that plan. It was getting to the point where I was going to the record labels almost too often, and the A&R's would be like "Dude, we have three of your records coming out we don't need another one."
I was very focused on music, and the key thing is that I wasn't going to New York to party or to get wrapped up in some scene or to be a fashionista. I was kind of just like, "I need to make money."
I was totally possessed with music and didn't really know a lot of people there when I first got there, so I had to start from that small matchstick and that kept me focused. Like maybe I was a little lonely, but then what do you do when you're lonely? You make music, so it was only a good thing. And I'm very happy things played out that way because at that age you can go either way.
It's funny, I got so lucky. I remember coming down to the city for two weeks at the end of July to find a place and fortunately I was allowed to stay at one of my manager's friend's places who was gone for 10 days. He gave me the keys to his place which was up in the 90's on York, and all of the places I was looking at were of course downtown, like way downtown. I found a spot on 30th street – it was a roommate situation since I couldn't afford my own place. And the thing was that of course I needed my studio in there, so it wasn't like massive speakers or anything, but I couldn't just get a place real quick because I would get kicked out of the building! It wasn't an easy find, and luckily I found this place right next to The Garden, and back then, that area was a dump, In 1993, that was No Man's Land: you couldn't even define what that area was. We had the top floor, which was basically the whole roof of the building, where the floors were cement, and my room was a vault. I was so lucky that he liked me and that he let me move in, because when I played and closed the vault door, you couldn't hear me at all. It just sounded like the faint noise of a night club down the block.
Our apartment overlooked The Garden, which looked like a huge UFO, and my roommate would throw crazy parties on our roof because he was an old school doorman at clubs like Tunnel and at Area. There was this old piano, and we would put turntables up on that. It was just an insane first experience in New York.
1996
Right after "Witch Doktor" I kind of realized that I could make a career out of this. I was saving enough money where I was like, I could probably end up at a point where I could be like my idols – Todd Terry, Masters At Work, David Morales. I knew that they were super paid and excelling in their field, and after that single I really felt like I might be coming into mine. So from that point on I kind of tried to stay with that game plan – I would make a beat every so often, something that you could consider a hit I guess, and I kept on that flow into the 2000's.
1998-Present
I did this track called "You Don't Know Me," and around that song and after it came out I kind of had an epiphany thinking, "Okay, this is an official hot number 1 record." It was kind of an exhale where I could be in a more zen, centered zone. Before that I was pretty possessed, staying on my game and being competitive to make sure this was going to be a long term thing. And after '98 I was ready to slow it down a little: it was way too early for me at 28 to retire, so from then until now really, it's been a slow downgrade.
Through that gradual slow down, there's been a few things that have worked out for me in the music game. I do consider myself to still be in the music game, you know, I'm not retired or anything, but if I think about how I started in '91, next year will be 25 years of being in the music industry. I'm very blessed.
[soundcloud url="https://api.soundcloud.com/tracks/197854302" params="auto_play=false&hide_related=false&show_comments=true&show_user=true&show_reposts=false&visual=true" width="100%" height="450" iframe="true" /]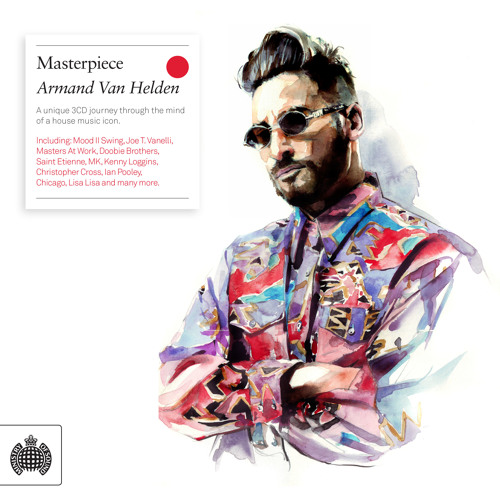 Connect with Armand van Helden: