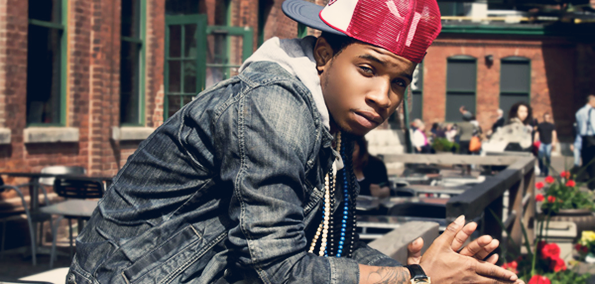 2014 is coming to a close, which means Tory Lanez is wrapping up the biggest year of his career yet. His Lost Cause mixtape dropped in October, which featured an eye-opening assortment of hits such as "Mama Told Me," "Priceless," and "The Mission," the latter of which boasted a music video that hit over a million views in three hours. The Toronto-born and Austin-based artist is among the brightest sparks in hip-hop music as we enter the new year. 
Enter dance music. The forward-thinking and boundary-defying WeDidIt Collective is continuing to push the limits in what they do. The collective hosts heavy-hitting acts such as RL Grime, Shlomo, and Ryan Hemsworth, and are seeking to influence the cultural music landscape in more ways than one with their next project. 
EARMILK is excited to announce the collaboration of one of the hottest talents in hip-hop and collectives in dance music, as Tory Lanez will be pairing up with WeDidIt Collective for an EP release in early 2015. Last week, I had the opportunity to sit down with both Tory and WeDidIt head Nick Melons in WeDidIt's Los Angeles studio. We chatted about the release, what went into the decision to work together, and what the fans (citizens) mean to them through it all. Check out the full transcript below, and we recommend you keep this release high on your radar as we enter 2015. 
EARMILK: Tory - you're now set to follow up your killer Lost Cause mixtape with this new EP collaboration in 2015. What can you tell me about it?
TORY LANEZ: I haven't started recording for it yet. I can't really tell you too much about it because I'm not really in the thought process of it right now. I gotta live more life and do more things, and from that I'll really let it be what it is and let that create the music. I just came from making the other tape, so this is all I'm really concerned about right now, because I think it's the most different thing that I'm doing right now just in general. It's the only thing that is inspiring me to really do other music, because right now I'd rather just be living. But because this music is inspiring, I think you know what I'm saying.
 EM: Nick, from WeDidIt's perspective why did you decide to engage with Tory on this project?
NICK MELONS: Initially, for me, it was the music and nothing else. I didn't know anything about Tory when I was listening to his music. I think it was probably the Kirko [Bangz] track, that was the first track that I ever heard. I was just kinda blown away that there was a dude who is capable of rapping just as well as he can sing and sounding better than most of the people that are already established.
Tory's an underdog only just because he just hasn't "popped" yet like other people have, but I think he's more talented than most of the people that are played on the radio, most of the people I listen to, and most of the people we play in our DJ sets. So for me, it was a no-brainer that this had to happen. I didn't know when, it just had to happen.
 EM: Tory, same to you. What was it about WeDidIt's style, brand, and music that made you decide to go in on this?
 TL: The greatest thing about it - I'm the type of person where when I listen to music and I look at people, as far as other artists and stuff like that, and the way I choose the crowd that I would be with, I kinda look at it like, "would I chill with these dudes in high school?" You know what I'm saying? Like if I wouldn't have chilled with you in high school then I don't think we'd really have chemistry. These are the dudes that you just look at them and you know that they're cool. They're cool in whatever they do. Me coming from more of an urban environment and a different situation over here, it's different to come over here and see them. Of course, I've seen electronic people and other people that do that kind of music and stuff like that, but I can't really even classify the type of sound of them. I wouldn't really try to call them electronic music or EDM or anything like that. It's just their own thing. And that's the thing that draws me to it the most, because with me, I like to be doing my own thing, and so for ya'll to be in your own world that's really what I want. You can do something totally different. The minute we get together it's gonna be nothing generic.
 EM: So you can't tell me too much about the EP, but can you reveal any potential collabs that you have planned?
NM: I guess the best way to put it without giving away too much, is the most heavy hitters from WeDidIt's team are definitely producing tracks on this project. We got some outside people that are family to us that we brought in just because Tory vibes with them and we wanted to give them a chance. There's a lot of people that aren't on WeDidIt that we love and work with but they don't put out music through us. So this is a chance for them to work with us as well. It's kind of a collaboration across the board with Tory, with us, and with outsiders as well.
 EM: Tory, can we expect a tour to be paired with the release?
 TL: I'm touring in early February next year. So yeah, there will be a tour probably right after this. I know  asides from my hardcore base fans, I'm gonna have a lot of new fans, a lot of new faces. Excuse me, I said "fans." I meant to say "citizens." I'll have a lot of new citizens and faces at the shows and I know it's gonna be different and diverse as time goes on.
 EM: Why do you prefer "citizens"?
 TL: I mean it's a whole thing. I do this thing called Swave Nation, and the people who listen to the music call themselves fans and all that. But I don't really call them that. I call them citizens of the Swave Nation, because we're a citizenship of people where we look at life with no borders. There's only a certain amount of people in this world that really look at life like that. And together, that's Swave Nation. It's something that we created and I don't want to call people fans. To call someone your fan means that they're an obsessive fanatic. Like a crazed fanatic. [laughing] You know what I'm saying? And I think that people are people and we're just like a nation in America.
 NM: That's it right there. I mean, that's exactly the mentality of people that we like to work with. People who work outside the box. I think both of us would say that we gotta have people fucking with our music or we wouldn't be doing anything at all. So we need these people to fuck with us.
 EM: I'll give you guys free reign here, here's the soapbox to say whatever you want to say to everyone around the world. 
 NM: There's been so much love for us from the get-go and it's been so positive. People really fuck with WeDidIt. WeDidIt functions almost like an artist does. There's labels and stuff like that, but people don't care about labels. They care about WeDidIt. To me that means that we're doing something right and that we are reaching the right people. There's one thing to have people listen to your music, but it's another thing to feel like you relate to those people on some level. At the end of the day, anybody can jump on a computer and produce some shit. And that's the beauty of it, and that's also why we're so careful to really make an impact with what we do, in terms of what we do, in terms of the tracks we put out, or whatever it is. We do this so other people will know they can just start in their bedroom and become the artist they want to be.