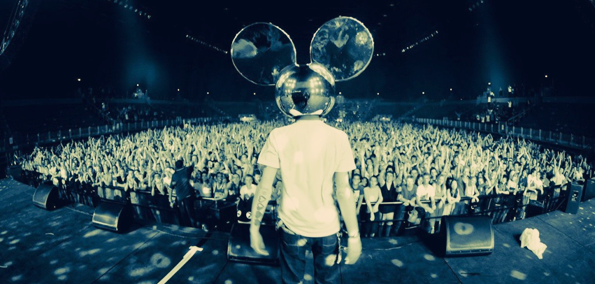 It doesn't feel like deadmau5's label, Mau5trap is celebrating its fifth birthday, does it? The label and its labelhead have been so prominent in both dance and electronic music that it feels like it's been much longer. Throughout the years, we've seen deadmau5's personality in the news, watched his music go through times when its emotional outlet mirrored his personal struggle, and seen his music move through everything from light, calming progressive to harder tech and electro aggression. His music is always different than those around him, and that's why he has his fans stand by him, and is an artist that creates curiosity to draw people in to see what the whole deadmau5 thing is all about.
This week, deadmau5 has released the highly anticipated album commemorating the catalog of music that Mau5trap has accumulated in its past 5 years. With the release of 5 Years of Mau5, popular acts who don't always get to make an appearance on the label. Artists like Dillon Francis, Madeon, Nero and others have joined forces with the mau5, honoring some of his greatest hits and remixing them alongside the originals. In honor of the compilation's release, we've spotted our favorites on the album, as well as our favorite "unofficial" picks that didn't make the cut over the years. Check it out below.
Our 5 unofficial picks
1. Calvin Harris - "I'm Not Alone" (Deadmau5 Remix)
2. "Raise Your Weapon" (Ron Reeser Assault Remix)
Raise-Your-Weapon-(Ron-Reeser-Assault-Mix)--EM1114
3. "Sofi Needs A Ladder" (Prototyperaptor Edit)
4. "Aural Psynapse" (Myndset Remix)
5. "1981"  (Julian Jeweil Mix)
Our 5 official picks
1. "Strobe"
2. "I Remember"
3. "Some Chords" (Dillon Francis Remix)
4. "Raise Your Weapon" (Wax Motif Remix)
5. "Ghosts 'n' Stuff" (Nero Remix)
5 Years of mau5 Official Tracklist:
Part One:
Ghosts 'n' Stuff
Raise Your Weapon
I Remember
Some Chords
Strobe
The Veldt
Brazil (2nd Edit)
Aural Psynapse
Not Exactly
Sofi Needs A LadderPart Two:Some Chords - Dillion Francis Remix
Ghosts n' Stuff - Chuckie Remix
deadmau5 vs. Eric Prydz - The Veldt (Edit)
Maths - Botnek Remix
Raise Your Weapon - Madeon Remix
Strobe – Michael Woods 2014 Remix
I Remember – Shiba San Remix
Raise Your Weapon – Wax Motif Remix
Sofi Needs A Ladder - Pig & Dan Remix
Ghosts 'n' Stuff – NERO remix 
5 Years of Mau5
Deadmau5, Various Artists