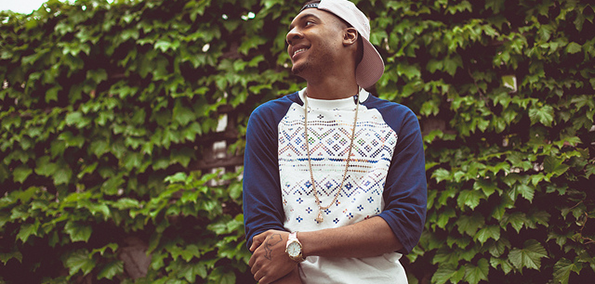 Hip hop is experiencing such a strange phenomena as of late, one that seems contradictory at first glance. Every day there seems to be some new brick stacking, cheese sacking, gun touting gangsta whipping work in an abandoned building, whose amateur online promotional and musical abilities make waves in clubs or the internet; slowly, but surely, amassing a large dedicated fan base through grassroots means. On the other hand, there are those who are more content to consume the drugs, lay back and contemplate their lives, essentially becoming emotional troubadours through their songs. While both groups appear to be at odds with one another or serving two polar opposite ideals, their ability to allow listeners to live vicariously through them creates a link that tethers them together, with a rhythmic cadence.
Waldo and Sango find themselves, more times than not, in the latter selection of artists; however, thanks to their extraordinary mastery of ambiance and delivery, they have the ability to surpass many of their peers in capturing the entire mood of a moment. Their previous collaborations, especially their EP NSDE/OUTSDE, address aspects of coming up as a young adult in today's media heavy society, and the feelings that are integral in this process. Waldo proves to be an exceptional emcee, weaving tales of lost love, struggling, hustling and plain braggadocio all together in a unique way. Each step he takes, Sango is right behind, ready for the shift, crafting beats that compliment the subject matter, yet push the boundaries. 
[soundcloud url="https://api.soundcloud.com/tracks/146462531" params="color=ff5500&auto_play=false&hide_related=false&show_artwork=true" width="100%" height="166" iframe="true" /]
  Their latest track, "Happiest Hour", illustrates this point wonderfully. Waldo speaks from the perspective of someone who is love drunk, figuratively and literally, as he attempts to talk to his mysterious significant other. There is a somber tone floating throughout, especially during the hook, when he thinks there is another person with his girl and he gets stopped by the police for speeding. Sango delivers a beautiful instrumental that finds the percussion in the lead role. Whereas most of his production for Waldo has been extremely airy or spacey, this one is noticeably more grounded, which is a welcomed change.
If you haven't heard NSDE/OUTSDE, you owe it to yourself to give it a spin. You can find it at Waldo's soundcloud, which features a plethora of older individual tunes that are just as good. Head over to Sango's soundcloud as well, where he has some top notch beats waiting for your ears to devour.