Hong Kong based label, Cliché Records kicks off their Homesick series with some incredible disco house reworks and edits by Drop Out Orchestra, Late Nite Tuff Guy, Zimmer, and Amadei. Founded in 2012, Cliché Records has since grown to be one of Asia's more prominent forces. The goal of their Homesick series is to create something fresh while staying true to the memories and essence of the original tracks. Each of the producers on this first Homesick release did a perfect job of doing just that, but still managed to create tracks that reflect their signature styles.
Swedish duo Drop Out Orchestra kicks things off by pouring a huge dose of disco all over TLC's "No Scrubs." The warm, feel-good vibes are through the roof! I might even like it better than the original. Assuming most people know this by heart, no music necessary, Drop Out Orchestra's mix is a guaranteed dance floor smasher. You'll be busting out serious dance moves while singing "No Scrubs" for days. It's a fantastic revamp of this TLC classic.
[soundcloud url="https://api.soundcloud.com/tracks/139204647" width="100%" height="450" iframe="true" /]
Late Nite Tuff Guy takes things down for a slow burning disco rework of Groove Theory's "Tell Me." The vocals of this track get used a lot in dance music, but I've only ever heard them set to a faster pace. I like that LNTG keeps things slow. Along with the seductive bassline and dreamy synths, it turns the track into something special. It definitely meets the goal of capturing that nostalgic feel. 
[soundcloud url="https://api.soundcloud.com/tracks/139204649" width="100%" height="166" iframe="true" /]
Parisian producer Zimmer and newcomer Amadei do a beautiful edit of France Gall's 80s French pop hit "Ella, Elle L'a." It's carefree and spirited like the original, but Zimmer and Amadei amp up the disco stomp for added fun. The extended mix is only available on vinyl, but you can download the edit now via the Cliché Records SoundCloud. Look for the entire vinyl-only release on April 21st from Juno Records. 
[soundcloud url="https://api.soundcloud.com/tracks/139204646" width="100%" height="450" iframe="true" /]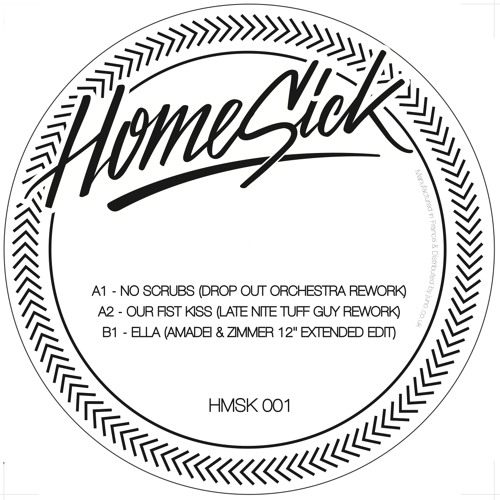 Drop Out Orchestra, Late Nite Tuff Guy, Zimmer and Amadei
Homesick #1
Cliché Records
April 21, 2014