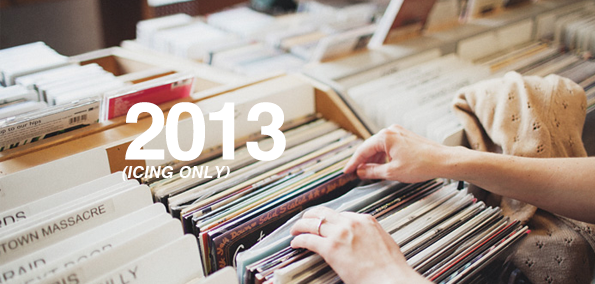 While the world exclaims up and down that the world of music is dying, we at EARMILK are seeing something profoundly different. Sure, there are some disappointing moments, our favorite artists may not be reaching the Billboard Top 100 quite yet, but as we reflect on the end of the year and see the amazing output of albums that have come out to represent 2013... we have to take a moment to appreciate the genius of the human mind. 
Picking 50 albums was by no means an easy choice. Lots of debates between editors and writers preceded this list, but we're truly appreciative of the work that was released the past twelve months, and confident that this will do the year justice. We're incredibly blessed with amazing music providing milk to our ears, and grateful towards the incredibly talented people that have provided it for us. Make sure to check out the first half of the list HERE. 
It's easy for us to go on and on about how great 2013 was musically, but that lets be honest, everyone wants the list to get started right? 
So without further ado, we present you with EARMILK's Top 50 Albums of the year. Checking in number 25 with...
When you've reached the seventh album, it's quite apparent that the artist knows a thing or two about completing the project. Silver Wilkinson saw the artist return to his earlier days. Majestic and grand, emotional and deep, this seventh release was a stunning look at where Bibio is now, as well as a predictor of the future and the past. Paired perfectly with the Boards of Canada release in 2013, this album was a must-not-miss album of this year. --Artham
Simon Green, aka Bonobo, has stood at the forefront of downbeat electronica for nearly 15 years. The North Borders reminds us why; the talented multi-instrumentalist meshes acoustic and computerized sensations to devastating effect. With expansive arrangements like the chiming, bass-rumbling expressions of standout track "Cirrus," The North Borders is instinctively Bonobo. His fifth studio album features a diverse cast of vocals, and each track's refreshing nuances abstain from the repetitive tendencies of many albums from the same genre. Complete with ripples and stirring drum-work, each song fits cohesively into yet another stellar album from Bonobo. --Elliot B.
It is safe to say that the sisters HAIM have easily been awarded coolest people of 2013, and for a good reason.  Three sisters with swag that rivals Stevie Nicks & a sound that reminds the world that girls rock.  HAIM initially made a splash in the indie music scene in 2012 with their single "Don't Save Me" on Neon Gold Records.  Exploding onto the scene in 2013 with "Falling" & "The Wire," all leading up to the success of their debut full length album, 'Days are Gone.'
'Days are Gone' incorporates the singles that gave HAIM legs as well as four brand new tracks, the most interesting of which is "My Song 5" produced by Ariel Rechtstaid, a much more electronic vibe than the rest of their pop rock sounds. "Honey & I" and "Days are Gone" (co-written by Jessie Ware) are a the strongest tracks the demonstrate their talent.  One of the best things about HAIM is their harmonies, intuitive from years of singing together & the unbreakable connection between sisters. 
The Haim sisters are incredibly talented musicians, growing up playing in a family band with their parents (Rockinhaim).  Their love for music started young with deep roots in 70s classic rock as well as 90s R&B and pop.  'Days are Gone' is a demonstration of their multi-dimensional talent and rise to success, but their true colors show when performing live.  Naturally fierce, they each bring their own. Their presence on stage shows their ability to truly rock.  Danielle, the oldest and lead singer and quietest of the bunch, dominates on stage with a snarl better than Mick Jagger's and lays down a mean guitar riff.  Este, the middle sister, rocks the most serious bass face & Alana, "babyhaim" works the crowd with multiple instruments and serious swag. 
2013 was a massive year for Haim, but with the success of 'Days are Gone' & their incredible live show, the only way for Haim is up.  --Lacy
"The one thing I knew was that I wanted this record to be a trip," said Daniel Avery of his debut LP Drone Logic, released this year on Erol Alkan's Phantasy Sound imprint. As a resident of London's revered Fabric nightclub, Avery has been developing his ability to take listeners on a journey through sound for some time via his DJ sets, with scattered track releases here and there. Drone Logic achieves just what Avery set out to do: crafts a journey that goes beyond the standard dance record. Citing influences like My Bloody Valentine, the record is informed not only by Avery's well-trained club music sensibilities but also by a desire to achieve the same feeling as the immersive walls of sound found on his favorite rock records. Drone Logic will definitely go down as one of the best cohesive records of the year, in addition to being played out on countless dance floors. --Alyce
2013 has been a big year for young British electronic music with acts like Disclosure, Aluna George, Ellie Goulding trickling across the pond and gaining a strong US following. British based electronic music quartet, Rudimental, is sure to follow closely behind in the US charts with their debut album, Home.
Rudimental's sound is incredibly unique and pioneering, blending and bending the lines between multiple genres, beautifully fusing together rock, pop, and R&B with a solid electronic base & a selection of vocalists whose voices make you swoon. The music world has begun to incorporate electronic music into other genres and Piers Aggett, Kesi Dryden, Amir Amor, and DJ Locksmith have created a sound that is the most impressive compilation of electronic music and eclectic vibes yet.  
They initially caught UK listeners' attention with "Deep In the Valley" in 2011 and rose to fame in 2012 with the killer track "Feel The Love" featuring the incredible John Newman.   'Home' has only further proved they are a group that they are bound for international success with their success in the UK. 
'Home' features heavy drum & bass influence in all their tracks, creating a strong signature sound that weaves through a series of eclectic sounds throughout the album.  All the tracks are beautifully arranged aligning an infectious beat with incredible vocals and rap.  Some albums have a few hits with tracks that melt away between hits, but 'Home' delivers an eclectic selection of tracks that make you dance and sway throughout all 15 songs. They find a way to incorporate a multitude of elements to engage the listener while maintaining true to their electronic roots. 
 The strongest songs on the album are: "Right Here" featuring Foxes, both tracks featuring MNEK, "Spoons" and "Baby," and their most recent release, "Free" featuring Emilie Sandé.  The selection of vocalists demonstrates Rudimental's talent and place in the industry aligning themselves with some of the most featured artists to make waves in 2014.
Rudimental has had a monumental year in the UK with two number 1 hits, a BRIT Awards nomination, and 'Home' debuting at number 1 on the UK charts.  Although they are relatively unknown in the US, they are ones to watch in 2014. Make sure to listen to the album from start to finish; it will keep you entertained throughout. --Lacy
There is a good chance Earl Sweatshirt is the greatest teenage lyricist since a kid named Nasir Jones dropped a little album in 1994. Doris isn't Illmatic by any stretch, but it bares a striking resemblance in one key sense: both showcase young, hungry MCs seeking a platform for their rare brand of technical skill. DORIS is a mosaic in a way; the album functions on many different sonic and topical planes. It strays from the debased, immoral landscape of its predecessor, instead opting to feature the technique itself as its lynchpin - trading in rape and torture for softer subjects laced sweetly with elegant verse. Earl enlists frequent collaborators like Vince Staples, Frank Ocean, Domo Genesis, and, of course, Tyler, the Creator to bring texture to the work, but Earl is always the artist of note; the tunes are all produced in his wheelhouse, even when they aren't produced solely by him. DORIS puts Earl Sweatshirt's diverse palate on display in tandem with his uncanny lyrical dexterity, and the album is without question one of the finest of the year. --Sheldon
Anything In Return marks the third studio full length for Toro Y Moi, the project of South Carolina's Chaz Bundick. It's the strongest, most cohesive Toro Y Moi album to date, leaning more on the pop side of things. Chaz sounds more confident in his vocal performance and turns the production quality way up. Tracks like "Say That" and "Rose Quartz" are reminiscent of the Freaking Out EP, flirting more with the idea of house and taking Toro Y Moi to the dancefloor. Chaz's signature soulful R&B flair sits as a fixture among the chillwave-associated artists like Neon Indian, Washed Out, and Baths. This album sees a more mature sound and solidifies a spot near the front of it all. --Lauren J. 
British-American supergroup Hot Natured have taken the dance world by storm with their blend of pop and house. The collective, consisting of Jamie Jones, Lee Foss, Ali Love, and Luca C., received huge support from Belgian producer The Magician and his Magic Tape series. With a line up like that, it's no surprise that Different Sides of the Sun turned out to be a polished masterpiece of house beats and blissful pop. Standout tracks include "Benediction" and "Isis," but the whole album is one big delicious magic carpet ride. --Lauren J.
The Arctic Monkeys have evolved dramatically since their debut album, "Whatever People Say I Am, That's What I'm Not," was released eight years ago. They've transformed from a cheeky Yorkshire brat pack to the streamlined rock unit that we hear on "AM." Now based in Los Angeles, some have questioned the group's dedication to their defiance of music industry norms, and the seemingly unpleasant trappings of fame. True, the sardonic songs aimed directly at poseurs are gone, but what has appeared in their place is musically eclectic and intriguing. Their fifth installment, produced by LA based producer James Ford, allows the group to move within the industry framework, but has enough cynicism to prevent it from being a sell-out album.
And "AM" is filled with the questions that have carved out the Arctic Monkey's new musical identity, with a sleeker, more introspective take on the pitfalls of indie nightlife created by front man Alex Turner. His writing on "AM" is intense, with seedy, Los Angeles influenced undertones that could easily repel the listener, but he has composed them in such a wistful, dream-filled way that it almost leans towards idealization. Here, Turner has written from the perspective of a tortured romantic living a fast-paced lifestyle that does not allow him, or any of us, to be. Instead of the bells and whistles, anthem filled approach to their new sound, "AM" comes in like a self-reflective whisper, but the impact is just as great.  --Cailey
Listening to James Holden's second full LP, The Inheritors, it's simultaneously difficult and easy to remember that he essentially got his start  producing trance. While he's shed the stigma (whether that stigma is correct or not) that comes with being a "trance producer" or associated with a "progressive" sound on the underground with his unique, experimental production style, he hasn't completely let go of the spacious sound of his beginnings. We often say that artists are "difficult to classify" when in actually they can be described by listing out two to three genres that converge in their music, but Holden's music is truly of its own class. On The Inheritors, the most transcendent, celestial, and grating elements of rave music are distilled into an album that's brimming with intensity that's on the verge of overwhelming. If you've seen Holden perform live, you understand the indescribable, nearly religious nature of that experience. If you haven't, The Inheritors will bring you very close to that same place. --Alyce.
Arcade Fire has set themselves apart from any other rock ensemble we've ever seen, captivating the nation with their newest album Reflektor, a star studded masterpiece serving only Arcade Fire indie justice. With collaborations spanning from James Murphy of LCD Soundsystem and David Bowie on vocals, Reflektor is a two-record, 75-minute set of 13 artistically different songs that undoubtedly labels itself as Arcade's best album yet. Their big ballroom piano antics and fuzzy guitar riffs carry on throughout the entire album, strangely yet beautifully placed upon a continuous Carribean rhythmn. 
Reflektor is a story that resembles that of Greek mythology - the rapture, violent separation, and eventual reunion of Eurydice, a nymph, and the musician Orpheus (who is depicted on the album's cover). It's a twisted love triangle of epic proportions that begins with Win Butler's lyrics in "Here Comes the Night Time," triggering the trouble within the legend.
Besides their epic story behind the album, Arcade Fire shows us how a band with immense commercial/mainstream appeal can still portray the instinctive indie hunger we feed off of as music enthusiasts. Reflektor not only renews the genre, but it establishes the band as one who fears the average composition and challenges themselves to not only be liked but to make a change. As lead singer Win Butler puts it perfectly in "Normal Person", "If that's what's normal now, I don't want to know…" --Elliot J.
Stream:
Arcade Fire - You Already Know
Stream:
Arcade Fire - Reflektor
Stream:
Arcade Fire - Joan of Arc
2013 was the year of the hip hop independent artist and very few have made a project more complete than Run The Jewels and their self titled album. With the legendary El-P going back and forth between producing and rhyming and Killer Mike doing his thing on the mic, Run The Jewels is one of those projects that is best enjoyed through multiple play throughs. Fresh from the release of 2012's R.A.P Music, a project that helped redefine Killer Mike to a whole new audience, the harsh raps from the duo over the former Company Flow member's instrumentals is what makes this album so worthwhile. Over a host of futuristic and boom bap beats, Jewels braggadocios nature manages to shine within the short, albeit potent, project.
Though this pairing between Mike's direct and hard hitting flows and El's esoteric bars and the outspoken intentions of both artists is the defining aspect of Jewels, the beauty lies in the replay value of the album. At only 33 minutes, El-P and Killer Mike definitely waste no time in delivering one of the most spectacular hip hop albums of 2013. --Nick V.
It seems like a bit of a contradiction to critique hip-hop, a genre built on the reinvention of sound, for its lack of originality; yet, it has grown into something of a cliché. In today's 24/7 music cycle, sounds tend to blend together and it becomes very difficult to differentiate them. This further feeds the MediaFire era's ridiculously short attention span and a "what can you do for me right now?" mentality that asks artists to overexert themselves. More and more, rappers succumb to the pressures of groupthink in an attempt to provide a product gift-wrapped to cater specifically to a sound birthed by the WorldStarHipHop comment section. At times, it seems like creativity is no longer a barometer upon which we gauge success in the genre: it is not something we particularly champion anymore.
Enter Chance the Rapper, self-described as a "rapper song singer – suspended (subpoena for misdemeanors), dreamer, held back ass is lowkey still a senior." Hailing from Chicago, Illinois, home of rap innovators like Kanye West and Lupe Fiasco, Chance seems far more concerned with fostering authenticity than appealing to the lowest common denominator.
Chance clearly has a watchful eye, and must be paying very careful attention to his contemporaries—namely Danny Brown and Action Bronson, rap's grandest characters. On his notable debut, 10 Day, Chance was a jack-of-all-trades, doing a little bit of everything well, but not doing enough of one thing exquisitely. Upon seeing Danny's evolution into a wacky caricature of himself following The Hybrid, taking him from a very good local name to one of the blogosphere's biggest stars, and Bronson's increasingly rich character development (one he perfected on Rare Chandeliers), Chance astutely settled on developing the most animated and distinct of his styles, the one that by happenstance feels the most organic.
Chance the Rapper's latest effort, which in many ways feels like his first impression, is appropriately titled Acid Rap, deftly fitting any interpretation of the term. Yes, it does sound like music made on LSD and created for the enjoyment of recreational users of the drug—those who stare longingly at the iTunes Visualizer for hours on end—but it's also deeper than that. Chance makes acid rap in the purest sense: music that dissolves through the typical bullshit, music that is sharply clear and discerning, and music that is piercingly intense, jarring even. Chance has officially defined his own sound, and the title serves as a tag for his newly created brand of hip-hop, one built on a fresh acoustic experience and fresh perspective.
At any point on the journey, you're liable to get gripping social commentary ("They'll be shooting whether it's dark or not, I mean the days is pretty dark a lot / Down here it's easier to find a gun than it is to find a fuckin' parking spot" – Pusha Man) or damning psychological evaluations ("Damn, I'm in so deep girl, probably 'cause you're empty / You can't even speak girl, damn your mouth's so minty / Oooh your mama hate me; daddy wouldn't let you / If he ever met me, if he ever met you" – Lost) or characterizations depicted through vivid imagery ("Spineless bitches in backless dresses" – Acid Rain).
Every once in a blue moon, there's a body of work that reminds you why you loved music so much in the first place. It's hard to listen to Acid Rap and not venture back to a time when rap was new and exciting and, for some, forbidden—a time of discovery and a time when everything was fresh. Here's hoping Chance the Rapper is around a long time to both generate nostalgia for the savants and, perhaps, be the source of longing for the next generation of rap neophytes. 
Five years and one inflated recording budget later, Daft Punk's fourth studio album Random Access Memories has finally hit the shelves in a display of major label fireworks. So captivating that the lead up to the release of RAM wasn't just a brilliant marketing campaign, it was a cultural event—teeming with a global red carpet of oohs and aahs as the duo lifted their star studded covers at a painstaking pace. In a time when hotels have turned into makeshift studios with bedroom producers topping the charts, the release of a lavishly crafted album that would cost an arm and a leg for any flavour of the week to produce couldn't be more contemporary.
Stream:
Daft Punk -
The divide in criticism comes down to whether you're willing to approach Random Access Memories with a clean slate, instead of setting the album alongside their already well-established catalog. It should come as no surprise that Daft Punk was not going to pump out another stripped down house bible like Homework, or a sample-based electronic escapade like Discovery—and if the pseudo-soundtracks that followed told us anything, it's that the duo is relentless in delivering business as usual. Regardless of their knack of changing course, Daft Punk has always carried a keen sense of consistency in their attention to detail when tuning sounds and songwriting.
There's a telling truth when Bangalter recognizes a signature sound coped by many EDM artists today—it's that the success of Daft Punk impersonations are few and far in between. Sure, the internet has seen its share of periodic fakes, but all have been laughable at best. After finishing RAM many will say that while Daft Punk carries a signature sound, the true greatness of their talent is that it was nearly impossible to emulate. It's a quality that can only be prescribed to legends; think Hendrix playing his Stratocaster guitar or Eno programming his DX7 synthesizer. There are points in RAM that let the awe of being at the hands of unattainable magic slip away, and that comes with the duo's choice to refurbish what many had done 30 years ago. With their signature sound and classic style, Daft Punk has been quintessential in defining 2013's musical place in history. --Lukas
Stream:
Daft Punk -
It's probably easy to say that most music is some kind of artistic display. Perhaps we could say that whatever some Disney star is pumping out onto the radio is akin to Thomas Kinkade, universally known, but rather boring in the whole scheme of things. On the other hand, where would that put someone like James Blake? Perhaps he's a Jackson Pollock, not easily understood by everyone but man, understanding is half the struggle for the tremendous reward received after. His music is transcendental, speaking volumes while never having to say anything specifically. He spoke to us, told us stories, made us cry, without ever knowing us. Blake made music for the weird, for people that understood the importance of music as something more than that thing that's playing lightly in the mall sound system or in the car. 
It was with this that we came to land in 2013 with Overgrown greeting us like an old friend. James Blake had new stories to tell us and we were all ready to listen. From "Overgrown" to "Every Day I Ran" the album was soaked in from start to end without a single word being said during the entire time. Perhaps that was just me, but the album was art and no other word could describe the experience that Blake had provided for us yet again. It's hard to ever explain the experience of listening to him and there's never a way to prepare either. Overgrown is equally great when it comes time to hang out with friends after a long night out as he is in times of solitude. Beautifully crafted, we really couldn't ask more from Overgrown.
The magnificence of James Blake has already been noted, so there is no real shock value that comes attached to this album. However, he's grown into the sound comfortably, and the beauty of it lies more in his ability to continue what he's started rather than trying anything too different from his previous work. --Artham
When it comes to those of us that critique music, there is a tendency to overanalyze. This is the case with no artist more than Kanye West, whose content and character have been dissected so finely by think pieces that it's a mystery how he can still surprise us. Yeezus, Kanye's sixth solo release on Roc-A-Fella/Def Jam, is the antithesis of his previous effort and magnum opus, My Beautiful Dark Twisted Fantasy. It is equally dark, but extremely minimalist and hyper-racial in spurts. It also may be his most misogynistic work to date. The album provides a little bit of everything: savvy veteran producers (Daft Punk, Rick Rubin), up-and-comers (Hudson Mohawke, Travis Scott), familiar faces (Kid CuDi, Justin Vernon, S1, Mike Dean), some of Chicago's finest young talent (Chief Keef, King L, Young Chop), and mysterious, uncredited vocalists (Charlie Wilson, Frank Ocean).
The album as a whole is rather brilliant, and there aren't many missteps. Every time Kanye does something it's immediately tagged über avant-garde and forward-thinking, and while I don't know if that's the case here, it certainly feels that way. In the end, though, regardless of how the album is received, it will undoubtedly stand the test of time as an important part of the hip-hop time time capsule. --Sheldon
In hindsight, the album being anything less than stellar would have been more of a shock than Aleph actually being the masterpiece that it was. The man behind Gesaffelstein, Mike Levy, could have easily used his model-esque looks to take the easy way out in show business, but that's clearly not his style. Since 2008, he's been slowly cultivating his craft by releasing remixes and original tracks that ooze in techno of the darkest variety. He's remixed the likes of Lana Del Rey to Danny Brown to Laurent Garnier, and created a dangerously violent image that is only heightened by tracks named "Hatred," "Viol" (rape in French), and "Depravity." This is then even more elaborately furthered by his live shows and DJ sets, which often feature him headbanging on stage and dancing like a maniacal scientist, albeit with a bit more class. His music is the very embodiment of what should be playing in the soundtrack of every dystopian film and novel, and while his style has been somewhat experimental and varied in nature, the core has remained the same: darkness, darkness, darkness.
Stream:
Gesaffelstein - Aleph
What truly makes Aleph great is that an artist with such a distinctive sound can easily run out of ways to be innovative, but Gesaffelstein still managed to surprise us all with his debut LP. His work on Yeezus preceded Aleph this year, and again in hindsight, "Black Skinhead" and "Send It Up" are both an indicator of how ahead of his time Levy is. It's probably true that most going into Aleph had a certain expectation attached to it- there was no doubt that this album would be of a certain quality. What we got, however, was much more than that- it was an unexpectedly emotional journey.
The album opens with "Out of Line," which teases the listener with a steady drum rhythm and a woman reading out some lines. It's the perfect introduction into the album; it's Gesa without having our brains overloading quite yet. "Pursuit" quickly takes care of that however, and it's the juxtaposition between the two songs that set the tone of the entire album. The 14 songs feel like they come in pairs: one track fills blood vessels with complicated synths and ear-crushing bass, the other doing the opposite and remaining calm, collected, calculated, and cool. It's a bit like when that closed off mysterious friend in every crew begins revealing little bits and pieces of themselves, so to is Gesaffelstein showing multiple dimensions here. While he's very private in nature, his music speaks volumes, and we listeners try to soak up everything he feeds us.
Stream:
Gesaffelstein - Hellifornia
Who is Mike Levy truly? Is he the guy we see laughing and dancing with The Hacker and Brodinski during DJ sets and parties, or is he the mysterious "French Prince of Darkness" we've come to picture him as? Perhaps it's both. The man behind it all is so dangerously hidden (in plain view) that it's hard to attach connections the way we do with other artists. On the other hand, Aleph feels strangely personal, as it goes beyond trying to get people to rage to techno. He could have made a decent album by creating 14 songs that sounded like his past hits and guaranteed a level of success with his already dedicated fanbase. He probably would have even made the top 50 albums then as well. However, that's not the Gesaffelstein we know and love. Instead, he's pushed himself out of his comfort zone and his experimentalism has landed him in our top 10 this year. His true brilliance lies in his ability to push electronic music beyond boundaries and innovate.
This album is certainly not for everyone. In many ways, it's easy to think of his work as a three-way intersection in what rock was, hip hop is, and dance will be. Aleph is definitely trying to tell us something, but maybe we're not quite ready to understand it quite yet. --Artham
I've got a soft spot for my native home of Scotland, but I try not to let that affect my preferences in music. Therefore I can find myself being extra critical when I hear the likes of Hudson Mohawke or watch Craig Ferguson on TV. However, this wasn't the case for CHRVCHES, with their debut album, The Bones of What We Believe In. Filled to the brim with infectious pop, the album did no wrong as it brought people to the dancefloor. Not every album has to change the world, but CHVRCHES expert precision, infectious hooks, and catchy lines, have set a high standard for the indie scene in 2014. -- Artham 
"Who are all of these people?" I found myself asking at a Jon Hopkins show in Boston a few months ago. In our relatively small city, most electronic music events feel like they draw from the same hundred or so people, so any event filled with unfamiliar faces never fails to strike me as something unique.
Jon Hopkins prides himself in his dedication to the album format, to painstakingly crafting music that isn't subject to the rapid pace and trendy tendencies that so often drive the current sonic ecosphere. He makes music that's true to his own creative impulses, to his own emotions, and it shows through on his fourth solo LP, Immunity. In 2013, it's reassuring to see an album so pure achieve such crossover appeal.
I first heard "Open Eye Signal", the second cut from Immunity, when James Holden (whose album also featured on this list) played it in a late night set at Movement in Detroit, and without knowing what the track was, it left an indelible mark. In the depths of my thirsty pursuit to replicate the feeling of that set in any way possible, I got my hands on Immunity, and was instantly enthralled by the entirety of the record.
Blending strong musicality, heavy emotion, and an underlying consciousness of the club settings where the songs would be played, I found myself revisiting Immunity over and over again throughout the year, one of the few 2013 albums that left me feeling fully satiated. Sometimes, we listen to music to feel more deeply, to tap into something complicated within ourselves, and for me, Immunity achieved that. Evidently, many others felt the same way.
Bonus: Jon Hopkin's FACT mix back in June was an amazing exploration of the influences around Immunity, a great way to explore one of the year's best albums from a different angle. --Alyce
It had been a minute or two since we'd seen any new work come from the Ivy-League educated White Collar band Vampire Weekend. Their fan base had much grown up since their self-titled debut or even to Contra, their follow-up sophomore release, but it was clear that the boys had as well.  Modern Vampires of the City still provided girls with the Ezra Koening they loved, but there was something more to Vampire Weekend than ever before. The boys had hit thirty and their music had vastly matured while still holding a nod to their past. The album was introspective and insightful but still fun in the way tracks like "Apunk" were in the past as well. Overall, the album was Ezra, Rostam, and the two Chris's at their best. Their music is as fun as it ever has been, but their growth as musicians and lyricists have vastly developed. 
Maybe it's the commitment to melody -- sometimes to a detriment -- or the conversational, relational affect of his words and tones or his widely publicized background as a cast member on a teen drama marketed to the Backstreet Boys demographic, but Drake has never felt hip-hop. Few would think to classify him an emcee in the truest, KRS-One-esque sense of the word, and that's because the traditional elements of hip-hop culture -- the same ones that made rap such a divisive agent in the '80s and '90s  -- aren't particularly present in his music. Take Care was a rather transparent example of this, and outside of the obviously anti-rap, over-romanticized complexity of post-Napster teenage relationships portrayed by the music (which aspired to capture the angst of millennials dealing with text message breakups and social media-corrupted friendships), it understatedly defied rap convention like never before: it sought to change it. Over a year later, an album that was as much R&B as Lauryn Hill's The Miseducation Of... won the Grammy for Best Rap Album. NWTS is without question the most succinct, concise delivery of Drake's patented brand of emo-rap to date and it finds him balancing his precise musical equation -- (rap + R&B) + emotional resonance = hit record -- with stunning perfection. While it does tone down the emoting a few notches, there is still plenty of nostalgia-inducing reflection. This album has far more bite than any of his previous efforts, though, something that can be attributed to his growing consciousness regarding his own impact, and it comes as sort of a bittersweet gift.
Drake has always been extremely self-aware, and as his stock continues to rise and he continues to climb the ranks of the rap caste system he grows more bold on wax. Fans have always sought more raps from the kid, and it seems like they're getting that now, but this new found bravado has Drake venturing into borderline fictitious territory. He's right on the precipice. Somehow, though, the balance is preserved not by a sense of realism but by the refreshing nature of a rapper frequently tagged as soft displaying machismo. He never raps with any real vitriol, but there is often incredible depth to his shots even if his threats are empty. In any case, Drake's Nothing Was The Same wins for being just as accessible as his last effort, but far less mushy. He has taken rap marketability to new levels by producing rap that doesn't make people uncomfortable, and in the same vein he has made himself relatable to an incredibly wide audience. 
He marks a changing of the guard of sorts, a reformatting of rap music as it is presented to the masses. Consumers have responded well to his approach and embraced the idea that rap can be consumed from outside the blast radius of everything that makes the genre so controversial and hard to like. They like him because they can relate to him more than any of his predecessors. His charisma is based less in braggadocio and more in a perceived sincerity. All the other stuff? He didn't live it; he witnessed it from his folks pad, and that makes it easier to swallow. "Just give it time, we'll see who's still around a decade from now. That's real," he raps with great conviction. Whether that is a mark of the music remains to be seen. One thing is evident, though: this guy isn't going anywhere anytime soon, and nothing will ever be the same as a result. --Sheldon
 Three guys, two groups, one trio that culminate into what is known as Moderat. It's been a series of ups and downs, but it seems that finally, II came out this year pleasing fans of both Apparat and Modeskeletor. With fast rhythms and booming bass, the three artists prove that they haven't lost touch with the dance world during the four year gap between their debut album and this one. It's remarkable to hear their mixture of infectious pop based tracks that mesh so well with harder, faster electronic work they do. If anything, the three together had proven a kind of psychic ability into the future last time... time will only tell whether II will do the same. --Artham
For the past four years, Danny Brown has been slowly constructing a character that is eerily similar to Trevor Phillips from Grand Theft Auto V. Not that Brown is a psychopathic killer who would rather settle disagreements with blood and pain then with a civilized discussion. Instead, their complicated personalities appear to lean on pure debauchery and the intense following that both have accumulated in such a short time span runs parallel to one another. Trevor represents the unadulterated mayhem that players' inflict on Los Santos, as well as the truly psychotic nature of this turmoil and the darker side of the real life participants ego or id.
Danny has repeatedly said that this album would be more subdued and a move away from some of the outrageous moments of his preceding works. There wouldn't be as many dick jokes. He also stated that he would address his fans, who all want something from him without consulting the emcee himself. Old was a reference not only to his age, but the pleading of some of his loyal listeners to return to his familiar crack slinging style. These factors contribute to an existential crisis that Danny is faced with throughout the album. However, this impasse is only one of a plethora of issues that upset the freaky image he has construed for himself. Instead of Old, this album could have been called Now, because Danny's music perfectly exemplifies how one's past never really disappears, but subconsciously influences our decisions and actions. His Side A makes Side B more meaningful, one is not better than the other, instead they both rely on one another. In the end, it's this culmination of the various sides of Brown that have brought together a balanced album. It's weird dimensions only highlight everything we love about him- It isn't perfect, it's not even trying to be, but it is heartfelt and amazingly put together. --James Elliot
A solo career is almost an inevitable derivative of any well tenured, great rap duo. It was somewhat prophetic, then, that the more forthcoming member of Virginia rap duo Clipse anticipated his career path with stunning clarity nearly a decade before Kanye West was championing him as an underappreciated focal point in rap culture. "They prayin' I never go solo," Terrence Thornton spat on the intro to his group's critically acclaimed sophomore, Hell Hath No Fury, and everything since then has been leading him to this very moment where he'd prove it. You see, that statement in a nutshell tells you everything you need to know about Pusha T: he has unwavering confidence in his own skill and complete disdain for anyone claiming to be anything even remotely resembling a worthy adversary. With his debut, the MC stakes a claim for the respect he feels he's earned, and he throws a couple of stones in the process.
My Name Is My Name without question produces some of the best rap music of 2013. The hard-hitting, retro-inspired "Numbers On The Boards" is savage rap that finds Pusha throwing punch after punch after punch in quick succession, tossing around gems like, "Mix drug and show money: Biggs Burke on tour". Pusha reunites with frequent collaborator Pharrell Williams for "Suicide" and "S.N.I.T.C.H." both of which serve as standouts. The former finds the Virginia rapper taking some obvious shots at rival Drake -- "I built mine of Fed time and dope lines / You caught steam off headlines and co-signs" -- and features signature production that feels like The Neptunes circa 2003. The latter serves as a clever acronym for the word it spells out, and Pusha shows off his storytelling chops over a bounce that feels vaguely reminiscent of the old west. Other highlights include the Kendrick Lamar-assisted "Nosetalgia" (produced by Nottz) and the Future-assisted "Pain" (produced by Kanye), both of which feel raw and are perfect additions to Pusha T's sinister aesthetic.
Despite its faults, My Name Is My Name is a fantastic tribute to traditional hip-hop, and a very serious contender for album of the year (though I'm sure the Academy of the Recording Arts will disagree). Pusha T set out to create a debut that was an uncompromising representation of his core beliefs and values, and he achieved that. He also set out to have the best produced album of the year and he may have achieved that as well, scoring production from the game's top beatmakers on the strength of his name. The album should earn him respect amongst those who truly care about rap as a part of hip-hop culture, and at the end of the day, those are the people he made this album for anyway. Regardless of what the charts say, My Name is My Name is one of the most important albums to be released in 2013, because it seeks to preserve something that needs to be preserved: hip-hop at its most fundamental level. Pusha's need for respect he fueled by his desire to be the best, and hopefully that desire pushes him to continue to churn out great music. If not, then this certainly will: My Name Is My Name debuted at #5 on the Billboard 200, one spot behind Drake's Nothing Was The Same in its 3rd week. He's more B.M.F. than Billboard, but he -- like Marlo -- is also not the type to take an insult lying down. His name is his name after all, and he stands on its strength. Let the games begin. --Sheldon
Nobody has managed to successfully overcome the stress and pressure that comes with a highly anticipated album with as much grace as Disclosure. Where most fail, brothers Guy and Howard Lawrence in fact thrived as they pushed UK garage to the forefront this year, and brought forth a frenzy that might as well be called Disclosure-mania. 
The resurrection of this soulful groove, unfamiliar on American soil since the early Detroit and Chicago house days, makes the Londoner's music very special for all house heads. The twosome got their start on MySpace , when the London based label Moshi Moshi picked up their demo tracks. Since then, their live shows, remixes, singles, and edits have brought their name to stardom and in 2013, we eagerly awaited for their debut album to drop. 
The 14-track album is a fully realized composition with soulful moods from start to finish, and validates a completely polished production talent from the young artists. Where most never quite reach the unrealistic expectations that come with such an overhyped album, Disclosure roundhouse kicked their way into legendary status with a near cult-like following. The album met our impossible demands and then some. With such beautifully woven, intricately structured, and infectiously written melodies it is no wonder everyone was running to grab this album. For the first time in a long time, dance was getting the proper recognition it deserved. Overground met underground and rarely is that a peaceful meshing... and yet it worked.
At the same time, the boys never gave up their integrity or sold their soul for it. While it could be true that Sam Smith's voice was getting hammered into our brain because of excessive radio play, it's not always commonplace to hear a vegan hipster enjoy the same song as the frat bro; to feel that harmony that the boys created was a beautiful thing. 
Without a doubt, Guy and Lawrence Howard have the Midas touch, turning every song they lay their hands on to pure gold. They aren't trying to change the world with their music, but that's really the genius of it all. Where albums like Random Access Memories went out of their way to be weird and fell short,the brothers stuck to making something enjoyable, danceable, but at the same time different. Like the styles of yesteryear, they've brought dance back to its roots. 2013 has seen its fair share of weird music, and the pretentiousness that follows from it.
Perhaps Disclosure has found the perfect balance between stretching themselves artistically and providing a good time in Settle, and there's no other album we could even think about giving the number one spot to in 2013. --Lindsay, Artham
So that wraps up our 2013 Top 50 list. Make sure to catch the other half here, and we'll see what 2014 brings!