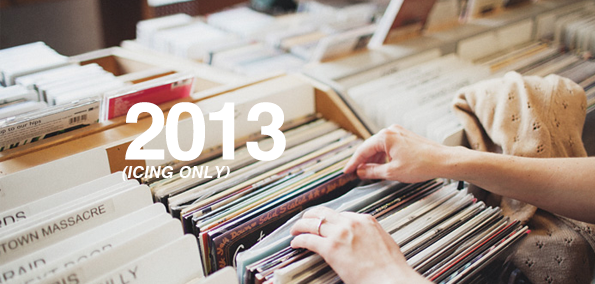 While the world exclaims up and down that the world of music is dying, we at EARMILK are seeing something profoundly different. Sure, there are some disappointing moments, our favorite artists may not be reaching the Billboard Top 100 quite yet, but as we reflect on the end of the year and see the amazing output of albums that have come out to represent 2013... we have to take a moment to appreciate the genius of the human mind. 
Picking 50 albums was by no means an easy choice. Lots of debates between editors and writers preceded this list, but we're truly appreciative of the work that was released the past twelve months, and confident that this will do the year justice. We're incredibly blessed with amazing music providing milk to our ears, and grateful towards the incredibly talented people that have provided it for us. It's easy for us to go on and on about how great 2013 was musically, but that lets be honest, everyone wants the list to get started right? 
So without further ado, we present you with EARMILK's Top 50 Albums of the year. Beginning with... 
Claude VonStroke, founder and label head of Dirtybird Records, continues to prove that he is a Jedi master in the studio with his latest hard-synth-heavy album, Urban Animal. The record is a testament to his eclectic interests and idolization of the latest underground music from the likes of The Gaslamp Killer and the Brainfeeder family.
The all-original compilation features styles ranging from drum 'n' bass with "Oakland Rope" to experimental sound synthesis with "Dood". After meeting him at HARD Summer 2013, it is safe to say that Claude is one of the few producers that knows exactly what he's doing when it comes to music. --Nathan 
"I named it [Thank You For Letting Me Be Myself] because all my fans kept telling me to be yourself, keep doing what you do... this is why I did this album, for my fans," said Omar S in an interview with Juno prior to the release of his 2013 LP. For those who've been following house and techno since the beginning, Omar S likely requires little introduction, but for those who are catching up now, the Detroit OG has been bringing his gritty house and techno to the underground for about ten years now, and this album follows a reliable strain of excellent releases. Although he doesn't hesitate to hit hard on some of the raw tracks, the album also brings in moments of tenderness on tracks like "Air of the Day", making Thank You For Letting Me Be Myself, released on his own FXHE Records, as much a listenable LP as a collection of dance tracks. --Alyce
Stream: Omar S - Amalthea
Tyler, the Creator's WOLF is an exhilarating journey of self-discovery. On one hand, the Odd Future general battles between featuring the shock value, counterculture persona that thrust him so suddenly into the spotlight or the fantastically unique production value that has managed to keep him there. On the other, he is analytical of his success, aware of his contributors, leery of his detractors, and simultaneously conscious of potential pitfalls. He manages to somehow not take himself too seriously, even in the wake of his growing profile. WOLF packages this great sum of data into an array of meticulously crafted yet widely varied tracks that seem almost jumbled to the untrained ear. In other words, the album is Tyler's journey to find balance amidst the chaos that is his cluttered and often genius mind.
On the surface, WOLF is far more introspective than any of his previous work, but at its core it is simply more understanding.Tyler has always taken to juxtaposing his subtle personal reflections with his boisterous—and often controversial—contentiousness, but on WOLF he finds harmony, letting the two intermingle resulting in great fluidity of thought. On a grand scale, WOLF serves as a sizeable stepping-stone for Tyler, the Creator, who looks poised to remain a force in this game for a long time, and it serves as a microcosm of his growing mastery over vocalizing his complex perspective. -- Sheldon
Stream:
Tyler, The Creator - Jamba
Stream:
Tyler, The Creator - Ifhy
Harlem, NY's Nathan Broaddus, a.k.a. Evenings, signed to Los Angeles label Friends of Friends this year, releasing his 14-track Yore (a remastered collection of tracks previously featured  on his North Dorm EP from 2010 and Lately LP from 2011) in April. Raised on cassettes, Broaddus's use of organic, analogue textures on Yore comes as no surprise. Having experimented with this musical palette over the years, Yore brings a well-developed, mature sound to the table, but not without experimental, psychedelic flair, a collection of ambient tracks well-suited for the afterparty, lounge, or bedroom. The release is rounded out by two remixes by Munno and Shigeto. --Alyce
With his majestic style and sound, perfected by his strange persona online, Ryan Hemsworth has managed to find himself as the most interesting of the Hemsworths (Chris and Liam being the obvious others (no blood relations have been made public)) to those with ears and a penchant for great production. He's slowly built his cult-like following through edits, EPs, and remixes that range from Danny Brown to Pipes, and his Still Awake EP projected him into a must watch producer this year.
2013 has been great for Hemsworth, with the latter half of it seeing critical success come in the form of Guilt Trips, his debut LP on Last Gang Records. The albums perfection comes in its ability to satisfy everyone, including himself. Hemsworth obviously pushed his limits, venturing into influences of hip hop, dance, and even the likes of J-pop, poking through boundaries of everyone involved, but pulling it off perfectly so.
Hemsworth and the Wedidit Collective he frequently aligns himself with are a gang of young producers pulling all the right moves and killing it in the game right now. Guilt Trips is a majestic ode to Hemsworth past, a detailed look at his present, and a glimpse at his future, and for the young artist, this can only be a good thing. -- Artham

Stream:
Ryan Hemsworth - Avec Vous
Having come to know The Knife through their weirdo-pop forays like "Heartbeats", "Pass This On", and "Silent Shout", Shaking the Habitual took me - and many of my friends - by surprise.
We knew 2013 would be a good year when a new album from the Swedish duo was announced. But going into listening to the record blind, expecting more of their pop sensibility to emerge on Shaking the Habitual, I was taken a bit by surprise and, initially, felt somewhat let down. Over time (and with the help of some fortuitous Rdio shuffling to the album in situations I was happy to find myself in), Shaking the Habitual's strange, hypnotic stylings won me over. You can forget, for a few minutes, that you're listening to it at all, but then it lulls you into something completely unexpected and sometimes jarring, but it all works. Although the album is best taken in as a whole, it does feature a couple of tracks with single appeal (like "Full of Fire"). --Alyce
Stream:
The Knife - Raging Lung
Last year, we were totally enthralled by Romanian producer Liar's stellar production and penchant for the narrative on his debut LP Strange Love. This year, he released his second LP, Spirewards, on Kastle's Symbols imprint. In the cinematic fashion that originally enraptured us, Liar again creates an album that's excellent from start to finish. Blending varied instrumentation and structure with on-point vocal sampling, Liar achieves diversity within an album without straying from a sense of cohesion. Liar's albums feel, in the best way, like a musical evolved for the EDM age, with consistent musical motifs as "characters" and attention to emotion that's not always easy to achieve in sample-driven production. When you start listening to Spirewards, you're pretty much signing up to take the album in as a whole; you'd be cheating yourself otherwise. --Alyce
Natasha Kmeto's Crisis was one of my favorite surprises of 2013, a soulful, emotive album with dreamy cohesion and strong crossover appeal between dance, pop, and hip-hop. The self-produced Kmeto selected a set of sounds to serve as her backing "band" and worked from there, layering her smooth vocals atop sounds ranging in influence from synth-pop to trap to shoegaze. Easily one of 2013's most sensual releases, Crisis covers the full range of emotions associated with the flux of a new romance.  We'd also place Kmeto high on our list of great live acts to catch - her set at Decibel Festival brought undeniable energy and her live vocals brought refreshing human appeal amongst a lot of dudes staring at laptops (we love you guys too, don't worry). --Alyce
Four years ago, when beginning this electronic adventure, I stumbled across this guy while listening to a mix off one of my favorite sites. On top of the free download, the seeming incongruence of Victor Ramos' stage name, Harvard Bass, caught my attention and kept his releases at the forefront of my list. As the years passed, Ramos' sound keeps stripping down, becoming more minimal with every listen. Last year saw him produce with one of the biggest names in techno, Green Velvet on the track "Lazer Beams", a feat that repeated this year in his debut album, Stay True. 
The 10-track pure techno release goes deep, as Harvard Bass doesn't deviate from the genre. Tracks like "Bugged" play mind games through fidgety mids, where "Bucket Boys" with Green Velvet intrigues through alien pulses and spoken vocals. If you need to escape to an underground world, this is the album to do it. --Colin
Without pointing fingers in any particular direction, 2013 saw a lot of '80s throwbacks making the charts. Many of these felt like pure imitation. Not that we're complaining: we can always use more music that feels like Cyndi Lauper or Stevie Nicks in their prime. For me, most of that music felt pleasant and listenable, but not groundbreaking. While I missed out on Dev Hynes (a.k.a. Lightspeed Champion)'s first LP as Blood Orange back in 2011, Coastal Grooves, 2013's Cupid Deluxe was, as cliché as it is to say, a breath of fresh air. Graced with guest appearances from David Longstreth of the Dirty Projectors, Caroline Polachek of Chairlift, Clams Casino, and more, Cupid Deluxe may not be the most cohesive album of the year, but it's a delightfully varied agglomeration of pop-friendly tracks from a producer who's written and produced music for Solange Knowles and Sky Ferreira, aptly described by Jamieson Cox as "the most queer-friendly non-queer album of 2013." --Alyce
It feels people have been asking when English producer Maya Jane Coles would finally release a full-length album since her name first started appearing in our Soundcloud feeds, and in 2013 it happened at last with Comfort. Although MJC's rise to popularity came mostly through the house tunes produced under her real name, the breadth of her influences is evident on Comfort. Although her mixes for K7's DJ-Kicks series and BBC Radio 1's Essential Mix display her dancefloor-oriented side, Comfort blends house sensibilities with something a bit more delicate and listenable, with tracks ranging from poppy to personal and drawing in guests from Tricky to Kim Ann Foxman. It seems like a lot of critiques of the album poked at the guest appearances, but I think most of them worked pretty well. However, I think the album shines most brightly where MJC brings her own vocals to the forefront alongside her on-point production. Guess I've got a thing for ladies who run the whole show. --Alyce
It seems almost impossible for a music journalist to mention German producer DJ Koze without some reference to "whimsy," and who can blame us? His 2013 album, Amygdala, released on his own Pampa Recordings, is his first in eight years, and his resistance to the quick-release cycle electronic producers have become so prone to shines through. If Koze's own reputation isn't enough to convince you to check this one out, perhaps the list of featured guests on the album will: contributions from Caribou, Matthew Dear, Apparat, and more sprinkle hints of their own flavor throughout the record while blending seamlessly into a work that's still purely, recognizably, DJ Koze. Which means it will appeal as strongly to quirky indie kids as it does to club kids making their way home to the afterparty or having a lighthearted moment on the dance floor. --Alyce
Armin Van Buuren is by no means a stranger to the game of DJ-ing and his legacy is as strong as it has ever been. 2013 saw the Dutch producer come back with his fifth studio album Intense. While still holding true to the style that has brought him to consistently land himself in DJ Mag's Top 100 year after year (i.e. trance), Buuren has managed to blend the various dance styles reigning champ in 2013. Intense was a stunning album that touched upon the sounds that had made him the superstar he is today, while progressively balancing the influences that define the current sound. He's proven time and time again that he's got the skill, did we ever doubt that the album wouldn't make the cut? --Artham
Their debut in 2010, Crooks & Lovers treated the U.K. electronic scene to something that was beautifully restrained and simple which was rather crudely called post-dubstep. Mount Kimbie fans would've been contented with an album of similar sounds and feel but this would've been playing it safe. Kai Campos and Dom Maker move into a darker realm playing with RnB, jazz, organs, sonic mulch and fuzz to bring a more emotional approach to Cold Spring Fault Less Youth. This has led to an unlikely collaboration with King Krule as the duo explored different avenues including vocals. This is a deliberate departure from their earlier work with Campos stating that "at some point you've got to take a step back and say, 'This is no longer what I want to do.'" Former guest member of the band, James Blake, who also features on this list has similarly detracted away from this sound but not to the extreme Mount Kimbie have.
There are times that the album fails to grip the listener which didn't happen in Crooks & Lovers but the album always comes back swinging with big tunes that hold this album up including "You Took Your Time", "Blood and Form", "Made To Stray", "So Many Times, So Many Ways." The comparisons with the debut are inevitable but crude as although the same name is on the album this is a whole new sound and a successful one. --James Crookston
After 20 years of booms and busts, Detroit's Robert Hood remains to be one of the few artists to come out of the city's waves of techno without resting on his laurels. His recent streak of minimal remixes and a soul driven LP as Floorplan kept fans on their feet this year, all while convincing them that the legend's best is yet to come. Paradise is a collection of 10 tracks breathing new life into very memorable moments in dance music history, and sometimes even outright sampling them. Building off a more natural palette of sounds, Hood manages to bring back the lost soul in today's germanic flavoured techno. Hits like "Baby Baby" have seen crossover appeal, and the track's charging four on the floor groove with horns by James Brown make it clear that Floorplan is here to make people move not by their tastes, but by their instincts.  Tracks like "Change", "Higher", and the Tyree sampled, "Altered Ego", revel in a freakish after-hours mindset, where the repetitive pummeling of  Roland drum machines and sweeping resonant filters couldn't be more sane and seductive. By covering such a wide range of sonic bases, Paradise lives up to its name because it gives any appreciative fan of forward thinking dance music a hole to curl up in. --Lukas
It's one thing to be mentioned on almost everyone's list for top albums of 2013, but London Grammar not only propelled themselves with their first studio album If You Wait, but also made an appearance on Disclosure's "Help Me Lose My Mind," displaying the band's versatility in the modern game of music. With a polite yet still alternative influence on their music, the group has been hailed this fall as an accelerated style that is sure to make a substantial dent.
If You Wait is a beautiful arrangement of music, weighing more heavily on the lucid dreaming side, with touches of classical instrumentation and romantic lyrics. The lead vocalist Hannah Reid successfully gives her audience multiple cases of the chills, with creeping lyrics on songs like "Strong" and "Hey Now." Her Nottingham University classmates and bandmates Dot Major and Daniel Rothman express their true talent throught the album's glory, displaying the true nature between indecision and action.
Reid develops a story of resentment and dissatisfaction that goes beyond If You Wait, constantly leading the listeners to a climax that never arrives. From song to song we find ourselves dangling above fire, almost as if we are the culprits behind the band's pain. By the time you reach "Wasting My Young Years," you feel lifted, as if you had resolved all conflict within the composition. However, just as we expect from London Grammar, we are again thrown into an explosion of strings and high-pitched vocals that lie in a state of limbo, always exploding but never compromising the band's signature, musical restraint. --John Saunders
For an artist who's name has been in the spotlight for less than five years, the cultural impact that has been A$AP Rocky (along with the entire A$AP mob) has been startlingly massive. While it may seen like the rap world has changed vastly since we were counting down the days until Long.Live. A$AP had dropped, it was in fact only a mere year ago when we saw his debut LP come to light. 
No one could ever argue that Rocky by any means is the strongest in either lyrical content or flow, but what he brought was a style that was hard to ignore. Slightly hypebeast-ish but pulled off brilliantly, every girl wanted to be with him, and boys wanted to be just like him. 2013 saw the release of his debut, which only further accentuated how swagged out Rakim Mayers truly was. He brought edge to fashion and made rap glamorous without feeling like it was peacocking like a douche. He was having fun, and sometimes thats the perfect recipe for a solid album. 
What is also interesting is how important is music has been overall- he lead the way in East Coast hip hop reaching the success it has for the past two years. His success certainly brought eyes back to New York to see what other talent was brewing there (and believe us, we found plenty). Fascinatingly enough, there's also a testament to Rocky bringing some attention back down south, where the original syrupy, purp-influenced music of the day would gain an international platform not seen since the days of the Dirty South. 
He'll never be insightful or teach me about the world the way Nas did or Joey Bada$$ does, but his importance in the 2010's is undeniable and not to be forgotten. In the end, Long.Live.A$AP did more good than harm, and will be placed into history for its cultrual resurgence of the East and South. --Artham
Over the last four years, Ryan Raddon has risen to fame through masterful releases, commanding stage presence, and devoted fan following. Better known as Kaskade, the Chicago-native house artist released his first full album, It's You, It's Me, 10 years ago on San Francisco's OM Records. For a producer now known for massive electro progressive sets, Raddon's deep and minimal past never strays too far and shines through in this year's album, Atmosphere.
Followers knew that Kaskade's 8th full-length studio work would mix past and present, as both the preceding album and his 2013 tour schedule saw the artist balance progressive highs with deep lows. His UMF set in March opened with the title track, a self-sang ode whose drop set old and new fans' hearts on fire. While a handful of other songs followed in the blood-pumping veins of "Atmosphere", namely "Last Chance" with Project 46 and my personal favorite "Why Ask Why" with his band Late Night Alumni, the majority of the album played on instrumental melancholy. Heavy piano and strings, drum machines, and captivating vocals stitched together many tracks, ranging from the hauntingly beautiful remix of "No One Knows Who We Are" to Debra Fotheringham's soothing serenade in "How It Is". And of course deep house gets a revival in Kaskade's homage to the DJ lifestyle, remembered by airport designations, like "SFO to ORD".
Atmosphere spans deep to progressive, then ambient to electronica, all while delivering the music through aggressive instrumentality and pure vocal strength.  By staying true to himself, Raddon took one of the most anticipated electronic albums of the year and proves that dance speaks to everyone. --Colin
 Nicholas Jaar has been a focal point for experimental dance music since his days at Brown University, where he was blurring the lines between dance and minimalism. His youth was filled to the brim with artistic boundaries being pushed to the edge, and the world could only stop and stare as we wondered "who the hell is this young kid?" Of course, the world did eventually come to know more information, but thats neither here nor there, because his artistic lineage only strengthened what we had already figured out about this producer- this kid was going down in the books.
Since then, the world's obsession with understanding this young kids next move has toned down slightly, but that doesn't mean he's been slowing down in 2013. He's finally at the old age of 23, and Darkside, which first released work in 2011, has finally seem a full length project released. Psychic, which puts him with Dave Harrington, was a stunning collaborative effort. Jaar and Harrington still brought elements of dance, but again made sure that their music was interesting, explorative, and interesting. The two together seem to do no wrong in their musical endeavors, and Darkside's Psychic only proved their stay in the forefront of electronic production. --Artham
Mat Zo's first shot at the BBC Radio 1 Essential Mix not only boasted a lengthy 70-track offering, it proved to be the sneak preview to his debut full-length, Damage Control. When the album finally dropped in early November, it showed off Zo's wide-ranging talent in a variety of production styles.
With big room hits like "Pyramid Scheme" and "Lucid Dreams", it's clear to see the Anjunabeats influence even as they continue to blur the lines between trance and progressive house. Interlude experiments like "Caller ID" and "Moderate Stimulation" give some nice breathing room in between club killers, while the nicest surprise on the album comes via "EZ", a trippy garage-drop take on the original Porter Robinson collaboration. Regardless of production style, it's nice to see Mat Zo is developing a sound all his own: full of power, full of funk, and full of emotion.  --Cam
One of the most essential albums of the summer of 2013, Classixx's Hanging Gardens encourages warm weather and the free-spirited fun that comes along with the rising temperatures. The LA duo, consisting of Tyler Black and Michael David, built a name for themselves with a plethora of remixes that includes artists such as Holy Ghost, Phoenix, Major Lazer, Gossip, Drop the Lime, and many others. Sticking to a highly danceable blend of disco, new wave, house, and indie pop, Classixx have secured their spot as a go to for nu-disco djs.
Hanging Gardens marks a solid debut for Classixx. A combination of transitory tracks and obvious singles, the album hosts a variety of guests including Jeppe of Junior Senior, Active Child, Sarah Chernoff of the Superhumanoids, as well as Nancy Whang of the late LCD Soundsystem. From the opening title track down the closer "Borderline," Hanging Gardens fills your ears with some of the smoothest, most infectious nu-disco of the year. --Lauren Jefferson
Stream:
Classixx - Long Lost (feat. Active Child)
Stream:
Classixx - All You're Waiting For (feat. Nancy Whang)
Lorde is rather obviously fascinated by social construct, and her debut is peppered with critiques of class and status. But she examines the socio-political landscape the way any teenage girl might: addressing the problems without presenting any real, tangible solutions. She never sets out to be preachy, just cognizant. It's less about telling and more about simply knowing, understanding, and comprehending -- actions birthed out of curiosity. Curiosity is heightened for the hormonal, and everything Lorde endeavors to accomplish starts and ends with defining what it's like to be young in the information age, where the ability to satisfy such insatiable curiosity is easier than ever (often to a fault). When she sings about the trappings of wealth and classism, it's not that she wants you to get it, it's more so an attempt to interpret her own feelings aloud the same way thoughts and feelings were once pondered in journals and are now plastered on Twitter, and ironically enough a lot of the issues she seeks to grasp were created or further perpetuated by Internet age bred narcissism. In essence, this is a true dot-com era album, one that is as much a product of its magic as it is of its flaws.
Her debut is all about being the oldest one has ever been and the youngest they'll ever be again; it finds a comfortable medium between being restless and being well-balanced. She's in the business of not caring, but she clearly cares a lot about her craft. 2013 saw the start of this brilliant singer, and has landed her in our top 50. --Sheldon
After almost three years without an official project, Pretty Lights returned with a bang, drum, bass and then some in 2013. Debuting at #2 on the Billboard Dance/Electronic charts, A Color Map of the Sun not only took Derek Vincent Smith to new heights, it put him on a Pop like level, making him almost seemingly a house hold name. The double-disc album was released back on July 2nd under 8 Minutes 20 Seconds Records in both physical and digital form, and has continued to gain praise since then, more recently receiving a nomination for Best Dance/Electronica album in the 2014 Grammy's. This served as Smith's first time composing and producing all of his own material and was more of a personal challenge he says, just to see if his goal could be completed.
Well, it's safe to say he did that and then some, turning this into something that is clearly destined to be labeled a classic in his genre someday. Fans also got to go behind the scenes and see the making of the album and watch the process of his creativity and mindset unfold as he released a documentary the same day of the project's release. Only time will tell where this will live in the world of EDM, but one thing is for sure; Pretty Lights is shining bright and 2014 is going to require a serious pair of shades when watching his move up the ladder to greatness. 
J. Cole wasn't looking to reinvent the wheel with Born Sinner; rather, he gathered a plethora of traditionally successful styles, carefully fused them together, and put his own finishing spin on the foolproof concoction. Since it was released the same day as Yeezus, it was the beneficiary of unfavorable comparison to the abrasively challenging album. However, its records sales proved that fans were still listening, perhaps even eagerly awaiting a return to the sounds they originally fell in love with, which Cole gladly provided.
He covered almost every aspect of rap radio on this album; from radio to the underground, showcasing his talents as a songwriter and producer. Two of the biggest hip hop singles this year could be found within Born Sinner's track listing: the Grammy nominated "Power Trip" and the uplifting TLC assisted "Crooked Smile". While sonically it wasn't boundary pushing, Cole's lyrics were a different story. He challenged hip hop materialism in "Chaining Day", religious crooks in "Kerney Sermon", and even artist only aiming for radio in "Let Nas Down". There were a few missteps—like his homophobic language on "Villuminati"—taken, but they never took away from Born Sinner's cohesiveness, which helped to put it in illustrious company and go gold. --James
This concludes out first half of top albums. Which one of your favorites have shown up so far? Make sure to count down albums 25-1 with us tomorrow!