EARMILK friends and listeners, Santa's evles want to apologize on behalf of the big guy. Santa, and all of us have been busy in the workshop making tons of traktors, seratos, pioneer cdj's, mixers, turntables, midi keyboards, controllers,  headphones and more. The demand for beat making goodness is very high this Christmas season, which can only mean 1 thing: killer tunes in 2014…. 
On the 7th day of Christmas, EARMILK gave to thee, A Shmallen mix that is superbly tasty. Ringing in the 7th day, Schmallen has given us a funky nu-disco mix to get you shimmying and shaking in to the week.
This mix is sweet and savory, so naturally the perfect drink is the Christmas Cookie. Pour 1 shot of peppermint schnapps, 1 shot of bailey's, and 1 shot of Kalhua in to a shaker with ice. Shake and then strained the ingredients into a chilled martini glass and enjoy.
Shmallen sat down with Santa for a little fireside chat, here is what he had to say.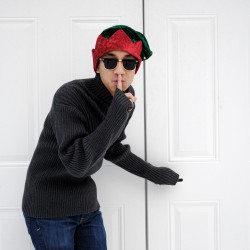 SANTA: Have you been naughty or nice this year? 
SHMALLEN: Nice. I'm always nice.
SA: What rooms would you add to your ginger bread house? 
SC: Eggnog jacuzzi room. 
SA: Who do you want to be caught under the mistle toe with?
SC: Lana Del Rey. Those lips..
SA: Screw, Marry, Kill: Rudolph, Vixen, Dasher?
SC: Screw: Rudolph (bragging rights). Marry: Vixen (a sugar daddy, from what I hear). Kill: Dasher (good for nothing loser)
SA: What's on your Holiday list?
SC: I've never been one to really ask for much. Send me some cash/gift cards…or a hovercraft. 
SA: Favorite Holiday jam? 
SC: Santa Baby- Madonna. Mmmmmm.  
SA: Favorite Holiday Tradition? 
SC: Don't really have any particular traditions. I love spending time with friends, exchanging gifts, the whole shebang.
SA: What are you grateful for in 2013? 
SC: I'm very grateful for all the support I've gotten this past year. I like to reflect on where I was at the beginning of 2013 and where I am now. I've learned so much and made a ton of progress musically. It's literally the best feeling for me when I see so many of my tracks finding new homes in so many people's iTunes libraries. 
SA: What do you look forward to in 2014?
SC: More, more, more! More releases, more shows, more everything! And graduating…I guess. 
SA: Are you making any New Years resolutions? 
SC: You can expect from me a debut EP. 
SA: Where will you be when the clock strikes midnight? 
SC: Being the procrastinator that I am, I don't have any plans yet. NYC? That Brodinski show is pretty enticing.