Hailing out of the Windy City is DJ/producer duo Supreme Cuts who have teamed up with Barbadian teen rapper Haleek Maul and LA singer Bago to bring us the eclectic R&B record, "Isis." This EARMILK premiere showcases a remarkable blend of hip-hop and chillstep-esque vibes that provides a delicate but energizing flow throughout the record. "Isis" flaunts a beautiful integration of ethereal piano melodies that are rounded out by the alluring vocals from Haleek Maul and Bago.
Supreme Cuts demonstrate a clear talent for establishing a unique headspace with their music, as "Isis" will provide you the perfect ambience and vibes for a variety of atmospheres. Check out "Isis" below, and be sure to keep an eye out for Supreme Cuts' album out January 28th on Dovecote Records. 
Plus, if you're in the area on either coast early 2014, be sure to check out this Chicago duo out on their tour.
2/12/14 Boston, MA @ Middle East
2/13/14 Philadelphia, PA @ Dolphin
2/14/14 Washington, DC @ Rock n Roll Hotel
2/15/14 Brooklyn, NY @285 Kent
2/27/15 Vancouver, BC @ Shine
3/1/14 Los Angeles, CA @ Bootleg Bar
3/2/14 Santa Anna, CA @ Constellation Room
[soundcloud url="https://api.soundcloud.com/tracks/103612026?secret_token=s-etoHb" params="color=ff6600&auto_play=false&show_artwork=true" width="100%" height="166" iframe="true" /]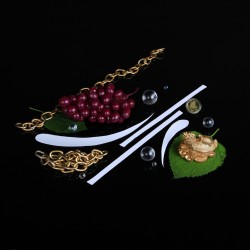 Supreme Cuts
"Isis" (Feat. Haleek Maul and Bago)
Dovecote Records
19-Dec-13