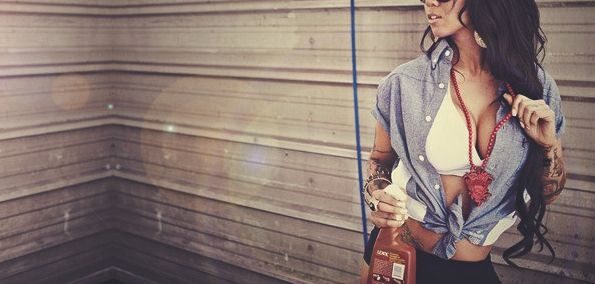 The music that has come from Toronto in the past few years has been quite outstanding, artists such as Drake, The Weeknd and PartyNextDoor have all been dropping some really nice joints that have left their mark on the hip hop world. Another name on the come up in T-dot is a young hungry rapper by the name of Rashid St. James. 
One of the brightest talents in Canada at the moment, Rashid has featured on these EARMILK pages before, with his dark yet brilliant rap banger "Nightmare In The Afterhours", which was really well received amongst fans and critics alike. Now Rashid is back with us once again, to release his last track before the new year dawns upon us, and what a way to end 2013. "Sex Drugs Fashion" is another dark and atmospheric track, with reverb drenched claps and some hard-hitting drums beneath some soft and delicate synth lines to create the murky backdrop for Rashid to carve his way through. Rashid again comes through with a nonchalant flow that speeds up in places yet he still manages to keep every word understandable. In his own words, "I'm really just a guy from Toronto that makes a lifestyle out of the city nights, but somewhere in between the party and the hangover I try to find the poetry in it all". 
"Sex Drugs Fashion" is the work of yet another collaboration between Rashid and producer Solid Mas, following on from their last single "Nightmare In The Afterhours". Word on the street is that Rashid is currently working on his upcoming project, Nightmare In The Afterhours, which is set to drop in early 2014. Until then, you can stream and download "Sex Drugs Fashion" below, and be sure to keep your eyes and ears locked onto EARMILK for the latest music from this upcoming Toronto rapper.
Rashid St. James
"Sex Drugs Fashion"
Self-released
12th December, 2013